Red Building Of Dreams – Shruti Garg, FMS Delhi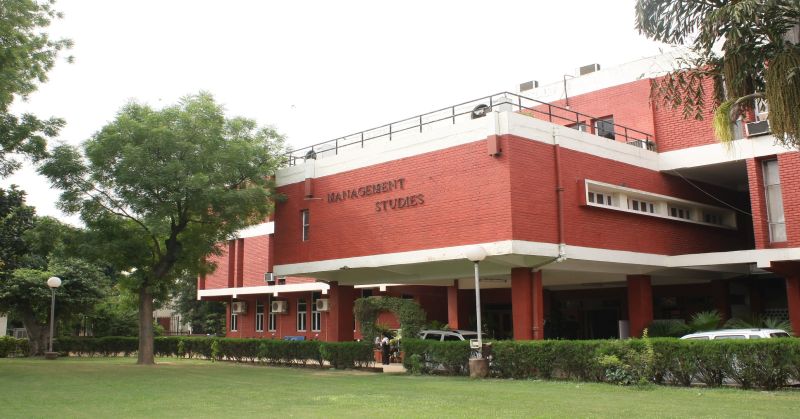 1. What makes my campus unique?
FMS, the Red Building of Dreams is unique in a lot of ways.
 Campus
Though people say that FMS does not have any campus I would like to modestly disagree and state that the campus of FMS is not limited to just the single red building. Instead the students have access to facilities of the entire DU campus.
In fact, ours is the most unique campus. We do not have a proper hostel facility for all the students but then probably living in hostel won't be as much fun as living in a flat and planning night outs for different projects. Random plans of meet-ups for chai break at 6 in the morning or 10 in the night are something that makes FMS campus life unique.
 Small batch
We have a smaller batch size as compared to other top B-Schools. This makes it possible for us to get to know almost everybody in the batch in a short span of time. It has not even been a month since we joined FMS and it already feels like we have known each other since a long time. To be honest life at a B-School could sometimes get tough and such friendships play a very important role in helping one handle that pressure.
 Delhi food and market
Another advantage that FMS has is its location. Delhi being the national capital FMS has a definite advantage when it comes to making and maintaining corporate relations. But apart from that Delhi is also known for its awesome food and markets. Kamla Nagar, one of the best markets of Delhi is a hardly ten minutes walk from FMS.
 First MBA school
Established in 1954 FMS happens to be the first college in India to offer a formal MBA degree.
2. A memorable classroom experience in my B-school
Within 20 days of being at FMS, I already have a lot of memorable classroom experiences. But the one that I cherish the most is the day of cultural society's event 'The Musical'. It was a fun event. The entire batch was divided into teams of 7-8 people.
We were supposed to select a topic (any topic under the sun) and then perform something and anything related to that. The students were basically required to show their talents be it singing, dancing, acting or as it was in my case flute playing. It was amazing and overwhelming to see so much talent in such a small group of people. That day is also special because it was the first time I played the flute in front of an audience. In fact, it was the first time I performed anything at all in front of an audience. And the best part is that people actually loved and appreciated it. This was something that I shall remember all my life.
3. Which ABG company would you want to work for and why?
The ABG Company that I would like to work for is Aditya Birla Fashion & Retail Ltd. I chose this company because its brands like Van Huseun, Allen Solly are the ones that I have always admired and would really like to be a part of the management of these brands and give my contribution in taking them to higher levels of growth. It is a company that I feel could provide me the right opportunities for growth in my carrier and at the same time provide me enough space to be creative.
Placement Cell FMS Delhi
Established in 1954, FMS has been a pioneer in India offering management education. FMS has the unique advantage of being a premier 'B-school' in a University milieu and in the national capital, thus offering valuable opportunities for our students in interdisciplinary learning and to undertake live projects from national/ international organisations. FMS is proud of a long list of illustrious alumni. It has rich legacy and history of producing World Class Business Leaders who are ranking stalwarts in Top MNCs across the globe.