Red Building Of Dreams – Vikas Gupta, FMS Delhi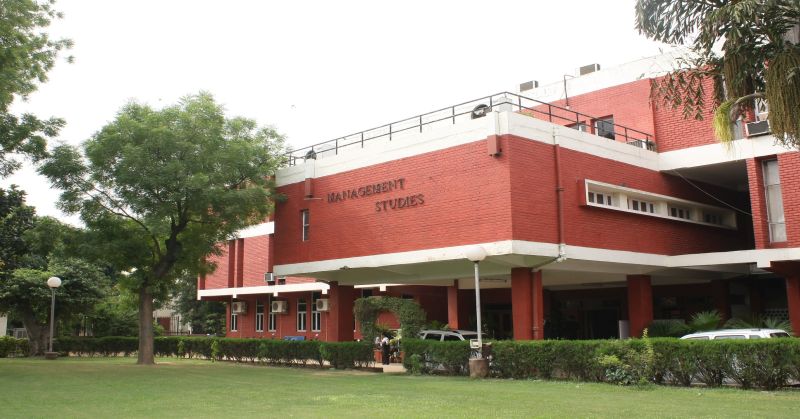 When I first read about top b-schools, the mental image of big campuses, great infrastructure, a wonderful hostel is formed in our mind. The same is witnessed when I visited Noida campus of IIM-L for my interview. But when I first entered FMS, I saw a Red Building. I tried to look beyond but couldn't find anything and all my mental images are shattered. After spending some days at FMS, I understood that all the weaknesses, we have in the form of resources or infrastructure are boon for us. These weaknesses teach us the real-life scenario we will face once we got out of industry. Whatever project we do, we will always face some resource crunch. In this way, FMS has prepared us for difficult situations and we will be able to adjust whatever we will face in future. That's our college 'Red Building of Dreams'.
A memorable classroom experience in my B-school
It was our second week and we have a class of H.R. We were given a case study and 30 minutes to prepare for it. The study was on ITC. We were divided in the group of 4 students and we have to discuss the case from all the perspective. My group consisted of people from different background. In terms of education, we have 2 engineers, 1 English graduate and one commerce. So, we had a healthy discussion of about 30 mins where different people have different perspective. I wasn't expecting it to be this interesting and informative. After that, we have a discussion of about 15 mins and the thought process I get to see made me realize that I am at one of the best B-school. It made me realize the importance of diversity and how many different prospective exist for a given solution.
Introducing – some of my crazy batchmates
Aman
He was having his practical examination in his college. He went up to the professor for the viva. He was asked to pick a chit from 3 to choose his experiment.  Since he was awake the whole night he started doing Inky pinkie ponky. After the professor got angry he was asked to leave but he started doing Akkad Bakkad Banme Bo. He was thrown out after that.
Shanky
We were having plays at FMS by cultural society. In this Shanky played the perfect role of our seniors. He acted superbly and he won the award for best actor.
Manoj Boda
We were having a competition of Samvaad in which some groups are formed people are assigned roles. Some were representing BJP, some were Military. He was assigned the role of media. He was sitting in middle as a coordinator but instead of coordinating he remained sited. Whenever he was asked to speak. He only repeats one line in many ways.
Shivani
We are having a competition "Merchants of Delhi" where we are given some money and all our accessories are taken. We are divided into the group of 8-9 people. We have to earn maximum and whoever earn maximum wins. So, we were travelling to CP via metro and suddenly she started singing in the metro and people got confused. She was singing well so we end up getting some money.
ABG company I would want to work for
I want to be part of cement company. As it involves manufacturing which is related to Mechanical Field. Also its about giving strength to the country via Manufacturing.
Placement Cell FMS Delhi
Established in 1954, FMS has been a pioneer in India offering management education. FMS has the unique advantage of being a premier 'B-school' in a University milieu and in the national capital, thus offering valuable opportunities for our students in interdisciplinary learning and to undertake live projects from national/ international organisations. FMS is proud of a long list of illustrious alumni. It has rich legacy and history of producing World Class Business Leaders who are ranking stalwarts in Top MNCs across the globe.