Remembering Anand Ramachandran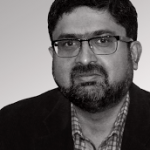 I recently lost a good friend of mine whom I knew since my school days. Looking back at his life set me thinking about a few things.
Early Days
Anand Ramachandran was a voracious reader ever since I knew him. But everyday fiction was not for him. He read Philosophy and Mathematics, and studied these as well.
Mathematics was one of his abiding interests from the time I first knew him. Like some others, I think he was first influenced by the logic and precision of Maths. I can't recall the details but he used to mention challenging problems in Algebra and Real Analysis when he was 15 and I was 17! At that time, he wanted to do a good first degree in Mathematics and then go on to do a PhD. In this, he was definitely influenced by his elder brother who did a PhD in Maths in the US and went on to be a faculty member there.
Anand spurned advice from others to be practical and do Engineering, and decided to do Maths in a college instead. But, by the early 1980s, college education in India had started to decline in quality. Anand got into Vivekananda College, a well-regarded college in Madras, but he found the syllabus and teaching pedestrian. He was particularly vexed by the need to pass exams which he didn't find challenging, and which involved swotting if you wanted to get outstanding marks. I can recall his getting really frustrated by the fact that he had to do this humdrum stuff when there were so many more interesting problems waiting to be solved. And, friends kept telling him about the importance of exam marks to get admission to a "good" MSc programme. That only made things worse as did the fact that his brother had done an MSc from IIT Madras before going to the US. I am not sure of this but I think he finally enrolled in an MSc at Vivekananda College itself.
Change of Interests
But, Anand's interests soon broadened into Philosophy and Linguistics. Within a couple of years, he had enrolled in Deccan College at Pune which had a good Linguistics Department, and started working with Probal Dasgupta (see photo below). Anand found the academic and social environment of Pune conducive to his pursuits and interests, and this became a city where he would not only spend time but make lasting friendships.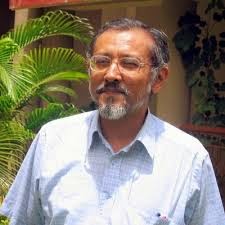 Anand chafed against exams wherever he went and Deccan College was no exception. Yet, he not only managed to study there but land himself a scholarship to MIT. By then he had become a fan of Noam Chomsky (below). While entering MIT was probably his personal high point, his stay there was tempestuous.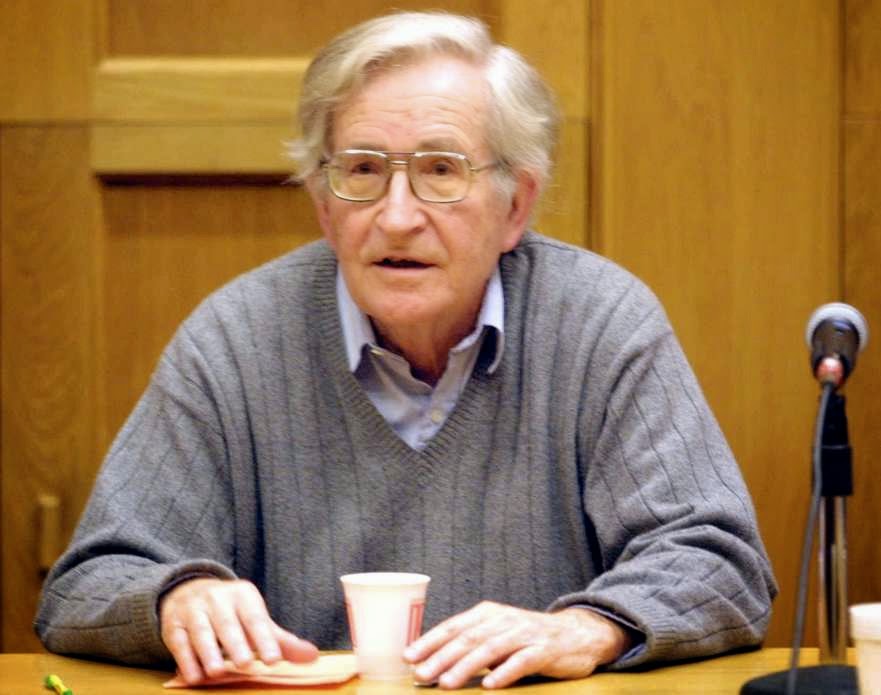 I don't recall the details, but he was asked to leave the PhD programme. Anand told me that the Dean agreed he had been treated unfairly but he had to leave nevertheless. From what I understood, his friendship with Chomsky harmed rather then helped him, and he got caught in the crossfire of vicious academic politics. It doesn't take much imagination to see that Anand's lack of tact and direct talking would not have been of great help in this episode.
This experience was tough for Anand psychologically and left him with bitter feelings about academia. While he didn't expect much from Indian academia, he felt let down by US academia as well. But this was not the culmination of his love-hate relationship with academia. More about that later!
Music takes him on a different path
One of Anand's other passions in life was music, and he remained a true fan of good western classical music for as long as I knew him. While at Pune, he had become friends with a European man who had, if I remember right, been a member of the Osho Ashram. This individual had developed very high quality audio speakers and was making a business out of selling these hand-crafted speakers. Once he recovered from the MIT fiasco, Anand started selling these Cadence speakers. Prospective customers were rich, well-heeled connoisseurs of western classical music. With his erudition, it was not difficult for Anand to become friends with many of these individuals, friendships that became a big support for the rest of his life.
Anand started selling the speakers in Pune, but later moved to Bangalore where he even set up a studio that acted as a listening room to experience the quality of the speakers. But, given his intellectual interests, it was impossible for Anand to remain in sales, and he got interested in academic pursuits again.
New Academic Interests
By now, his interests had shifted to Statistics and Finance. I have forgotten how this came about, but he eventually became a consultant to Cranes Software, a company that was developing and selling statistics tools. Not surprisingly, he again came into conflict with some of the academic consultants to the company who questioned his lack of certified expertise in the form of degrees.
Anand returned to academics a few years later to do a Masters degree in Mathematical Finance at York University. Anand really took to the UK, and found it conducive to his temperament and interests. He struggled to finish the degree because he again felt somewhat straitjacketed, but finish it he did, and he stayed on to do a PhD as well.
His PhD was marred by an acute infection that affected the functioning of his heart and almost killed him. But Anand survived. He always gave a good deal of credit to the UK's National Health Service (NHS) and the care he received from them. The NHS is often pilloried for being inefficient and slow, but Anand was very impressed by their care for him.
Anand finally finished his PhD a couple of years ago at the age of 45+. He had to leave the UK, but found a job with a start-up in Singapore.
Anand remained a free spirit till the end. He couldn't stand authority and got into conflicts with people in positions of authority throughout his life, even in the start-up! He hated other forms of rigidity as well, particularly the regimented nature of exams. But it is a tribute to his doggedness that he persevered to complete his PhD.
Some Concluding Thoughts
I believe that with Anand's quality of thinking and academic interests, he would have made a really good professor if only our academic system were more flexible. Had he the good fortune to be exposed to a classics tripos at Cambridge or a liberal arts programme at a top US university, he would have done really well. I hope things change fast so that we don't lose more Anands. I see a sliver of hope in some of the new programmes that are coming up in India like the Liberal Arts programme at Ashoka University.
Anand was an aesthete. This was apparent from the things he liked throughout his life – Mathematics, Classical Music, Yoga, well-written books. While he could get very angry about some things like stubborn bureaucracies and the narrow mindedness of Indian academia, he was himself non-violent.
One thing I really admired about Anand was his perseverance. At a time when many people are thinking about hanging up their boots, Anand was doing his PhD and thinking about what he should do next. He was keen to settle down in the UK, but alas that was not to be.
In the last few years, Anand had mixed feelings about me, since he now saw me as an establishment figure with authority. I think he felt, like some other friends did in the past, that I tried to run with the hares and hunt with the hounds at the same time. Anand is one of many mavericks I have known, who were attracted towards me at some point, but later drifted apart. Luckily I have maintained links with many of these friends thanks to Kajoli who shares their free spirit. That happened with Anand too – she remained in much closer touch with him than I did.
Anand Ramachandran, Rest in Peace. A tribute to Anand would be incomplete without my great appreciation for Anand's sister Hamsini who supported him through thick and thin and helped him sustain his dreams.
[These are my personal views and based on my personal recollections. Sorry for any errors.]
Rishikesha Krishnan
(The author is the Director of IIM Indore. Previously, he was the Professor of Corporate Strategy at IIM Bangalore. He received the Thinkers50 innovation award last year. He is the writer of 'From Jugaad to Systematic Innovation: The Challenge for India' and co-author of '8 Steps to Innovation'. He blogs on  http://jugaadtoinnovation.blogspot.in/ )
We are privileged to begin a new weekly column titled  'Jugaad to Innovation' by Prof. Rishikesha Krishnan, Director – IIM Indore.
(This work was originally published here)
Read everything about IIM Indore here