Rhonda Byrne is no Bi**h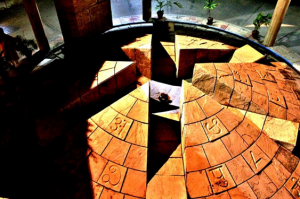 Rhonda Byrne is no Bi**h
College: Indian Institute of Foreign Trade
Team: All Starz
Teammate: Siddharth Attri [http://insideiim.com/for-the-greater-good/]
Article Refuted: http://insideiim.com/what-that-b-rhonda-bryne-didnt-tell-you/

Fortuitously, I too belong to the faction which expends a large portion of their mental strength and their hours,minutes and seconds in the pursuit of gyaan through indiscriminate reading. I have read The Secret without spending a penny on it – I borrowed it – and it was appealing enough to coax me into seeing its audio visual rendering.
For those uninitiated into the realm of the pursuit of a metaphysical understanding of this universe, I would like to stress upon the fact that The Secret is not limited to propagating positive and negative energy into the universe; it talks about an all pervading larger-than-life phenomenon known as "the law of attraction". It is about having a desire so entrenched into one's subconscious that the daily cares of the world fail to shake its foundations. Whether you desire your working hours in office to be as good as snorkelling with Megan Fox at the Great Barrier Reef or you long for your vexatious colleague to kiss your posterior, you will attract such an eventuality if your craving remains alive, unflinching and unaltered. However, the unyielding grit required to stick to such frivolous fancies over a protracted period might as well be invested on a "positive" and rewarding pursuit. The opportunity cost is just too big.
The Universe that promises to listen to your cravings does exist. It does mutate to allow you to attract your passions. It is not a collective noun meaning an aggregation of the celestial entities. Rhonda Byrne's reference to the Universe should not be equated to the usual "psychobabble" found in regular self-help literature. It is depictive of the life force. It constitutes the tangible physical world and the metaphysical forces governing it. The Universe needs your wishes to be synchronised with your beliefs and your actions.
Wish – be crystal clear about what you want.
Belief – have no qualms about the fact that your wish will be realised.
Act – feel great that your wish is coming alive. Make sure you do not act as a deterrent to your own wish.
When you ace the interview of your dream company while your better prepared batchmates don't, you can thank the Universe for it.
When the believers kneel in prayer before the Almighty, whether to find Him or to find their wishes coming true, the equation stated above remains unaltered.
Critiques of The Secret articulate that life is not about wishing and believing, it is about forgetting the fact that we are mortal. Nothing could be further from the truth. It is the very realisation of our days being numbered that leads us to celebrate the spirit of life. This, however, in no way implies that people should obsess over a morbid fear for their existence. It merely hints to the fact that the realisation of being terminal goes a long way in rejuvenating the life force of the humans. The most invigorating experiences like skydiving, bungee jumping, mountaineering and the likes are known to stimulate a near death experience. It is during these momentous junctures that a human is the most alive. An apathetic attitude towards the life cycle process induces inertia into your daily lives. Steve Jobs' realisation that his days were numbered was a watershed moment for his business. He conjured up products which had no precedents and no perceived audience[1 http://www.forbes.com/sites/alicegwalton/2011/10/24/steve-jobs-cancer-treatment-regrets/].
When I embark upon my pursuit to assimilate the magic of words, I try to glean vicarious thrill from the travails of the real and mythical heroes. When I put myself into their shoes and face near death situations, I find myself full of greater regard for the gift of life. Thereafter begins my quest to paint my life with the beautiful colors of the Universe.