Riding Free and Fair – A Story from IIM Kozhikode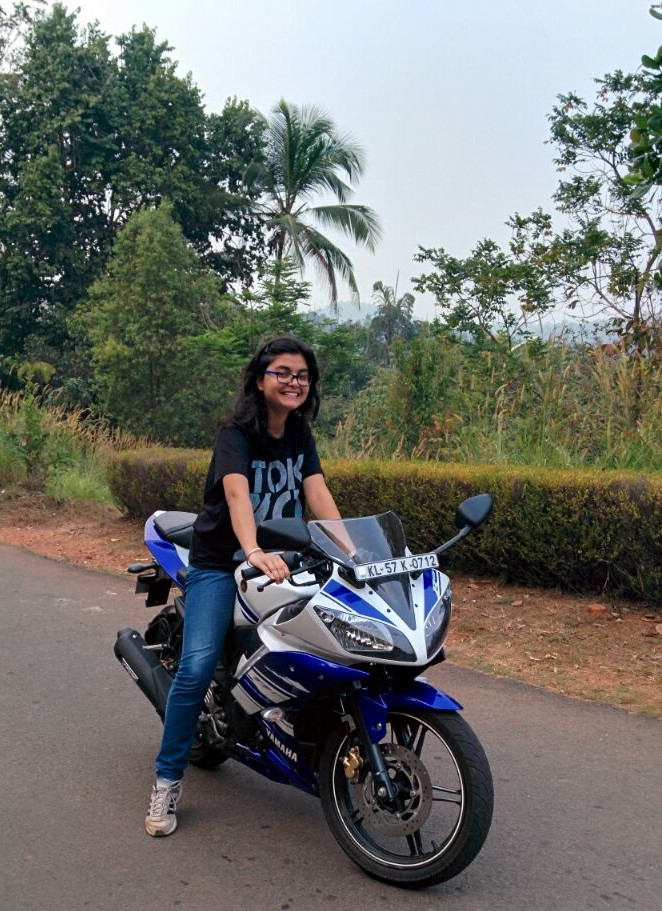 Getting to ride a bike isn't easy. Especially if you are from that planet called Venus.
It's not very uncommon to harbour a fascination for bikes. It's a symbol of 'freedom' to some, 'fashion' to most others. Many are happy riding pillion. However, I always like things better when I am the one in action. Thus, I prefer being in the driver seat rather than just tagging along as a passenger in any vehicle- be it a car or a motorbike for that matter. As a kid, I dreamt of flying a jet-plane too. The grown-ups thought it was "cute" and would exclaim "Aww…!" to what was my serious career-plan back then. My biggest heartbreak came the day I got to know that girls weren't eligible to write the NDA-entrance exam. Sigh! I pity the country now, for having lost in me an impeccable pilot. It's unfortunate I couldn't grace a jet-plane's cockpit but I vowed that I wouldn't deny motorbikes the flawless rider I would make. I HAD to learn to ride a bike. And for that, Home was not the place to be. So I got myself into a B-school, the one furthest from my protective parents in Delhi. Yes! I came to IIM-Kozhikode, God's own Kampus that sits pretty in a state that offers the most idyllic, scenic road-trips for biking enthusiasts.
B-school campuses are safe havens to live all your fantasies (fellow-B-schoolers would know). And I knew very well what topped my to-do list in my first-ever hostel life. Like me, the bike-owning breed of boys were busy pursuing their own campus-fantasies. It made me sick to see them vroom around flaunting their machismo. Sadly, it always seemed to work in their favour. Girls would swoon around them. How I wished for a role-reversal; see guys occupy the backseat while girls ride. No matter what my thoughts about the macho motor-bikers, I 'happened to' befriend a few. Not one let me ride his "baby" though! Even before I could finish asking "Can I too try riding?" they would already have told me a thousand things- "It's too heavy for you"…"But you are the same weight and height (almost)!" "Bikes are dangerous… Heard about that last accident?" … "You yourself don't seem to mind that. Do you?"… "You'll get hurt! Think about your parents!"… "Decision to take that risk is my business"… "But you're a girl! Come let me ride you around"… Period. That's when I would drop my argument and unfriend the fellow quicker than I had made acquaintance with him. How ruthless did you say? Well life is fair neither, is it? My life here in the B-school, sans any hopes of biking, had become an uneventful, drab existence.
And then one fine day, in my last semester, let's just say the universe conspired (quite literally) to enable my 'tryst with (riding) destiny'. Blessed must be the biker who gave me that ONE chance to try my hand at it. It wasn't his bike anyway but one that he was supposed to 'safeguard' while the owner was away for his foreign-exchange stint. That angel of a biker today 'happens to be' my best friend.
It bore down heavily on me that this ONE chance could well be my LAST and I listened to the instructions with rapt attention. I couldn't afford to think of the consequences of losing my balance. With one deep breath I applied the first gear, slowly and steadily left the clutch and voila! I was moving! I accelerated and it paced ahead with a jerk. In no time I was shifting gears and vrooming around with my tutor sitting pillion. The smooth vrooms were no doubt interspersed with the usual bumpy breaking common to novices. But I was still euphoric to be actually riding that seductive, mean machine that had long eluded me.
There's been no looking back since that day. My mentor and now my friend, philosopher and guide has been very encouraging, letting me practice regularly. More importantly, he's spread around the good word about my riding finesse. So, now when the same set of nincompoops, who had doubted my abilities in the past, line up to let me give them a ride on their own bikes, I decline the invitation; does that qualify as… what do you call it- 'chutzpah'?
Now that I had managed to remove the intra-campus mental-block, it was time to explore the exteriors. So I got my two-wheeler gear-license made. And finally, just a few days back, I thought I would set out to ride on the narrow, winding roads of God's own Country. I was on cloud nine that treasured day as I zoomed past endless stretches of coconut trees with the wind blowing through my hair. There is something very ethereal about riding a bike that one can only experience but not express.
All was not so hunky dory however when I went out biking on the main roads. It was hard to be oblivious to all the jaw-dropping and head turning. I wish I could say it was flattering but honestly it was highly distracting- more to me than to them. And that was not all. Though I was on a song, a police van sped ahead and directed me to stop. I had nothing to fear as I had my helmet on and was carrying my driving license along. What annoyed me was not the police having stopped me; I am all for strict traffic rules. However, instead of addressing me directly, the policeman questioned my pillion as to why he was letting "a girl" ride on the road, asked for his id and license before mine and only asked for mine upon him telling that I was a licensed driver. I gruffly handed him my driving license and saw the heavily-mustached, pot-bellied khaki-man look at it and then back at me some two-three times. A look of disappointment visibly hit his face- I rejoiced and couldn't help but chuckle to myself. But he miffed me again by saying -"We thought you were under-age ma'am. You may go now!" And it wasn't to end there. Every two out of three times, I have taken to the roads, I have been stopped for verification. My guy-friends on the other hand, have hardly ever faced that. And most of them ride without helmets. Hence, while my friends now are finally convinced about my bike-riding skills, they still discourage me to ride. This is because they don't like the guaranteed hassle of having to deal with the police each time we set out on a road-trip.
So, the moral of the story my friends is that if you hail from that planet called Venus, learning to ride a motorbike isn't difficult, getting to ride one sure is!