ROI of SPJIMR – A CA's Viewpoint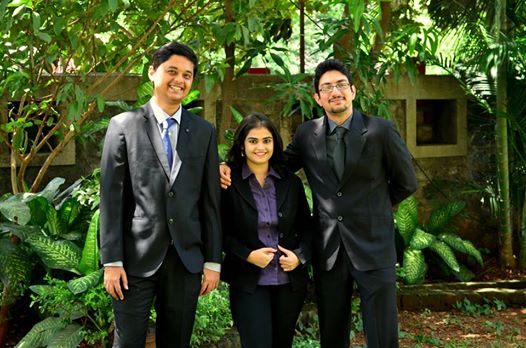 Well I'm going to be honest here. When I gave CAT, the only B-schools I had heard of were the IIMs. And I guess that's only natural. What wouldn't be natural would be me not hearing of the IIMs because let's face it, we prefer brands. But call it fate, call it luck, call it my destiny, I landed up at SP Jain.
So on a humid June afternoon, I arrive in Mumbai and set off towards the institute, arriving at the hostel gates just as the sky turned dark. Most people arrive at the hostel, pick up their bags and proceed quietly to their rooms to settle in and make friends. Here I was greeted to a boisterous welcome since I knew most people beforehand (Thank you Whatsapp, the only time you'll ever hear me thanking it).And so right from the moment you step in, you're part of a close knit family
So the first week was a blast, what with exams on the 3rd day and classes off to a roaring start, I got the entire B-school package. I had taken a specialization in Finance- yes, they make you do that before you arrive- and was affectionately referred to as a characteristic of Scotch Brite since I'd have to scrub (read ghis) for 2 years. But all said and done, I was actually looking forward to it. I'd read so much about MBA and SP Jain that I was a tad too excited and SP Jain didn't disappoint.
Being a Chartered Accountant, I had covered most of the concepts of finance but during class, the sheer number of concepts covered amazed me. It was a steep learning curve but well worth it, especially for the engineers. That didn't lead to less cribbing about it being difficult though. When concepts like ROI and company valuation, ratio analysis and cost management came to the fore, we had peer learning on a whole new level through addas (I took one of these sessions and believe me, I realized it is not an easy job to teach students).
Right now I'm 3 months down at SP Jain and I feel like my journey has just begun. I've got so much more to look forward to- my mentee under the Abhyudaya program (something I'm sure no other institute has), my social work with an NGO under our DOCC program and finally the almost halo like GFT where I get to go to Cornell University for classes and at the end of two years I'm going to ask myself the same question- "Was it worth it?" and everyone is going to reply with a resounding YES, followed by a slow thump of course, since I'm asking such silly questions. So if you're in two minds about coming here, don't be. It's completely a different experience, right from the selection to the completion of the course.
If you were to ask me what value it has added to me in just 3 months, I'd give you a simple ROI calculation- invest your time and effort along with money and you will be rewarded with a return that is simply astounding in terms of overall development and while you can be very proud of knowing what the jargons stand for, what'll stay with you are the values.
So to all you future Spartans, welcome to SP Jain!
Sushant Jaggi is a PGDM 2015-17 student at SPJIMR, Mumbai specialising in Finance. Connect with him on https://www.linkedin.com/in/sushantjaggi)