"With Deloitte Digital, There Are Endless Possibilities" – Saurav Mishra's Journey Of Summers At Deloitte – XIMB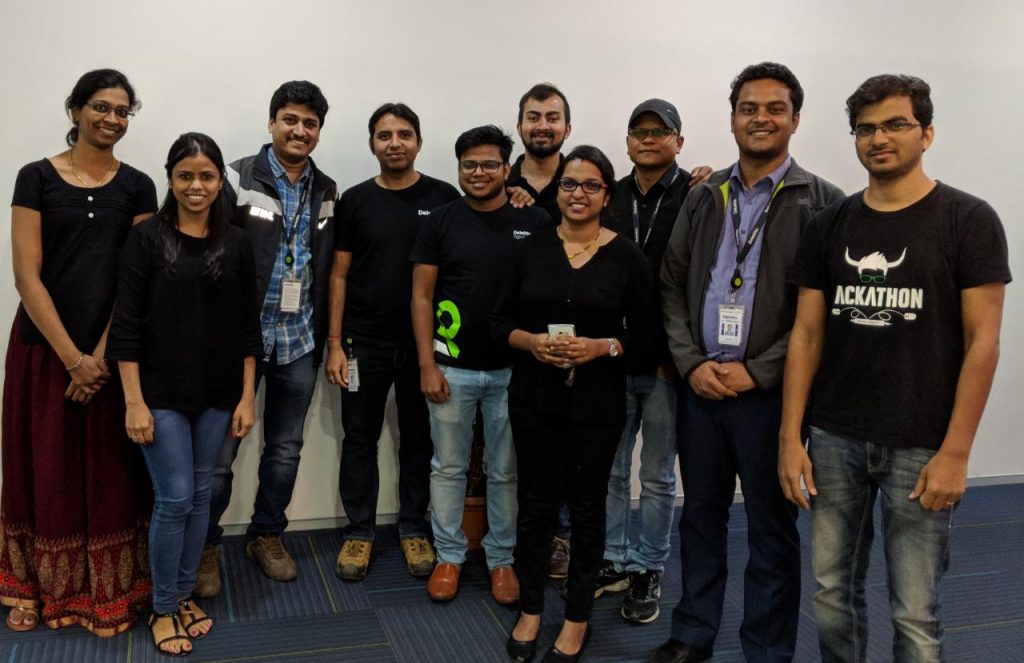 The date was 2nd of April 2018 when my journey with Deloitte India (Offices of the US) began. It was a 'dream come true' moment for me to spend time with the many well-trained consultants across different offices in India as a "Management Intern". The much-touted W2D (Welcome to Deloitte) session was conducted by the Bengaluru Deloitte Consulting Talent Team. We had our ID Cards punched, received state-of-the-art laptops within the first 30 minutes of arriving. We had Instructor-led sessions on "Deloitte's Culture", "Business Chemistry", "Story Boarding" and were aligned to our respective service lines. Kudos go to the Talent Management team for assigning multiple buddies to make the stay at Deloitte smooth.
As a part of the Summer Internship Program, we were allocated a case study and were supposed to work on a Functional shadow role for their ongoing projects. I was assigned a case study on "IoT (Internet of Things) & RPA's (Robotic Process Automation) role in bringing operational transformation leading to top line growth of US Insurance sector". Along with it, I was working for an e-commerce development project for a major US furniture company which was undergoing an organizational restructuring.
By the time, we had completed the first two weeks; we have had several sessions with senior leadership of Deloitte.  Srividya Visweswarababu, Director Deloitte Digital even addressed us and set the expectations for the program. There was one buzzword which the leadership emphasized upon and is a Deloitte cliché term, "networking". Until then I had a very vague idea of what it means, and I hardly knew how networking cogwheels rotate. I had rarely encountered an e-commerce platform development and now all of a sudden I was at the centre of a full-fledged e-commerce deployment. With such doubts and apprehensions, I made a slow yet steady start. 
As time passed by, I began reading whitepapers on the insurance sector and worked on the project, I gradually realized the need of formal guidance from Industry experts. The efforts of research could take my analysis to a certain threshold but to go further, I needed to talk with folks from the industry who have actually implemented projects with vendor partners. Here I started to speak with senior people and little did I know that they would be so receptive. The senior leaders gave patient listening and at times took special sessions imparting industry experience. This is where I understood Deloitte's open culture and why they stress so much on "networking".
Gradually, I started to develop functional understanding and the Quality Assurance (QA) perspective of the project. I also contributed to daily QA tasks and business analyst's requirement gathering documents. In the meantime, we had reached the mid-way of the internship and had our mid-reviews. The leadership was there and pointed out numerous ways where our research could be fine-tuned. For the final review, I incorporated those suggestions. The final deck took a really good shape. I received appreciation from senior managers.
When I will go back to XIM, I would take back a lot of things apart from the functional knowledge acquired. This will include a perception of a consultant to visualize things from an industry's lens. In a matter of 8 weeks, I had the opportunity to analyze the Indian agricultural equipment manufacturing sector, US furniture retail market, and US insurance space. I worked on cutting-edge technologies like IoT, SAP Hybris, RPA, and Augmented Reality. Beyond these technical aspects, I learnt how to approach seniors when in doubt; I understood how important communication is in a client facing role and most significantly the art of asking right questions to the right people. In a nutshell, I had a miniscule MBA in this small period of 2 months.
Now, I am going through those anxious moments where there is a quandary whether I could get a full-time opportunity in the best of the Big 4's of the consultancy world. Let's hope that everything turns out quite positive and I realize my aspiration of wearing the ID card with the Green Dot as an FTE.
Saurav Mishra
Hey Folks! I am Saurav Sambeet Mishra. I bring along with me 2 years of work experience in IT Operations in Life Sciences Industry. Presently I am pursuing my MBA from XIMB with a keen interest in Marketing & IT subjects. In the past, I had my stroke of glory with Public Speaking. I have brought laurels for my graduate school at National level debates.