Scholarships At SIBM Pune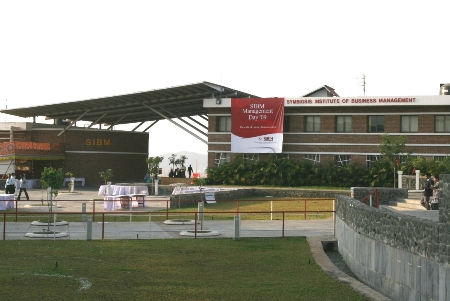 If you have ever been in 10-kilometre radius of someone from Pune, you have heard about its amazing weather, clean roads and how there is not much FOMO because Mumbai is close by.
But this can't be good enough reason to study in Pune, right?
SIBM Pune is well-known for its 100% placement record. Renowned companies like Asian Paints, Hindustan Coca-Cola Beverages, Cummins India, GSK Healthcare, ITC, J.P. Morgan Services, Mahindra and Mahindra Ltd., Nestle, Pidilite Industries, Wipro, Syngenta India, Tata Steel, HSBC India, ICICI Bank, Idea Cellular etc. are frequent visitors to the campus.
Read on about the scholarships available at SIBM Pune.
The Symbiosis Society Foundation awards two merit scholarships to management students, based on the following eligibility conditions.
1. Merit Scholarship in the first semester of P.G. programme will be awarded to toppers of SNAP who join Symbiosis Institutes. The cut-off for SNAP score (top score) for applying for the scholarship every year will be at 0.1% of the appeared number of candidates for the test.
2. In the subsequent semesters, the scholarship would be based on academic excellence, a minimum GPA of 3 earned by the same student during the preceding semester.
3. Only those students will be eligible for the award of Merit Scholarship who have cleared the courses prescribed for the respective programme up to the stage of award i.e. they should not have any backlog.
4. The student who has been awarded merit scholarship by Symbiosis Society Foundation shall not be debarred from stipend or any financial assistance from any other source. However, if the student is awarded any stipend or financial assistance from any other source, he/she shall communicate the same to the Department of Student Affairs.
5. There will be no income limit of the parents/guardians of the students for the grant of merit scholarship.
6. In case a student is eligible for more than one scholarship/freeship by Symbiosis Society Foundation, he/she shall be awarded only one scholarship/freeship as per his/her preference.
Selection Criteria for Scholarship:
1. The award of merit scholarship for PG programmes shall be announced every year by Symbiosis Society Foundation.
2. If a student declines or cancels his admission, the scholarship amount will not be awarded to any other student but will be refunded by the Institute to Symbiosis Society Foundation.
3. The Scholarship amount will not be paid to a student. It will be transferred to Symbiosis Society Foundation directly to the Institute.