Secrets to Winning Consumer India by Mr. Damodar Mall – CEO, Reliance Retail

On the 28th of February 2015, Vinod Gupta School of Management, IIT Kharagpur, had the privilege of hosting Mr.  Damodar Mall – CEO, Value Chain at Reliance Retail as a part of Vaarta '15 series of guest lectures.
An engineer from IIT Bombay and an MBA graduate from IIM Bangalore, he has close to 30 years of experience in the field of retail marketing. Mr. Mall started off his career with Hindustan Unilever, later he joined the Future Group where he was the director of Food Strategy. Mr. Mall is currently the CEO of Value Chain at Reliance Retail.  Mr. Mall has to his name a book titled "Supermarketwala: Secrets to Winning Consumer India", which helps provide insights into customer behaviour.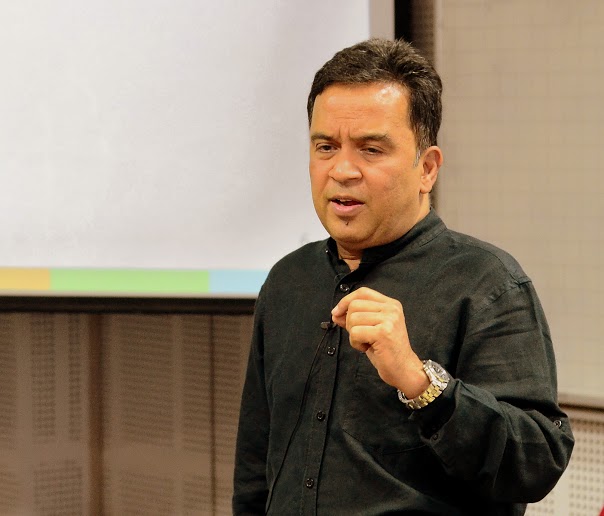 The lecture started off by Mr. Mall talking about the secrets of winning consumers in India. He went on to speak about the essentials of consumer beliefs, that are, 'consumer is always right' and 'content shapes behaviour'. The discussion revolved around the emergence of retail markets across US and Europe, and the manner in which Walmart had to evolve in order to become the world's largest retailer.
Having spoken about retail markets across the world, Mr. Mall then focussed his discussion on India, he spoke about the customer service model followed in India. With customer incomes in India doubling and aspiring women rejecting high service retail, it has led to the emergence of self-service retail in India, which has helped put the equation in favour of the Indian customer. He spoke about the revolution that India is experiencing in the field of retail marketing. Self-service combined with the digital empowerment is giving rise to a new form of retail marketing that consists of paid sampling and gamification. This has led to a decrease in spending on advertisements. Mr. Mall stated that his goal is to ensure that by 2020, 70% of the sales in his stores would have never been advertised.
Mr. Mall concluded his lecture by making an important statement; he stated that stores should be the first mile of the demand cycle not the last mile of the supply chain. He then went ahead and answered questions from the students. All in all, the session turned out to be a very enriching and informative one for the students where they got to know the very basics of consumer behaviour and the effect it has on retail marketing.
VGSoM Kharagpur
The Vinod Gupta School of Management is a business school in India. It was established in 1993 at IIT Kharagpur and was the first management school to be set up within the IIT system. It was initiated by a distinguished alumnus and a Life Time Fellow of the Institute, Mr. Vinod Gupta. In the year 2018, VGSoM completed 25 glorious years of its existence as a premier B-School of India. Today it is consistently ranked as one of the top 15 Institutes for business management in the country and boasts of a list of illustrious alumni holding prestigious positions in companies across the world.