Sibin Thomas Simon's Roadmap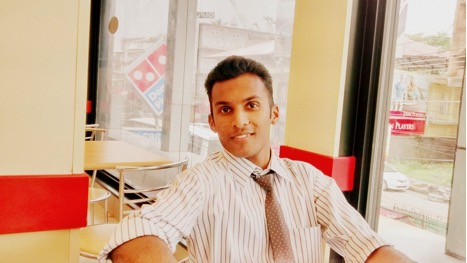 SCMS Cochin to Retail Industry placement to Entrepreneurial dreams
"Punctuality, discipline and professionalism are the three most important things that SCMS Cochin School of Business taught me and am sure a lot of us would agree to that. It has also given me a vital experience that I hope to build on in the future. In fact, I'd say that the institute has been the backbone of my placement." These are the words of Sibin Thomas Simon, PGDM Class of 2016. He has been placed in the retail industry with Madura Fashion & Lifestyle and sees it as a challenge to excel and gain further experience, as he works towards his dream of becoming an Entrepreneur.
Graduating from classroom to corporate suit
Sibin admits that he didn't have a very significant academic record to boast of his school and early college years. But things changed as he focused on his PGDM and joined SCMS Cochin. "I wanted to get into management, a goal that has now changed to becoming an entrepreneur. But at that time SCMS Cochin seemed the best bet for me because I had heard a lot about it and knew that it would give me the exposure required to make inroads into the corporate world," he explains.
Sibin believes that the journey with his B-School was challenging but an interesting one. Having specialized in Finance, he understands the importance of having clear Concepts. "You shouldn't underestimate the significance of the classroom learning because the basics are absolutely crucial. The overall experience has been fantastic too and it is apt to say that SCMS is the kind of place where a boy is transformed into a responsible man, self- willingly," he adds.
Placement- placement- placement time!
SCMS prepares you for your final placement day daily, in little ways that you probably would not realize in the initial months. "Aptitude tests and assignments, Live Case studies, group tasks, event management roles, strict deadlines, last minute tests, summer internships, OTBs, industry speakers' engaging sessions, they all collectively become treasure troves to learn from. Each day I was getting trained towards becoming more corporate savvy. The result had to show in my interview," Sibin says with a smile.
Sibin also drew on his experience during the Summer Internship with Thomas Cook India Limited, Cochin and showed his interviewers that he was cut out for corporate life. He reveals his success mantra for the interview when he says, "You need to be able to mould yourself depending on the interviewer. I had used relevant but big quotes during the Group Discussion, and carried the form into the interview where I was clear and as honest as I could be."
What lies ahead?
The reward for Sibin's efforts is a placement as an Assistant Store Manager with Madura Fashion & Lifestyle, an Aditya Birla Group initiative. The job means the world to him at the moment. "I want to make my father proud of my achievements. And I want to deliver on the responsibilities given to me and let my employers know that they did the right thing by hiring me," he says looking forward.
Sibin is aware that he has a brilliant opportunity now to work with a brand that is well known. He is not focused on the salary package as much as the learning experience and understanding the work culture of a big corporate house. "You need to work hard but be really smart about it as well, because that will display your talent a lot better. SCMS Cochin has given me a strong professional start and I will capitalize on it as I get work experience to become an entrepreneur in the future," he concludes on a high note.