SIBM Bengaluru All Set For Utopia, The International Cultural Fest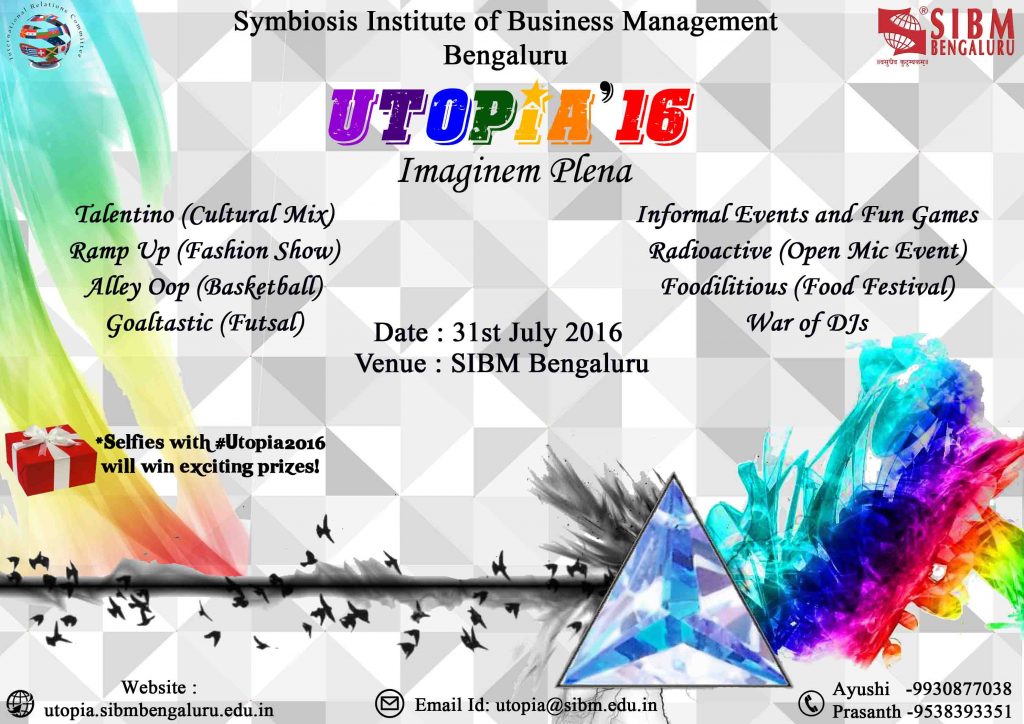 Bengaluru, July 21, 2016: – Symbiosis Institute of Business Management (SIBM), Bengaluru is all geared up for 'Utopia' – The International Cultural Fest 2016 to be held on the 31st of July 2016 (Sunday). This year, the theme (Latin) – 'Imaginem Plena', which translates to 'The Complete Spectrum' or 'The Full Image' is all about the fusion of different cultures which truly makes one a global citizen.
Utopia, organized by International Relations Committee of SIBM Bengaluru, is one of the flagship events of the college. It aims to strengthen cultural relationship between Indian students and international students studying in India.
"Our ability to reach unity in diversity will be the beauty and the test of our civilization."
― Mahatma Gandhi
Diversity is the one true thing we have in common. UTOPIA is the call for a unified cultural outlook.  It provides an opportunity to stand back and consider that there are certain personal values, beliefs and traditions that shape the things we all do. Learning about various cultures helps us relate to one another and respect people with different perspectives. The event celebrates the spirit of unity and intends to encourage amalgamation of different cultures around us.
Utopia coincides with the birthday of Padma Bhushan Dr. S.B. Majumdar, founder of Symbiosis Society. The concept of Symbiosis and its motto "Vasudhaiva Kutumbakam" – The World is One Family, has been the pillar of Dr. Majumdar's idea of a 'Home away from Home' for International students around the world.  Utopia 2016 celebrates his great vision and calls for 'Imaginem Plena'.
The Event in the past has seen:
1) Participation from around 594 International Students
2) Students from around 23 countries
  Event Details:
a) War of the DJs; Sponsored by Hard Rock Café.
b) Goaltastic (Futsal)
c) Alley Oop (Basketball)
d) Talentino (Cultural Mix)
e) Ramp Up! (Fashion Show)
f) Shutter Bug (Pre Event)
g) International Food Festival
Get ready to experience the breathtaking spectacle of sports, enjoy the affluence of cultural diversity, show your skills on a platform without barriers, be mesmerized by beauty, plunge into the excitement of fun filled activities and appease your bored appetite with some great varieties of cuisines from around the world!
Venue: #95/1 #95/2, Symbiosis College, Electronic City Phase-1, Hosur Road, Bengaluru-560100.
Date:  31st July 2016 (Sunday)
Time: 10:00 AM to 9:00 PM
 International Food Festival:
Utopia will host an International Food Festival wherein different cuisines across the globe will be available to cater to the taste of students of different nations. Various corporates will also be invited to the campus for the International Food Festival.
Last year (Utopia 2015) boasted of Chinese, Italian, American and Goan dishes in addition to desserts and beverages.
Utopia 2016 Teaser: https://www.youtube.com/watch?v=8HjAn15YYpg
Glimpse of Utopia 2015: https://www.youtube.com/watch?v=9V9rjdp05DU
Glimpse of Utopia 2014: https://www.youtube.com/watch?v=9gatl5p7QXg
For additional information on the news that is the subject of this release, please contact those mentioned below:
Arjun Parekh                                     Kriti Khanna
+91 8951096388                             +91 9772222082
www.sibmbengaluru.edu.in
SIBM Bengaluru, 95/1, 95/2, Electronics City, Phase-1, Hosur Road, Bengaluru – 560100
SIBM Bengaluru
Ever since its inception in 1978, SYMBIOSIS has been synonymous with progress. The trend of progress has been continued by setting up of SIU's first campus outside Maharashtra at Bengaluru in 2008. SIBM Bengaluru is now one of the leading B-Schools of the country. The focus, now, is on matching global standards of management education. SIBMB instills a work culture which is unparalleled among various institutions. It provides a holistic approach to management which goes a long way in creating a dynamic identity. Vibrant student associations and committees complement the program with a number of activities involving institute-industry interaction.