SIBM Pune Wins Mahindra War Room! Reactions from the Winning Team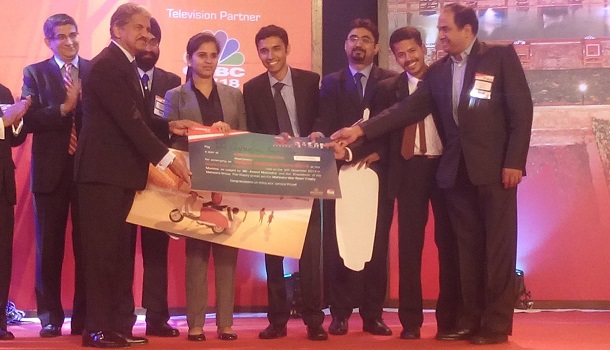 This year, students of SIBM Pune won Mahindra War Room for the first time since the inception of the prestigious corporate strategy competition. We catch up with the members of the winning team, The Centurions: Anisha Saluja, MBA II HR (AS); Dhruv Anand, MBA II Marketing (DA); Kungumaraj Mohan, MBA II Operations (KM); and Varun Gandhi, MBA II Finance (VG).
From L to R in the image: Mr. Anand Mahindra; Anisha Saluja; Varun Gandhi; Dhruv Anand; Kungumaraj Mohan; Dr. Raman, Director SIBM Pune.
First of all, congratulations on winning Mahindra War Room! How does it feel?
AS: You actually feel like a winner. The amount of hard work the entire team had put in, from selecting a case to coming up with a solution, revising it ten times until there was no possibility of a mistake – thinking about it over and over again. At the end, with this triumph… you feel like a winner, you feel at peace.
DA: It's an inexplicable feeling. Fantastic maybe is the word which comes closest to define it.
KM: It was exhilarating, and I'm ecstatic to have received the War Room trophy from Mr. Anand Mahindra. At that point all that your face is capable of, is sporting a huge smile for the rest of the day. It definitely takes time to sink in. It felt wonderful to be recognised for all the efforts put in, and a sense of accomplishment prevailed. The War Room Journey is a lifetime experience, a story to be shared.
VG: It feels amazing. It's a different feeing altogether. It is a huge win for SIBM Pune. The feeling hasn't sunk in yet.
What was your one standout moment from the entire experience?
AS: When we got the award. What happened on stage during those ten minutes was outstanding. From the moment the announcement was made that the winners of Mahindra War Room Season 7 are the Centurions from SIBM Pune, to going up on stage and meeting all those business heads, meeting Anand Mahindra himself and shaking his hand, receiving his business card – he went out into the crowd, stood with the photographer, took a photo with his own phone and tweeted it! – that entire time on stage, when we were crowned victorious, was truly incredible.
DA: I believe it was our trip to Rajasthan for the primary research. We spent in nights in the bus, train and even at the airport.
KM: For primary research purposes, Dhruv and I took a whirlwind trip from Pune to Rajasthan covering roughly 4000 km, spread over three days. We hardly slept, and if we did it was in bus stops, in railway stations, or outside the airport. A chance to have good food was as rare as finding water in a desert. Those three days are the most memorable ones in the War Room Journey.
VG: Standout moment was the win and the conversation that we had Mr. Anand Mahindra.
What was your strategy in approaching Mahindra War Room?
AS: Our team structure was such that we had one member from each specialisation, which helped us broaden our base. We read all the cases put up, and discussed them threadbare; we each picked out top three cases that we would like to work on, and shared them with the team, along with how we would each contribute on that case. Finally, we zeroed in one case in which we'd all find interesting and challenging to work on. Then we started on intensive secondary and primary research to understand how the current scenario is in the field (our case was on the edible oil industry) and how Mahindra as an organisation could benefit from it.
DA: We had zeroed in on the idea, and went all guns blazing in that direction. With whatever information we received on the way, we tweaked our solution to incorporate the changes.
KM: We had a lot of deliberations and discussions on choosing the case. Our team had a person from each specialisation. We approached the case selection in three aspects: we wanted to pick one where we could leverage on our past experiences, apply our current specialisation learnings, and also do the maximum by way of value add – in terms of primary research, coming up with solutions… and overall, something that fit the War Room theme.
VG: We did extensive research, analysed our findings, and thought of possible solutions. It is difficult to come up with something which has not been done till now but is still very much feasible.
What has your biggest learning been from this competition, given that you're less than half a year from graduating with an MBA?
AS: One was understanding business context and business scenario and looking at the big picture. Strategy cases help you understand how a business runs. You have to look at it from all angles, and understand how one business line helps the whole organisation.
DA: Not one but many. Look at the bigger picture and never miss the context; always be relevant to the theme of the competition.
KM: For me the learnings from War Room are numerous, and on all fronts – professional and personal, working in a team, respecting others' time, getting your point across and even more crucial – listening to others' views. Conducting yourself properly in the midst of high profile persons, keeping a tab on your emotions, learning to balance your work and regular life, are a few of my key learnings. Of course you don't always get it right the first time, learning in itself happens though mistakes and corrections, and one should be open to change.
VG: Your plan of action should be innovative yet implementable and practical. Believe in yourself, your team and your ideas. One key learnings is the fact that your hard work would be appreciated.
What would your one big piece of advice to your juniors be?
AS: War Room is like an internship; you're given a project and two months to work on it. A lot of people give up halfway, get bored. Work. Work throughout that time and utilise it really well, to your best advantage. Mahindra gives you that much time because you need to understand the sector, the market, and the business.
DA: Do not let the slack period sink in during the two months window for the solution. Also, look at the problem and your proposed solution from all aspects before making the final choice.
KM: Don't be intimidated by the scale of the event or by the competition from other colleges. Your passion and tenacity to win will see you through the long months of War Room. And, true to this year's theme of War Room – "Dare to Dream"!
VG: Brainstorm ideas, look for solutions that are out of the box. Make sure you consider all perspectives while coming up with solutions. Since the competition gives you a long period to work on the solutions, make sure you do justice to the entire period.
And, finally: Can you describe your experience with the competition in one line?
AS: A great learning experience.
DA: We dared to dream!
KM: A resilient journey culminating in a resounding, vindicating victory – Glory to SIBM Pune!
VG: The experience of presenting your solution to eminent panelists is something that anyone would cherish for his entire lifetime.
For more stories about life on campus, student triumphs and interesting feature stories, Check out our Monthly Campus Magazine, Vritaanta or our InsideIIM account.
Like us on Facebook | Follow us on Twitter | Connect with us on LinkedIn | Check us out on Flickr