'In Group Exercise, we normally check for leadership qualities, confidence, content and delivery.' – SIBM Pune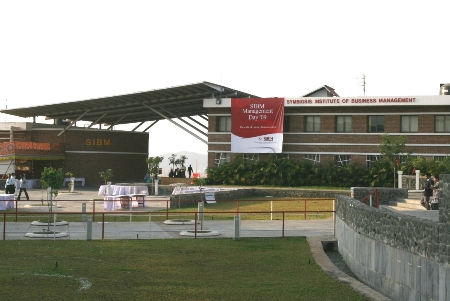 SIBM Pune students in conversation with Aspirants regarding the Interview process and Life at SIBM Pune.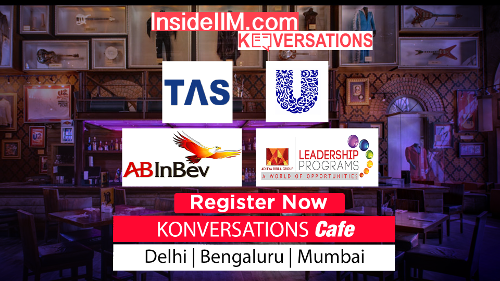 Shishir Agarwal Can you please take me through the process of the SIBM second stage?
SIBM Pune For the regular MBA program the process consists of GE-PI-WAT this year which will be held at SIBM Pune's campus at Lavale, Pune.
Shishir Agarwal What qualities do they check in a GE?
SIBM Pune In GE we normally check for leadership qualities, confidence, content and delivery.
Shishir Agarwal What is the general call to convert ratio in SIBM?
SIBM Pune Conversion ratio is dependent purely on the candidates' performance.
Shishir Agarwal What kind of profiles is offered during placements in the Finance domain? Can you provide some examples?
SIBM Pune For Finance batch usually these profiles are offered – Investment Banking, Corporate Treasury, Project Finance, Risk & Analytics, Investment Banking Operations, Corporate Banking, Equity Analyst, etc.
Puneet Agrawal Is there any weightage given to acads? And also please provide the break up for the final shortlisting in terms of PI/GE/WAT?
SIBM Pune There is no weightage given for academic explicitly. However, in interview how you focus and talk about your academic profile, is entirely up to you. Final shortlisting for GE-PI-WAT has been done on the basis of ONLY your SNAP score.
Puneet Agrawal Also I appeared for SIBM Pune interview last year as well and my interview went almost like a chit chat!! Can you please suggest on what parameters we will be judged?
SIBM Pune You will be judged on your confidence, thought clarity, and content to name a few things. Like we mentioned leadership skill, how well you can fit in SIBM culture, your reason for doing MBA. There are no specific parameters as mentioned. But you should be able to answer all questions about yourself and about your recent occupation accurately. You will get a fairly good idea about what an interviewer looks for in an interviewee from our admissions videos that we will be launching on our FB group fairly soon.
Puneet Agrawal The essays in the annexure will be evaluated under PI only right?
SIBM Pune Yes.
Puneet Agrawal I have work ex of 2+ years in IT. Do I need to mention my interest in a particular specialization before the interview panel?
SIBM Pune If they ask you for your interest, then specify.
Puneet Agrawal  How is college life at SIBM Pune in terms of cultural events and societies? Also what is average number of students involved in various societies?
SIBM Pune SIBM Pune is entirely a student driven institute. You will be emailed e-brochure and other information during Buddy Program.Parallelly at this moment there is our annual fest Transcend happening in campus.
Puneet Agrawal Will the GE panelist will be the same as the interview panelist? Also can you please let us know that whether the professors from SIBM only will judge us or they call interviewers from outside?
SIBM Pune We cannot disclose information about panelists. Be assured best people will be judging you.
plethora of cultural, academic events that take place on and off campus around the year which keep us busy.
Pranav Indi Can you please guide us for WAT/PI?
SIBM Pune WAT is the Written Ability Test. It is to test you on your logical articulation. It will graded by the panelists based on your performance. Also due weightage has been given to the Annexure and the CIF forms that you have received. Kindly take some time out and fill them appropriately and please be thorough with Current Affairs, and basic HR questions like Why MBA? etc. Buddy Program of SIBM Pune will start in two days. You will get detail information about WAT/PI then. For the time being, stay confident, brush up your current affairs, know yourself well, you must know your bio-data in and out.
Pranav Indi Is there a Semester Abroad program/Candidate exchange program with partner universities?
SIBM Pune Yes, there is. Mostly the last semester may be exchange program.
Pranav Indi Can you elaborate on the roles offered for marketing candidates?
SIBM Pune To name a few – Sales, Strategic Marketing, Branding, Business Strategy Development, Functional Consulting, etc.
Pranav Indi Will questions revolve around the answers written in the Annexure?
SIBM Pune Annexure is meant to provide the interviewers with a broad idea about the candidate. We cannot specify the exact breakup. However, the interviewer may ask you questions on those.
Pranav Indi Can the current 2014-16 student profile be made available?
SIBM Pune Sorry, the student profiles are not disclosed. You can view the batch placement profile though on our website.
Sourav Saha What can we expect in GE? Will it be a GD?
SIBM Pune At this point we can only say that it's a Group Exercise. The details will be shared on the d-day.
Sourav Saha How many seats are there in total for general candidates at SIBM Pune?
SIBM Pune You may refer to our quota policy online on our website. To re iterate there are 15% reserved for SC, 7.5% reserved for ST, 2 seats for KM and 3% for DA. Total seats are 180. Over and above the intake there is 15% reservations for International students.
Sonal Mehrotra Are there any foreign language courses in SIBM curriculum?
SIBM Pune No. There are no foreign language courses offered.
Sonal Mehrotra Could you please tell us whether we will be provided conveyance to reach the GE-PIWAT venue? I read this somewhere as someone's previous year experience.
SIBM Pune Yes, bus arrangements are available. But they will be available only at specific timings. There is bus provided from the city at 7 am and 7:10 am for the morning slot and 11:45 and 11:30 am for the afternoon slot.
Sonal Mehrotra Would be really beneficial if a little light is shed on GE. Is it GD or different from it? Also, a brief overview of the Mentor program. Mentor program or the Buddy program is designed in such a way that all your doubts and queries will be answered individually. You will be assigned one buddy from SIBM Pune who will solve your doubts or queries.
Sonal Mehrotra So all the shortlisted candidates will get a buddy before the Interview day?
SIBM Pune Yes, you will get them in a few days infact.
Sonal Mehrotra If I am currently employed, do I still have to bring an experience letter, or salary slips will be sufficient?
SIBM Pune Salary slip of last payment will do of last company. Last salary slip will do. Detail information will be provided in the buddy program.
Sayantan Mukherjee Can you please explain about the I2 course?
SIBM Pune It is a new course which is aimed for candidates who have entrepreneurial mindset. It is more practical oriented then academic.
Sayantan Mukherjee I have received only one document to fill the current information document. No other annexure for I&E?
SIBM Pune For I&E we only have the CIF.
Arnab Bhattacharyya Regarding i2 course, will placement support be provided? If yes, will it be held alongside the core MBA batch?
SIBM Pune Its name has been changed to I&E now, and no placements won't be provided for the course as it is an entrepreneurial course which will eventually help you incubating your own start-up.
Arnab Bhattacharyya I am currently unemployed but have full time work experience, so should i leave the currently employment details blank in CIF for I&E?
SIBM Pune If you are not currently employed but have experience, please mention that as well as "Past employer" & "Total Period".
Pushpendra Singh Sir I have experience from 3 different company. Do I need to bring all the document or exp. letter is enough?
SIBM Pune Experience letter and last payment slip will do.
Pushpendra Singh As I worked In 3 different companies I have all the documents. For last 2 companies but for first company I have only exp letter I don't have salary slip. What to do?
SIBM Pune First company's joining and last company's payment slip will be enough. That would work.
SouRabh Wadhawan I have 3 years of work-ex? Do the current batch has people with more than 3 years of experience?
SIBM Pune Yes, there are SIBM Pune has mixed batch from freshers to people more than 4 years experience as well.
SouRabh Wadhawan Do people with high work-ex have an disadvantage in placement and all. I have heard that more than 2 year of work ex people finds it hard.
SIBM Pune Placement is based on company required. If they find you the best fit, you will get the job. Placements are a very subjective matter which depends on company to company and person to person.
SouRabh Wadhawan What is weightage of SNAP score in final selection?
SIBM Pune 50% weightage to SNAP score is given in final selection.
Sourav Saha Could you provide some more details on the student exchange program?
SIBM Pune Details about student exchange program will be provided in due course of time. You can get exchange program details at SIBM Pune from SIU's website.
Adarsh Mishra Could you answer my question about recruiters in real estate management from SIBM-P?
SIBM Pune Please check the placement report of SIBM Pune from the official website
Kaushik Handoo I checked the final shortlisting criteria and there is no mention of Work exp. Isn't that considered?
SIBM Pune As mentioned earlier, it is not explicitly considered but there is weightage given to work ex. However, there is no explicit weightage for work experience in final selection.
Kaushik Handoo so that will not be a decisive criterion but could feature somewhere as an underlying factor, is it?
SIBM Pune In interview, how you show your work experience is again up to you.
Kaushik Handoo DO lateral placements happen at SIBM, Pune?
SIBM Pune There are no lateral placements in SIBM Pune.
Amit Das what is the break-up of weightages for final selection?
SIBM Pune That can't be disclosed right now. However, we can give you overall picture @Amit SNAP 50, WAT 10 GE 10 PI 30
Amit Das Will there be writing exercises based on pictures in WAT?
SIBM Pune Yes.
Amit Das Can the guys with work-ex expect questions from grad in PI round?
SIBM Pune You never know what the interviewers may ask. However, it's always good to know your basics well. Also it depends on a case to case basis. Ideally you should be knowing about some of your grad subjects as well.
Amit Das What was the final score out of 100 with a convert last year? Do you have any data?
SIBM Pune We cannot provide that information about final convertion score.
Amit Das All these shuttle bus routes will be emailed beforehand right?
SIBM Pune Yes.
Urf Sajan I mean how's life there, your daily schedule, extra curriculum activities, students clubs, etc
SIBM Pune All college activities are handled by nine council team members. Currently the team replying to your queries is "Aspirant Relations Team, SIBM Pune" daily schedule we juggle between classes, co-curricular activities and council work all throughout the day. There are 9 student councils here, about which you can read more on our website.
Tushar Bhatnagar I have a question, for students with more than three years of experience in IT field, which companies visit the campus.
SIBM Pune You can view the list of IT sector companies visiting campus on our website under placements. However, this doesn't mean that you can apply for only IT companies. You may sit and may get any company's offer as per your merit.
Tushar Bhatnagar Let me know how can I reach the campus on the day of interview from hinjewadi area?
SIBM Pune You may get a cab or you can catch the shuttle bus which leaves from SB road or catch it in between from university circle.
You can follow SIBM Pune at sibm.insideiim.com