Small Batch Size Makes FMS Unique – A. Sahithi, FMS Delhi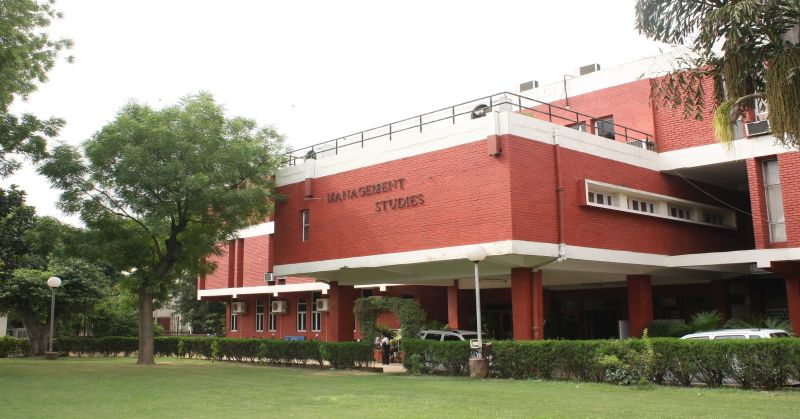 I am from FMS Delhi. It has been just over 3 weeks here but the place already feels like home. One thing unique to FMS, is its cosy and compact campus. You are bound to run into your friends and batchmates all the time. Also, the small batch size as compared to other B-schools allows you to know each of your batch mates on a personal level. It is said that a B-school experience is all about the networks you build in school. FMS scores in this aspect as all FMSites are like one big family.
One memorable class room experience would be the day that all of us put up musical performances in class. During the induction, we were all divided into groups of 15 and asked to put up a performance. A lot of us made musicals on our FMS journeys until then which frankly made a lot of us teary-eyed because of the nostalgia associated with it which we would carry for the rest of our lives. The performances struck a notch despite us being only 2 weeks old at that time because we already felt like we were at our happy place. We felt like we were home. We live out a part of our lives here in FMS and then FMS lives on in us forever. I think every student who has ever passed through these hallowed halls is still around in spirit and is metaphorically a brick in the red wall inspiring us juniors to push our boundaries and do our alma mater proud.
I have got a great set of talented and inspiring people as my batch mates. I would like to talk about a few of them. The first one is Shanky Garg. That is not his nickname or anything. He is actually named Shanky though most of us like to believe that he was Shankar Garg before becoming the absolutely cool Shanky Garg that he is now. He graduated from Kirorimal college and literally just crossed the street to pursue his MBA from FMS. He is a great actor and is quintessentially funny. There is never a dull moment around him. He always keeps those around him smiling and in high spirits. Another batch mate that I would like to talk about is Komal Priya. She is a graduate of MNIT Jaipur and has worked in Deloitte for a year.
She is one of the most vivacious and inspiring women that I have come across. She is a big time Potterhead and is into writing as well. She writes on Quora and also has her own blog.
She is also working on a novel. Praneeth Rao is another batchmate that I would like to talk about. He is a graduate of DCE and has worked in Bain Capability centre prior to joining FMS. He is actually a civil services aspirant and is immensely knowledgeable on a plethora of topics. Also, he is Telugu guy settled in Delhi and we all look forward to his mom's idlis each morning that he gets for us. He is also our local guide to Delhi. I would also like to talk about Oorja Seth. At twenty, she is among the youngest in the batch. She is an economics graduate from the Indraprastha college in Delhi. At the first instant, she looks like a child and reminds you of your younger sister back home but then once it comes to presentations, her confidence and her fluid style of speaking and articulation leave everyone around her gaping. I think she is the embodiment of the saying that the best things in life come in small packages. In fact, I think that there is something that I can earn from each of my batch mates. Each one comes from a different background, has a different story and each one is an inspiration in themselves. Together, we all compose the batch of 2020 and I hope to learn from each of them.
I would like to work at Aditya Birla fashion and retail limited. During my growing up years, I remember accompanying my mom to the More supermarket and to work in a conglomerate that actually owns this chain of super markets would be an incredible dream come true. The Madhura fashion and life style arm which apart from being the custodian of some of the top fashion brands, is also a trendsetter which brought to life India's first fast fashion youth brand. Pantaloons has been voted as India's most trusted fashion retailer for about 2 years in a row now. I aspire to work with these iconic businesses and be a part of a place where history is made, each day.
Placement Cell FMS Delhi
Established in 1954, FMS has been a pioneer in India offering management education. FMS has the unique advantage of being a premier 'B-school' in a University milieu and in the national capital, thus offering valuable opportunities for our students in interdisciplinary learning and to undertake live projects from national/ international organisations. FMS is proud of a long list of illustrious alumni. It has rich legacy and history of producing World Class Business Leaders who are ranking stalwarts in Top MNCs across the globe.