SPJIMR's Abhyudaya: When a B-School Student Becomes A Mentor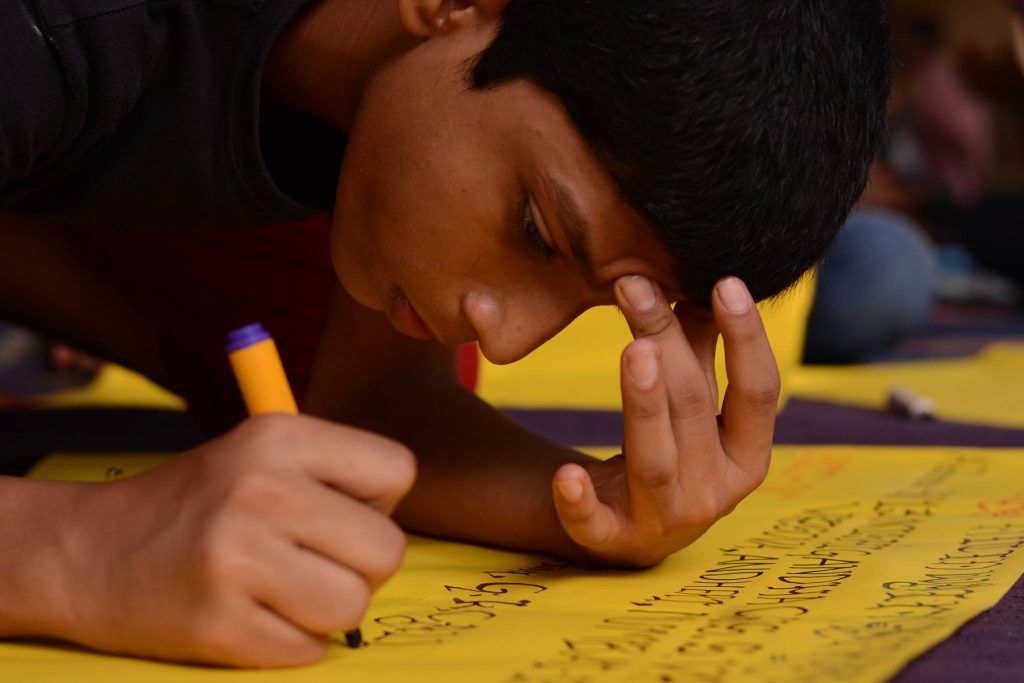 Note: SPJIMR is the only B-School in India to launch a unique pedagogic mentoring programme called 'Abhyudaya'. Every SPartan has to mentor a bright, underprivileged kid in the first year of their MBA. This form of 'Experiential Learning' helps them get a more nuanced perspective of 'Bharat', and trains them not only to be better-equipped business leaders of tomorrow, but also better human beings. The following is a diary entry of one such SPartan (me!) on his first visit to his mentee's house.
12th July, 2015
First Visit: 'Football pe charcha'
I was apprehensive, to say the least. Though in my life, I have guided many – my juniors and some of the friends of my younger brother (including him!), I have never been asked to take on such a huge responsibility. Did I suffer from a tinge of xenophobia? Not at all. I was keen to look and learn from a way of life that was different from mine – to know about their aspirations, their dreams and their goals.
'Sunny is a bright kid,' remarked his previous mentor, Soumya. With only that piece of information in mind and no pre-conceived notions, I made my way to Shiv Gulli. A road converges to a lane, concrete giving way to gravel – like a converging tunnel, before opening up to a flat expanse with a temple squatting right in the middle. In the background, I could see wooden trawlers (for a moment, I thought we were near the coast), and on the left-hand side of the temple, I could see rows and rows of shacks. In the open compound, small kids were playing football (I was to learn later that people religiously play football here!). After asking a few people around, I was directed to Sunny's house.
Instead of a door, there was this purdah. I peeked, and cleared my throat. Before I could say anything, Sunny's mother promptly appeared and invited me in. Sunny wasn't there, he was still at school (apparently, he was submitting some photocopies of his achievements for a scholarship that he was applying for). I was initially disappointed, because his friends told me, he went home. But later I decided to make the most of this opportunity and know all about Sunny and his family. Sunny's mother is a warm lady, who dotes on both her kids. I came to know that both the parents were determined that their kids must have the best possible education, and much of what they earned was spent after their upbringing. Soon, I was inundated with all the certificates proclaiming the competitions and activities which Sunny had participated in. Not only was he a bright student, but he was also strong in extra-curricular activities. Like all other kids in the neighbourhood, he too was passionate about football, and apparently had some skill in the sport. His younger sister enthusiastically showed me her brother's reports (as well as her own!), and complained that her brother sometimes beat her – a practice that I was determined to shake Sunny off.
Then enters Sunny at the scene. 'Look Sunny, who has come!' his mother said. Sunny looks at me and gives a coy smile. He is a hardy kid who sometimes walks half the distance from Bhavan's to Versova (when he misses the bus), in order to save money! He is just in 8th. Because I am hardly sophisticated and genteel, I give him a big, wide grin and mockingly complain that he was late. He quickly changes, and I hear from the horse's mouth about his wishes and aspirations (I engage his sister as well, so she doesn't feel left out). 'I want to be a big man with a pukka house and a car, so that my mother doesn't have to walk her way around.' I could see bits of me in him (I too want to be a big man, and make my parents proud!). We both wanted to script our success stories.
He wants to be a footballer, his mother wants him to be an Engineer like me. And there lay the dilemma. If I was to give him the "sage" advise to follow his dreams, I would be giving him a fool's hope. But I could also not stop him from dreaming that he could be the next Pele. So, I stopped short of expressing my opinion, though I knew what my opinion on the matter was. I asked him to show me the neighbourhood.
He took me around, sharing some anecdotes about this place and that. 'You see that, there was a gym, there.' 'You see that boy, he is my friend. And his elder brother plays football for team Yaari.' 'I too have a football team, and we are going to have our T-shirts printed.'
We saw a football match in action. And then, I noticed a shack with a big eye drawn across it (spray painting at its best). BIG BROTHER IS WATCHING YOU. I asked Sunny, what was that? 'Priyanka Chopra came here for the Swachh Bharat Abhiyan, she and her team cleaned the surrounding area and painted that shack.' (P.S.: Priyanka Chopra is my favourite actress.)
That day, I got an essence of Sunny Singh Jaiswal. Though I later learnt that this wasn't exactly the approach taken by my friends on their first visit to their Sitara's house, I somehow felt that it was important for me to understand him and place myself in his shoes. What would I have done?
I seriously had no clue of what he was to make of me, but I believe that it was a productive meet overall. I seriously wish for this kid to succeed in life…