SSMC Bengaluru To Host Indian Classical Music Legends On Its Campus To Celebrate Independence Day Through An All-Night Music Concert Series
Symbiosis School of Media and Communication (SSMC) – Bengaluru in collaboration with SPIC MACAY (Society for the promotion of Indian classical music and Culture Amongst Youth) is organizing YAMINI – an all-night Indian classical music and dance concert series on the lawns of Symbiosis International University (SIU), Bengaluru. India's most renowned Flautist Pt. Hariprasad Chaurasia will give the inaugural performance on 14th August at 7p.m. The other performances will go on till 7 a.m. on 15th August morning heralding into the dawn of Independence Day. It is open to public and is non-ticketed.
Other classical music greats who would grace the occasion with their performances are, Magsaysay Awardee and celebrated Carnatic vocalist Vidwan TM Krishna, acknowledged Chitravina player Vidwan N. Ravikiran, celebrated Hindustani classical vocalist Pt. Venkatesh Kumar, and renowned Kathakali exponent Kottakkal Chandrashekharan.
SSMC-B has joined hands with ELCITA (Electronic City Industrial Township Authority) for making it a zero garbage event, in keeping up with the tradition of being an environment friendly campus.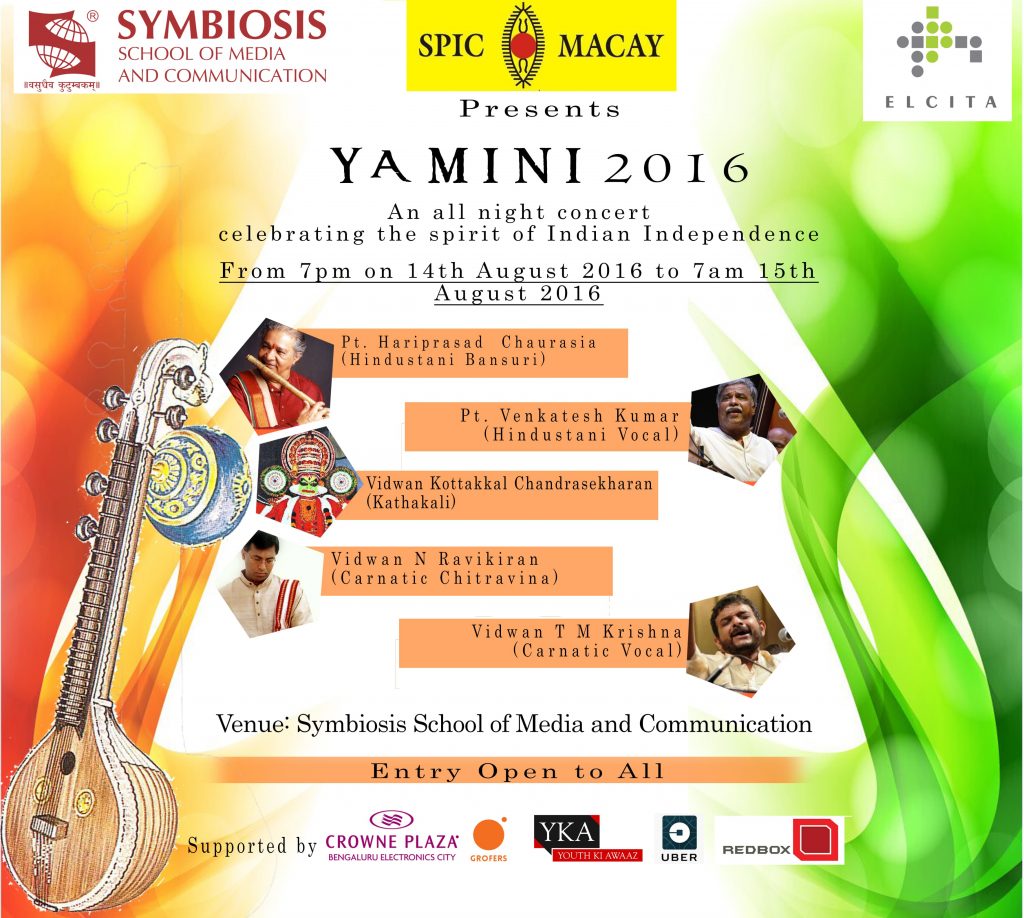 Director SSMC, Prof Vikram Sampath has extended his invitation to the people of Bengaluru to be part of the all night event and says: "We hope that the event will initiate a new culture of arts appreciation not just among the students, but also among the residents of Electronic city. Through our collaboration with SPIC MACAY, we intend to start a SSMC Centre for Performing Arts on the auspices of our campus. The centre will serve the dual purpose of classical arts training and appreciation through lectures, workshops and seminars, as well as getting stalwart artists to perform on campus."
SSMC has partnered with Hotel Crowne Plaza to serve culinary delicacies from all over the country during the night-long event.
About SSMC
At SSMC-B, learning is a participative and interactive activity. SSMC-B aims to serve the multifaceted needs of the media and communication industry in particular, and the society in general, through education, training, research and advocacy. SSMC-B has received the 4th best advertising school – National and the 4the best media communication school – South India. This recognition was given by Laqshya group in "India's first ever comprehensive media, communication and design education rating, raking and awards at the national level". SSMC –B has carved a niche in media and communication through its MBA program in Communication Management. It has been deemed as the centre of excellence in advertising and public relations.
About SPIC MACAY
SPIC MACAY is a non-political, nationwide voluntary movement founded in 1977 by Dr. Kiran Seth, professor – Emeritus at IIT – Delhi who was awarded the 'Padmashri' for his contribution to the arts in 2009. In 2011, SPIC MACAY was awarded the Rajiv Gandhi Sadbhavana award in recognition of its contribution to youth development. In 2012 – 13, 7500+ programs were organized in more than 1500 institutions in 800 towns in India and 50 towns abroad, impacting more than 3 million students.