Stories From India's Most Loved Campuses Are Here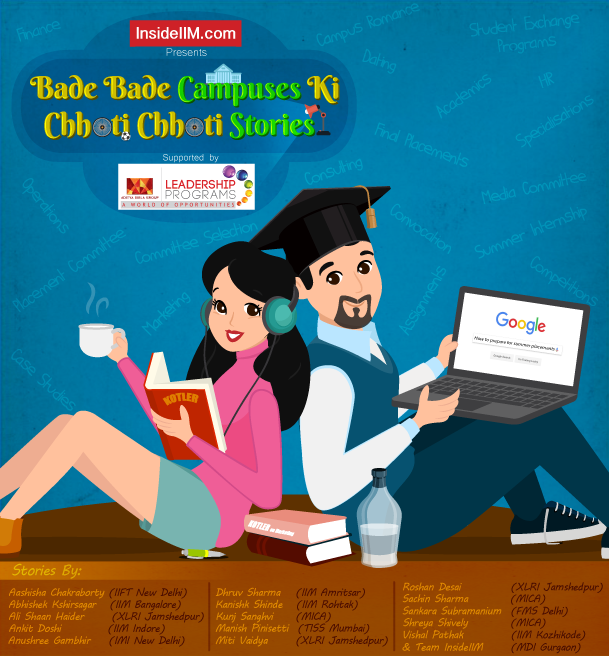 Bade Bade Campuses Ki Chhoti Chhoti Stories
What happens when a robot enrolls for an MBA? Or when an app promises you can relive and manipulate your campus days? Or when daily inanimate objects in a hostel room find time to gossip about their master? Or when an innocuous visit to a sports fest turns into an enduring love story? Or when a girl's quest for sexual satisfaction on campus spirals out of control?
Every campus has a story to tell. Unfortunately, inanimate objects don't speak. Lucky for us, some MBA students turn out to be exceptional storytellers! And this book is brimming with stories that will make you want to either live the MBA life again or inspire you to make the most of your time left on campus. The stories are short but the ideas are big. Some writers are new but some stories are age-old. There are stories on Love, Ghosts, AI, Nostalgia, Sex, Assignments, Placement Pressure, and everything that transpires within the hallowed corridors of a business school. Read the stories here.
The InsideIIM team has added a dash of glamour and pizzazz to the stories that we are sure will make you go "Yaar, feel aa gayi!" The stories are not just silent, demure words on a page. They will jump out at you. There are tiny surprises hidden all over the book that will make you believe it's not just a book – it's what we call 'Stories In Motion'.
The making of 'Stories in Motion'
Some months ago, when InsideIIM reached out to its community to send wild, exciting, bold stories set in their MBA campuses, we were flooded with entries. Once those entries came in, the content team at InsideIIM got to work. Along the way, Aditya Birla Group found the intent of the book valuable enough to put all its might behind it as well. After weeks of researching, reworking, designing, sprucing, proofreading and a healthy dose of deadline-extending, our labour of love is now ready.
So come give this book a spin. We promise you it's the sort of stuff you haven't seen before.
It's time to come fall in love with your campus all over again.
About the Authors:
MBA students and MBA alumni from all over India. Here's a shout out to the newly published authors:
Aashisha Chakraborty from IIFT Delhi
Abhishek Kshirsagar from IIM Bangalore
Ali Shaan Haider from XLRI Jamshedpur
Anushree Gambhir from IMI New Delhi
Dhruv Sharma from IIM Amritsar
Kanishk Shinde from IIM Rohtak
Manish Pinisetti from TISS Mumbai
Roshan Desai from XLRI Jamshedpur
Sankara Subramanium from FMS Delhi
Vishal Pathak from IIM Kozhikode
Ankit Doshi from IIM Indore (Class of 2011)
Kunj Sanghvi from MICA Ahmedabad (Class of 2010)
Miti Vaidya from XLRI Jamshedpur (Class of 2011)
Sachin Sharma from MICA Ahmedabad (Class of 2010)
Shreya Shively from MICA Ahmedabad (Class of 2010)
Team InsideIIM & ABGLP