Strategy Workshop led by Vijay Govindarajan at MYRA, Mysore | December 6-7, 2014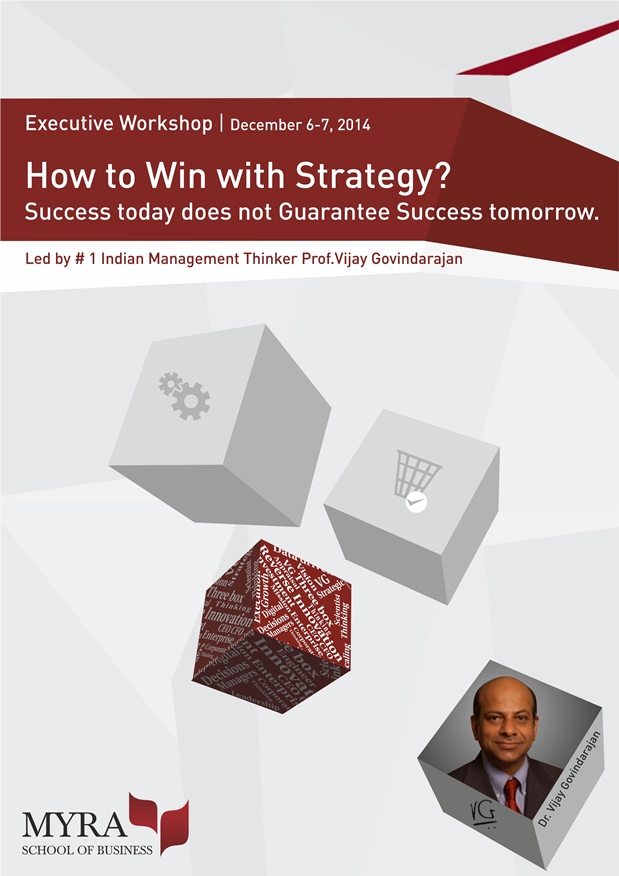 MYRA presents — Executive Workshop on How to Win with Strategy? – Success today does not Guarantee Success tomorrow
Join us at MYRA School of Business in Mysore on December 6 and 7, 2014 for two days of intensive workshops on winning with strategy. Participants will hear about topics such as three-box thinking;  What's your Case? Taking strategic investment decisions; Convergence: are you ready for the future of Digital Strategy ; How do you make data work for you?
The Workshop is led by Dr. Vijay Govindarajan, known as VG, Coxe Distinguished Professor and the founding Director of the Center for Global Leadership at the Tuck School of Business at Dartmouth College (U.S.).  VG is an expert on strategy and innovation. He was the first Professor in Residence and Chief Innovation Consultant at General Electric. He is the author of New York Times and Wall Street Journal Best Seller, Reverse Innovation. In the latest Thinkers 50 Rankings, VG is rated #1 Indian Management Thinker. Dr. Wolfgang Messner, Dr. Sudhendhar H. Rao, and Dr. Abhinanda Sarkar from MYRA School of Business are supporting the program delivery with in-depth sessions.
At the end of the two days, you will have gained proficiency in simple but powerful methods that work to develop forward-looking business strategies. Download PDF Brochure
For more information please visit http://www.myra.ac.in/myra-executive-workshop-how-to-win-with-strategy-led-by-prof-vijay-govindarajan.
Questions? Please email office@myra.ac.in call Deepa Jaganath +919535423333