Strong Work Ethic With A Good Quality Of Life-Essentials For MBA And Beyond!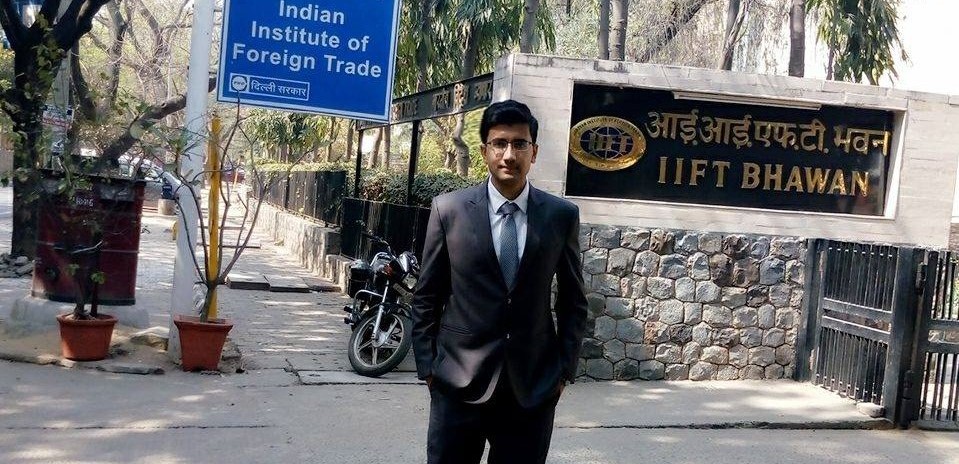 Greetings!
I am Harrshit M Kansal, currently pursuing MBA from IIFT, Delhi as a part of the batch of 2018-20. I wish to start by sharing with you my journey, that culminated in my joining of the b-school.
I graduated as an engineer from BITS, Pilani earlier this year and was lucky to receive admission offers from multiple b-schools before I had even appeared for my final semester exams at BITS. My journey started with a dream along with a belief. I envisioned going for an MBA when I was in my pre-final year of graduation. This was followed by a good research about my dream to develop a good understanding of the process. I also wished to find out how realistic my chances were of making into a premier business school in the very first attempt. Initially, it appeared to be a tough ask especially because I would be fresher along with a GEM (General, Engineering, Male) profile. But gradually, I started believing. I figured out that all I needed was to put in my highly focused efforts towards it. I needed to be determined and smart. I soon began my preparations along with my engineering studies. But here there's a caveat which I wish to present. If you are at a similar stage as I was, you shouldn't let your graduation studies suffer for preparing for MBA admissions. The importance of graduation marks during the admission processes cannot be stressed enough. So, please take it as another part of your MBA preparations.
At BITS, there's a special feature of Practice School as a part of the curriculum. Students need to undertake a full-semester internship in either of the semesters of their final year. So, I decided to go for the internship in my first semester (July-December, 2017) and the placements in the second, so that I could better concentrate on my MBA preparation. I got selected at PricewaterhouseCoopers (PwC) for my internship. I continued my preparation while being at an internship. I put in good efforts in both the areas. At the end of the internship, I was awarded a pre-placement offer from PwC and hence, did not have to appear in the placement process at BITS. Hence, from January onward, I was able to focus on the WAT-GD-PI rounds of the multiple b-schools that I had received calls from. Among all the b-schools that I received final offers from, I chose IIFT, Delhi and now I am writing this article from my hostel room. My picture, which is along with this article, was clicked on 20th February 2018 when I appeared in my final round of IIFT admission process.
It has been a really special journey for me. I admit that there were sometimes of intense pressures due to high workload. But, in the hindsight, I believe that the journey of 18 months before April 2018 greatly enhanced my quality of life. Further, I could learn many simple and yet very effective life lessons and inculcate them in myself. I now wish to share them with you. I shall be very happy if even some of these can be of help to you in the future.
Work ethic – Be dedicated and diligent towards the work you undertake. I personally believe that the benefits of a strong work ethic transcend from being directly established as merely causal. It creates a complete aura of authenticity and success around an individual, who also gains a great amount of moral strength. This strength of character really helps one during the later rounds of MBA admission processes as well as beyond.
Work-life balance – The preparation for MBA is not all about work. It is about developing yourself holistically. I wish to let you know that the months of my MBA preparation journey have been the best of my life. I brought in changes to my schedule due to which my work-life balance tremendously improved. So, the takeaways from this would be to sleep daily for at least 7 hours, spend quality time with family and spend time for recreation and rejuvenation.
Set realistic targets – Do not be too hard on yourself. There may be days when may have to work for say, 18 hours, but then follow them up with effective breaks. Also, set realistic goals in terms of the institutes that you target and perform proper research before setting targets. It also helps you create a strong belief and conviction in yourself. Remember, as per motivation theories of psychology, targets that are moderately difficult (having about a 50% chance of success) motivate one the most!
Humility and gratitude – In my humble opinion, these are the most essential personality traits for this career. We all should feel special about ourselves and have a gratitude towards life. We must remember and carry along with us our achievements and accomplishments of the past. They can be intensely motivating and humbling. Humility encompasses kindness, compassion and empathy. It is always loved by people and the career path through MBA is to a great extent about one's interactions with other people. These traits go a long way in helping one achieve longevity of success.
Finally, you must learn to accept that some things are just out of your control and you'll be often pleasantly surprised at the unexpected gifts and privileges that life can throw at you.
I, ultimately, joined IIFT, Delhi about a month and a half back. It has kept me and my batchmates extremely occupied throughout. The life here revolves around academics, guest lectures, preparatory sessions, corporate competitions and so on. We seem to have got our productivity levels increased to altogether new levels. A caveat here is that in the midst of all of it, it is very easy to overlook your most basic requirements such as sleep. The situations can become funny sometimes. An instance of that was a meeting with our seniors after about two weeks into IIFT. The seniors asked us some questions about a company XEL (name changed) to check our awareness of it. They did not seem to be satisfied with our answers and one of the seniors asked the batch, "Guys, do you want that XEL should not come to our campus?". A first-year student sitting in the front row loudly and firmly responded, "YES". The seniors could only watch him in horror and dismay. All of us could not believe our years. We were more shocked than amused. The person soon realized his mistake and admitted that he had been sleepy. After this, all of us had a hearty laugh. So, this was on the lighter side of things. But lack of sleep and ignoring health, in general, can cause serious health complications in the long term. So, my humble advice to the ones planning to get into a b-school is that you should prioritize getting a decently long and good quality of sleep. That will only improve your efficiency for all other tasks. There are people from my batch who are able to manage this aspect well and I can myself vouch for the fact that it is possible even with all the activities that one does in a b-school.
So, these were my two cents about my journey till now and what I could learn from it. Please do let me know how you feel about it!
Harrshit M Kansal
I am currently a first year MBA student at IIFT, Delhi and have graduated from BITS, Pilani in 2018. I have been born and brought up in Delhi. I love badminton, cycling, travelling and spending quality time with my family and friends. I have a penchant for writing as well as motivating and helping people using my own experiences.