Struggles Of A Fresher In An IIM

It is strange how sometimes we randomly find things which we didn't even know were missing in our lives (close enough to Latent needs in Marketing terminology?). I remember, at some point in time during the sixth semester of my B.Tech, being utterly clueless about what was missing in my life I decided to give CAT a shot. We all strive throughout our lives to rise above mediocrity. Hence studying in an IIM was always 'The Dream', but my preliminary research taught me, simply a good score in CAT can't fetch you your dream. A large portion of my CAT interview comprised of me arguing with the panellists how I think CAT's policy of providing an extra weightage based on work experience is unfair and increases the challenge for freshers to get into good b-schools. That day was the beginning of the journey where we have to prove our worth at every point to make ourselves noticeable in the harsh lifeless corporate world.
I always thought B.Tech was not a cakewalk but now standing on the second month into the PGP Programme at IIM Trichy, I can confidently say B.Tech was more like a silence before the storm. We all know about the never-ending blows the MBA course throws at our way at each moment in the form of Midnight assignments, early morning lectures, overtly intricate case studies and so on and so forth but it all becomes even more difficult when you are a fresher who landed here straight from college within just a week of finishing the final examinations. If you are one of those -distressed souls you will most likely face the following problems in the first few months –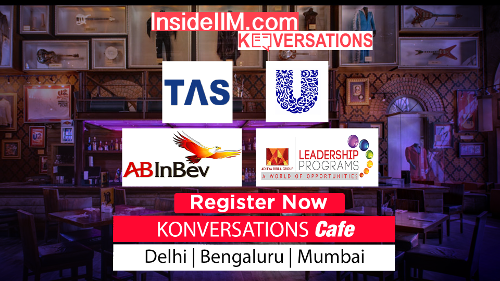 MBA – A Juggernaut of Jargons? 
Even before you know what you have got yourself into your life is stuck between B2B , B2C, P&L and economies of scale! You find yourself constantly amazed by the things being discussed around you and many a times you wonder before saying something, " Should I speak? Whatever I'm thinking does it even make any sense? What if I come out as sheer stupid! " Subjects like Marketing and Economics become a constant game of jumbled words while subjects like Financial Accounting turn engineers like us into desperate hunters preying upon C.A and B.Com Graduates for basic knowledge of accounting. The primary reaction under such a scenario will be always reminding yourself "think before you speak" but trust me, the more you think the more you inhibit your thoughts from turning into speech. So just be shameless and start asking questions. Also, I felt making friends from diverse backgrounds, having meaningful discussions with them helps us strengthen our place in the peer circle.
Tricky business!
There are always situations where you have to constantly compete with the best minds along with best practical knowledge bearers of the country. Whether you are running for positions in clubs & committees or taking part in mere class discussions or GDs you will always be tested with real life dilemmas and examples from corporate worlds which you can't really relate to. Learning to identify the fine line between being 'persuasive and goal-oriented' and being 'rude and selfish' becomes another challenge. In addition to handling all these I also found my mind wandering into idiosyncratic thoughts like 'Nobody takes me seriously!', 'Why do they treat me like a kid!', 'If I get bored of people over time, is it because of their diminishing marginal utility?' Whatever the situations were MBA has compelled me to think differently and deeply.
Did you not think it through, yet?
While writing SOPs for summers, club recruitments or while building your resume, the one question that appears again and again is, " Which domain? Which Role?" Yes, I never thought about it! In fact, with whatever limited knowledge of the industry a fresher joins an IIM it's more than difficult for us to guess which role suits us or which domain interests us. Writing a full-fledged SOP under such circumstances is more like writing a fiction. After stressing a lot over a mere SOP, I finally discovered that the only things that can help me are introspection and dwelling on my intuitions. The more I analysed my passions and interests based on whatever available data I had about myself, the more I could obtain a lucid view of where I want to see myself in the coming years. The interaction with the seniors were also immensely useful here.
Aren't you a born Leader?
The times when I was told to present a Resume, the thought that mutilated my mind was 'How ridiculously small is my Resume!' Covering even half a page with my past achievements became a task ( Sadly first position in lemon-spoon races and second position in rangoli competitions in school can't be included anymore!) while on the other hand my peers will bleat about how they can't fit all their great success stories in a single page! Yes, I am not alone here. Many freshers feel belittled and struggle to fill up their Resume but the one positive point here is that we don't have to trade off any past achievement in order to make space for a new one created here ( just consoling the miserable heart! ). This course demands for substantial proofs of our leadership skills, so all I can think of is participating in as many events as I can and pursue my passions simultaneously.
Whatever troubles MBA might have put me through, the one thing that I have extrapolated is, it's a life-changing experience and I live each day to prove my mettle amongst the best brains in the country! What else could I ask for! It was never a plan but I know it's all that was missing in my life – the never-ending thrill, the unexpected adventures and most importantly, the very steep learning curve of the classic MBA life.
As Shakespeare said, "We know what we are but know not what we may be." So let us just take chances and you never know what might be waiting for you beyond all the hard work and struggles!
RITIKA MONDAL
"An ever-curious soul with a passion for everything untried and unpaved. " Ritika is studying in the first year of MBA at IIM,Trichy. She is enthusiastic about reading, singing and travelling. She likes to unravel the mysteries of life through close introspection and analysis of everything around her. Human psychology intrigues her and she often likes to pen down her thoughts in the form of quotes.