NMIMS Mumbai Are RB Mavericks – They Win A PPO And Prize Money Of 10 Lakhs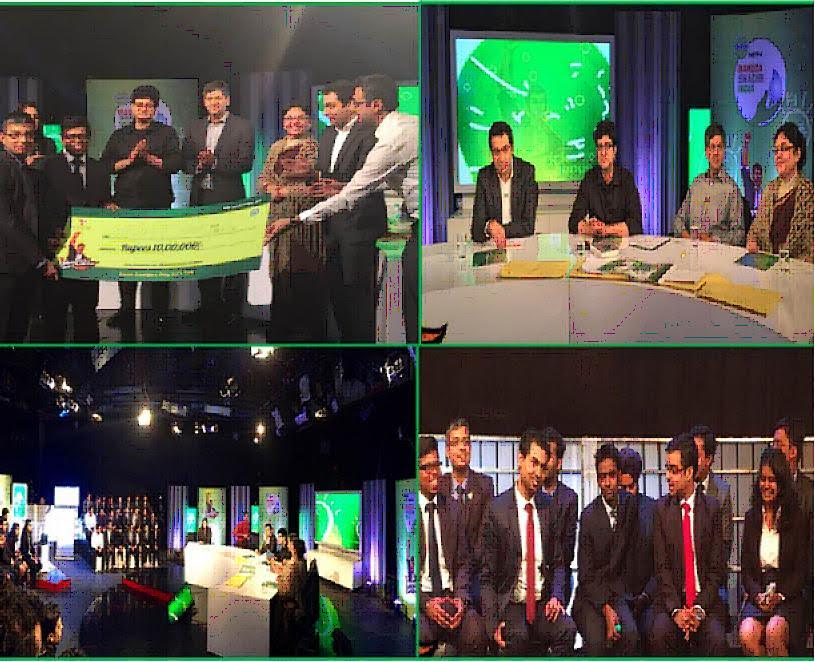 RB India (formerly Reckitt Benckiser) had launched RB Mavericks which was the 9th edition of the RB Marketing Case Challenge. They had successfully been able to identify and reward the sharpest minds across the top b-schools in the country for the past eight consecutive years. RB Mavericks aims to identify the game changer through this Annual Marketing Case Study competition who can redefine the norms in marketing and can provide solutions with his creative thinking.
RB India and Dettol announced the winners of RB Mavericks, 2015 after going through a rigorous screening process for more than 3 months. Aditya Radhakrishnan and Baskar Subramanian from NMIMS, Mumbai outstripped 1,000+ applicants with their unique idea to win the coveted title. They also won a prize money of Rs. 10 lakhs. Abhist Gaurav and Gursheel Singh from FMS Delhi were the runner-up team who took home a prize money of Rs. 5 lakhs. This year, as a part of Dettol Banega Swachh India initiative, the students were given a real life case challenge to drive behavior change around hand hygiene in a local community.
Congratulating the winners, Mr. Nitish Kapoor, Regional Director, RB South Asia said, "I congratulate Aditya and Baskar for winning RB Mavericks 2015 and I am impressed with their creative approach to driving good hygiene & hand washing habits amongst children. They are indeed true mavericks and game changers. In the 9th year of the annual RB marketing case study competition, we have received a record response from B-Schools across the country. I congratulate all the finalists & other participants for their great work and thank our jury for their passionate involvement through the process."
The eminent panel of jury members to judge this year's grand finale comprised of Nitish Kapoor (Regional Director, RB South Asia), Prasoon Joshi (Chairman – Asia Pacific, CEO & Chief Creative Officer – India at McCann WorldGroup), Vikram Chandra (CEO – NDTV Group) and Dr. Indira Chakravarty (Padamshree Awardee and Chief Advisor – Public Health Engineering Department, Government of West Bengal).
The invitation for the RB Marketing Case Challenge was extended to 18 b-schools across the country in the month of July 2015 and the application process was online based through www.mavericks.com. The participants had to form a team of two and also identify a local community of their choice with a minimum population of 2,500 residents. As the first step, they had conducted the research and gather insights from the identified community and based on that conceptualize a creative campaign to address the case challenge.
A dedicated team from RB initiated a rigorous screening process after receiving 1000+ entries. The shortlisted candidates were given a chance to make a presentation to the esteemed RB panel. For stage 3, the top 6 teams were selected and were funded with INR 1 lakh to bring their idea alive in the community they had identified. The results of their execution were verified by an independent agency later. At the finale – the Showdown, 6 teams from the Battlefield presented the results of their 'Germ of an Idea' and 'Campaign' demonstrating the behaviour change towards washing hands brought about by them in the selected community.
About RB:
RB is the world's leading consumer health and hygiene company. The company has operations in over 60 countries, with headquarters in the UK, Singapore, Dubai and Amsterdam, and sales in almost 200 countries. The company employs approximately 37,000 people worldwide.
With a purpose of delivering innovative solutions for healthier lives and happier homes, RB is in the top 20 of companies listed on the London Stock Exchange. Today it is the global No 1or No 2 in the majority of its fast-growing categories, driven by an exceptional rate of innovation. Its health, hygiene and home portfolio is led by 19 global Powerbrands of Nurofen, Strepsils Gaviscon, Mucinex, Durex, Scholl, Clearasil, Lysol, Dettol, Veet, Harpic, Bang, Mortein, Finish, Vanish, Calgon, Air Wick, Woolite and French's. At the start of 2014 RB had 43% of its core revenues coming from its 2 emerging market Areas and 57% from its developed market Area; 72% of core revenues came from the health and hygiene categories of the portfolio.
Fuelled by a new breed of talent who blend intellectual curiosity with a commitment to the highest quality standards, RB is set to redefine the world of consumer health and hygiene. RB people and its culture are at the heart of the company's success. They have an intense drive for achievement and a desire to outperform wherever they focus, including in sustainability where the company is targeting a 1/3 reduction in water impact, 1/3 reduction in carbon and to have 1/3 of its net revenue coming from more sustainable products by 2020. It is also the Save the Children charity's largest FMCG global partner, with a new partnership vision to radically reduce the world's second biggest killer of under-fives, diarrhoea. Overall RB wants to reach 200 million people to improve their health and hygiene behaviour.
'This is a Promoted Feature.'