Uncategorized
'Students Should Read Voraciously' – Saurabh Mukherjee, CEO Instituitional Equities, Ambit Capital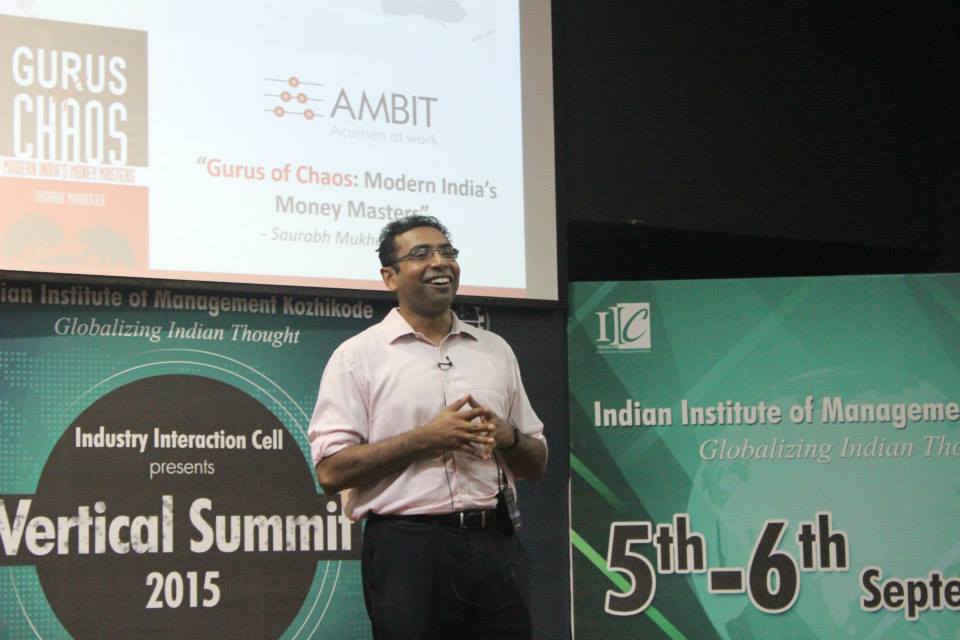 Saurabh Mukherjee, is the head of institutional Equities at Ambit Capital. In his visit to the IIM Kozhikode, during Vertical Summit organized by Industry Interaction cell, he spoke to the Media Cell, on his experiences of investing in equity markets, future of Indian equity markets and what it takes to be a good investor.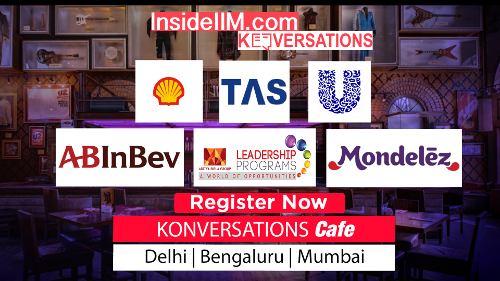 With the global equity markets taking a hit due to the Chinese slowdown, what is your outlook on the current global macro-economic scenario?                                                             
The period after the collapse of Lehman, i.e., the period between 2008-14 has seen unprecedented pumping of liquidity in the Global financial market. In these 6 years, my reckoning is close to 5-6  trillion dollars have been warranted by the four big Central Banks in the west. Now if you flood so much of money in any market, be it commodity market, property market or stock market, in all probability it is likely to go up. Now, logically it follows, if the liquidity tide recedes, i.e., if this money stops getting printed, as The Fed stopped doing it last year by and large you will observe markets falling down. This is something that has been happening of late in the global financial market.
With a plethora of startups happening in India and a lot of them being valued to unprecedented scale, there are speculations that we are fast approaching a valuation bubble burst. What is your take on that?                                                                                                                                                                                                                                                                                 
We have already seen this happening in America in 2000 when the economy was triggered down by the dot com crisis. To much extent we are going to see a repeat of this. We have numerous tech startups, social media startups and so on, where most of them would die and only a few would survive. I am not quite sure whether the problem is their inflated valuation. The problem as I perceive lies in the business model itself. The central debate is whether these startups have a business model which will ever make money because it is eventually the returns for which investors are putting in their money. And as the sentiments go, most of the investors now have already become very selective about investing in these startups.
The Indian markets have seen a huge dip in the past couple of weeks, reacting to the stuttering Chinese economy, where do you see this ending?                                                                 
The problem with Indian markets is our business model just like many e-commerce start-ups is not very strong currently. The reason for that is, first, our banks are not willing to lend more due to their NPA's. Second, there has been overcapacity situation in multiple industries, like cement and cement products, trucks, auto etc.  These two factors viz. oversupply situation and banks unwilling to lend to corporations and small businesses have stifled our economy currently.
Is there any particular sector or industry which will emerge strongly out of this volatile market?                                                                                                                                                            
There is no sector I am particularly interested currently. One has to choose fundamentally strong stocks. Companies with strong operating cash flow, high return on assets, strong revenue growth unique marketing strategy and business model, etc. are the ones to look out for. There are companies which are leading their respective industries and doing considerably well along these parameters.
What was the secret formula for your "coffee cup portfolio" which is popularly known for outperforming the index during the economic crises of 2008-09?                                          
We used only two screening formula for selecting strong stocks. One, return on invested capital should be greater than 15% over 10 year period, which infact is the average cost of capital for most industries. Second, revenue growth should be greater than 10% over 10 year period. Coupled together, we arrived at bunch of dozen stocks for investing. I believe these two criteria are one of the most fundamental-testing factors for any company.
There is a lot of enthusiasm among the students to start investing in the stock markets. Is there any specific tip you have for all those who are new to investing?                                          
Students right now should only be focussing on reading voraciously from various sources and create a deep understanding of the economy and world, the different industries and their fundamental drivers, cyclicality etc. Thanks to technology like Kindle and apps, we have access to a plethora of instant information. Apart from online content, students should read "Investing -The last liberal Art", " India – A million mutinies now",  Warren Buffet's biography, "Wall Street Meat" and "Once upon Wall Street".  Along with these one can create a mock portfolio and run it over one year to learn the intricacies, before finally investing.
Interview conducted by Koustav and Aditya –Media Cell, IIM Kozhikode