Summer Placements 2018 At VGSoM, IIT Kharagpur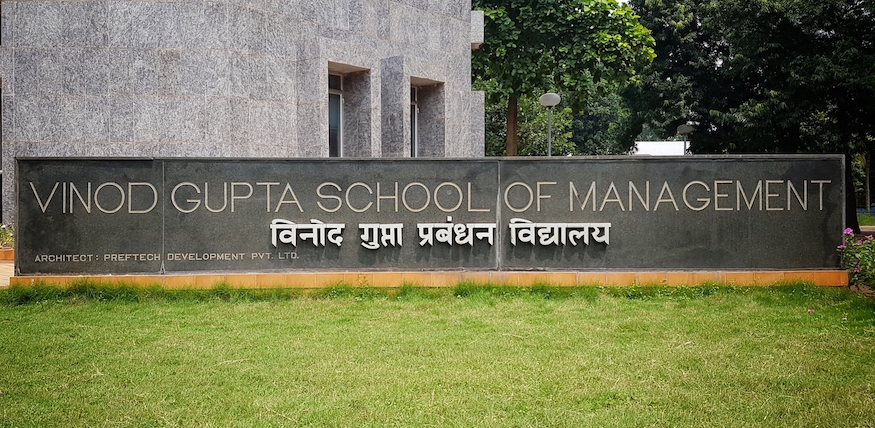 The Summer Internship Placements for the batch of 2017-2019 at the Vinod Gupta School of Management, IIT Kharagpur, was officially closed, with the registration of 100% placements and a substantial growth in placement statistics. The batch of 123 students received a total of 141 offers from 66 companies belonging to a wide gamut of industries. The Institute, which is ranked 7th in the Management category by the NIRF Rankings 2018 of MHRD, witnessed companies such as Accenture Digital, Amazon, Google, Crisil, PwC, Wipro amongst others, hiring for various roles.
Furthermore, a number of companies including the likes of Puma, VLCC, Valmont, Halma, visited the campus for the first time. Thus, the average stipend for the batch stood at INR 99,500 and the median stood at INR 89,300. The highest offered stipend for international internships was INR 6,30,000 and that for domestic internships was INR 2,96,300. The domains to have received the most number of interns from the batch, in descending order, are those of Sales and Marketing, followed by Operations, Consulting, Retail, Analytics, Finance, and General Management.
The sector-wise breakup of roles :
At the end of the successful round of summer placements, Prof. Prabina Rajib, the Dean of the School and the Co-Chairperson of Placements remarked, "Summer Internships are an integral aspect of learning at VGSoM, and a wonderful opportunity for the students to immerse in live industry scenarios".
Find the Official Summer Placement Report 2018: Here
VGSoM Kharagpur
The Vinod Gupta School of Management is a business school in India. It was established in 1993 at IIT Kharagpur and was the first management school to be set up within the IIT system. It was initiated by a distinguished alumnus and a Life Time Fellow of the Institute, Mr. Vinod Gupta. In the year 2018, VGSoM completed 25 glorious years of its existence as a premier B-School of India. Today it is consistently ranked as one of the top 15 Institutes for business management in the country and boasts of a list of illustrious alumni holding prestigious positions in companies across the world.