Summer Placements – Class Of 2019 – IIM Indore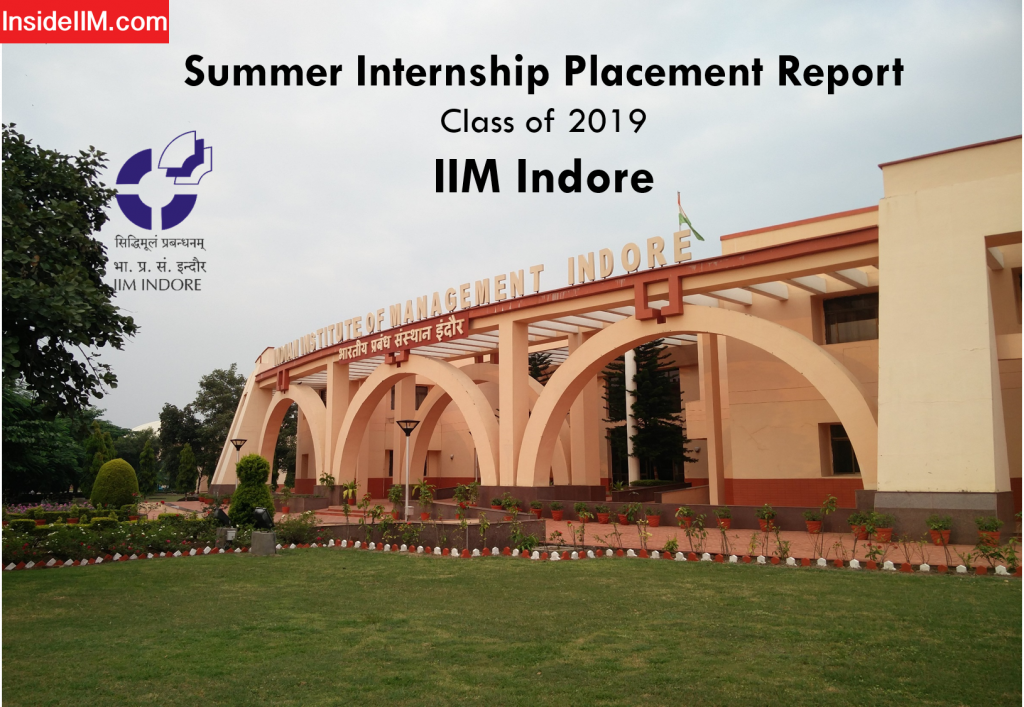 Highlights as per the placement report
– IIM Indore, with the largest batch size among all IIMs, consisting of 543 participants in the Class of 2017-19, has completed a phenomenally successful Summer Internship Placements 2017, that saw participation from over 150 companies, including 60 first-time recruiters, rolling out offers to 447 PGP and 96 IPM candidates, which included 10 offers based out of international locations as well.
– The average stipend offered saw an increase of around 20% from previous year to as high as INR 1.24 lakhs, while the average stipend for the top 100 offers was INR 2.18 lakhs, thereby soundly standing testament to the fact that a colossal batch size is no impediment to quality offers and opportunities. The highest stipend offered was INR 3 lakhs.
– Boston Consulting Group continued to recruit in ever-increasing numbers while new recruiters in the Consulting domain included IMS Consulting Group and Synergy Consulting. Other legacy recruiters like Avalon Consulting, Cognizant Business Consulting, Ernst & Young, PricewaterhouseCoopers continued to engage with us.
– Finance continued to be the leading domain with front-end Investment Banking roles being opened by 5 firms, including regular recruiters like Deutsche Bank which also opened its coveted Global Markets role after a brief hiatus, as well as new recruiters like EY, Langham Capital, Macquarie Group, and Singhi Advisors.
– Goldman Sachs and JP Morgan Chase continued to recruit for a multitude of roles that included, among others, Investment Banking, Investment Research, Asset Management, Risk Management, Securities, Corporate Treasury, etc. while Bank of America Merrill Lynch retuned to participate after a break.
– General Electric opened its coveted Corporate Finance intern program for the first time while other leading multinational finance recruiters like American Express, CIMB Malaysia, Credit Suisse, Fidelity, HSBC, Nomura, Royal Bank of Scotland continued to recruit.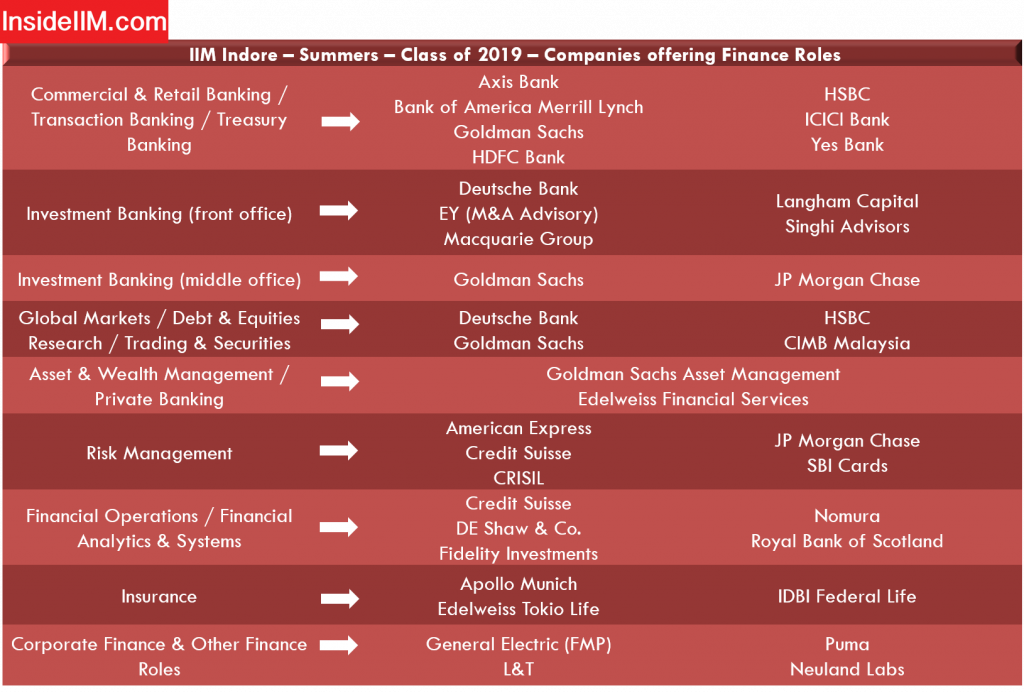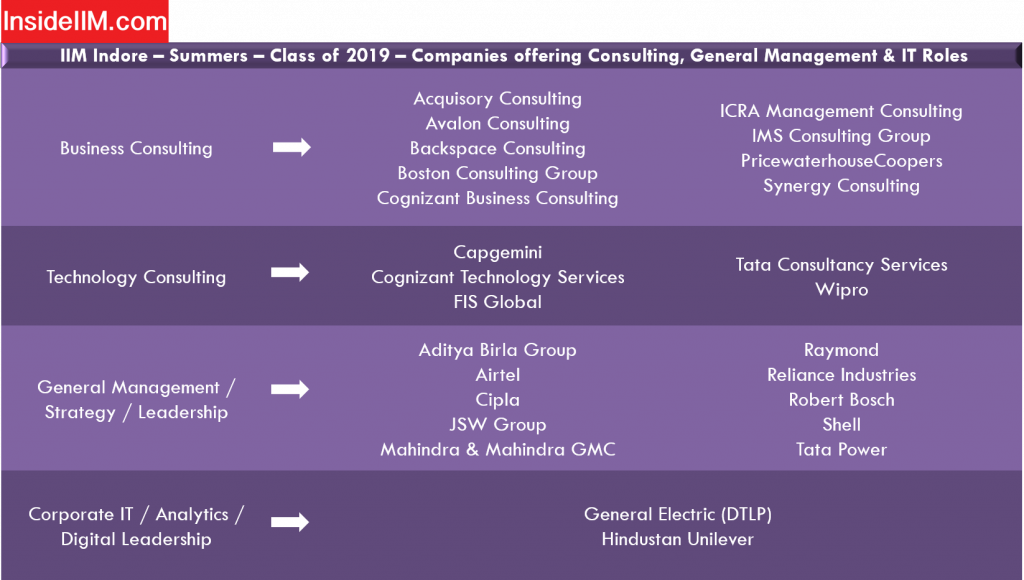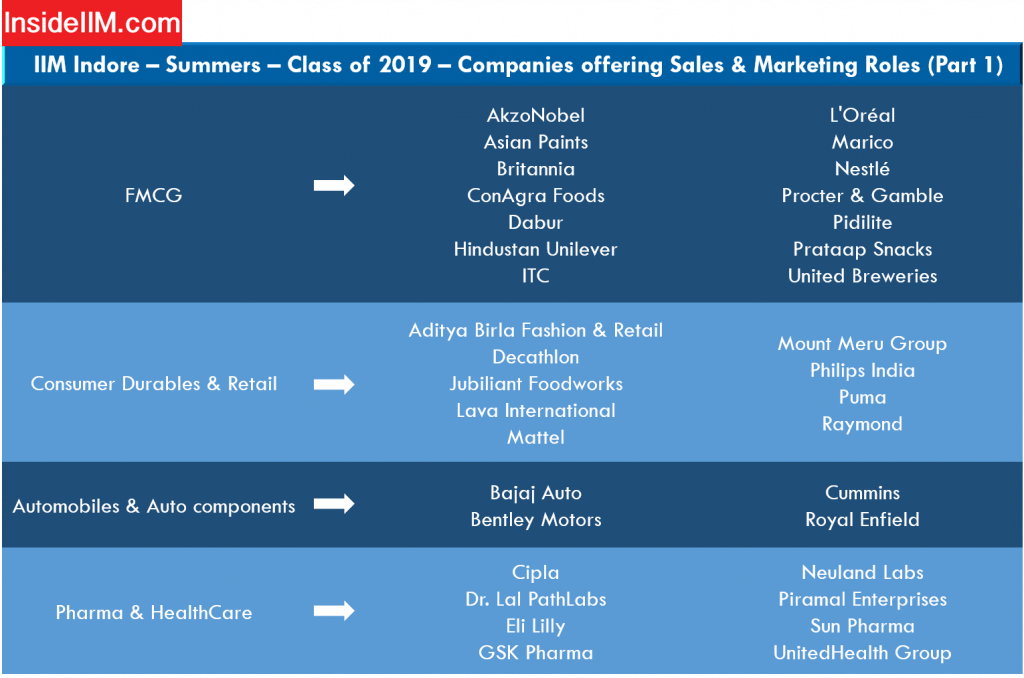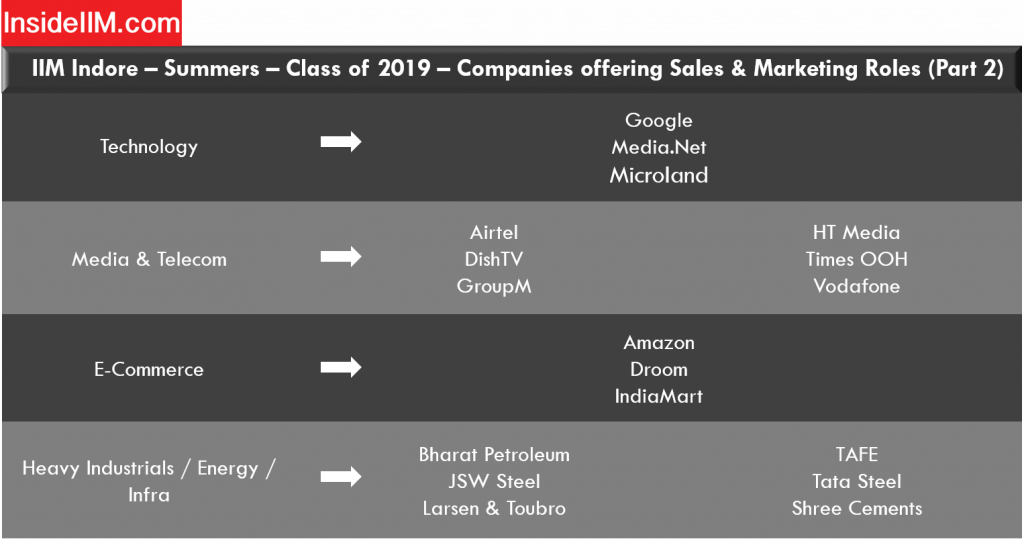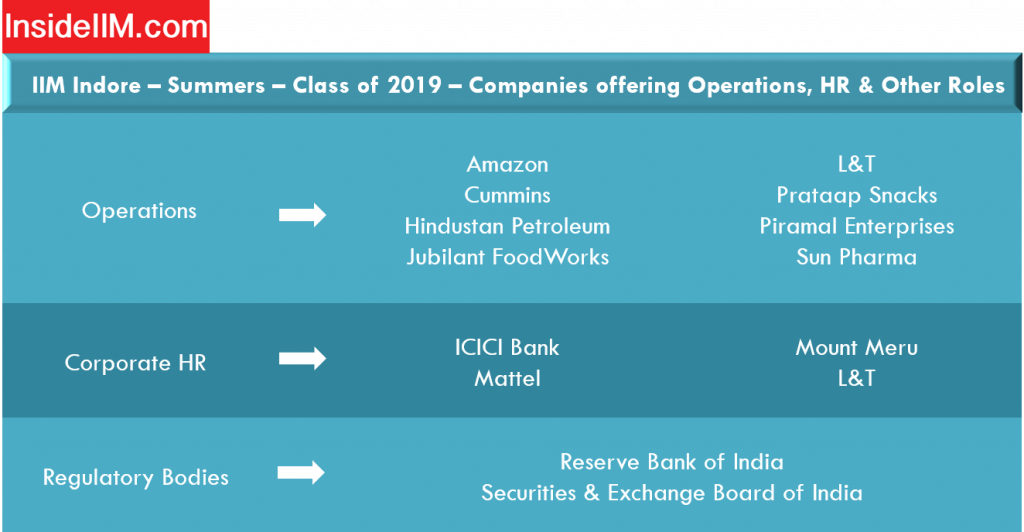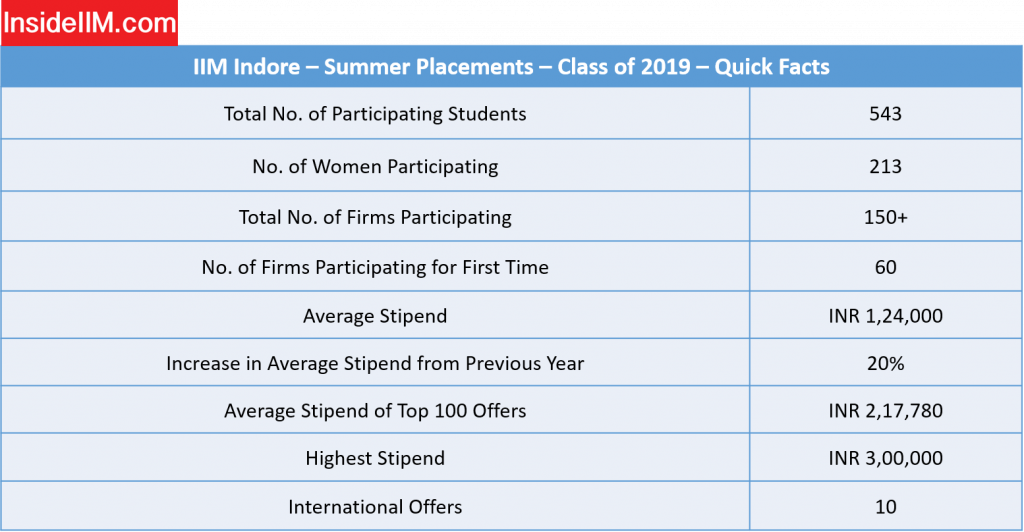 Some more highlights as per the placement report –
– Aditya Birla Group continued recruiting through multiple channels for its coveted Group Internship Program, as did other regular General Management domain recruiters Airtel (YLP), JSW Group, Mahindra & Mahindra GMC, Reliance Industries, Robert Bosch, and Shell. Cipla and Raymond opened their General Management profiles for the first time.
– Marketing also continued to be among the top domains with leading FMCG brands like Nestlé, Procter & Gamble, and United Breweries returning back to recruit after a brief hiatus while the usual FMCG recruiters, AkzoNobel, Asian Paints, Britannia, ConAgra Foods, Dabur, Hindustan Unilever, ITC, L'Oréal, Marico, Pidilite, Prataap Snacks continuing to recruit in large numbers.
– The auto sector increased their hiring with Bajaj Auto, Bentley Motors, Royal Enfield all recruiting for the first-time while the pharma sector remained strong as usual with firms like Cipla, Eli Lilly, GSK Pharma, Piramal Enterprises, Sun Pharma, UnitedHealth Group continuing to recruit.
– Toy-maker Mattel visited the campus for the first time, as did well-known sports goods retailers Decathlon and Puma. The media & telecom sector saw HT Media re-establish relationship after a gap while existing relationships with Airtel, DishTV, GroupM, Times OOH, Vodafone continued to flourish.
– The fourth batch of the 5-year Integrated Programme in Management (IPM), that appeared for summer internship placements along with the PGP batch, received high levels of enthusiasm and interest from all the recruiters. Some of the leading recruiters which recruited IPM students in large numbers included Aditya Birla Group, Goldman Sachs, JP Morgan Chase, ICICI Bank, Nomura, Piramal Enterprises, L'Oréal, etc. Firms like Mattel, Royal Enfield, and United Breweries recruited IPM students exclusively.