Summer Placements – Class of 2015-17: IIM Indore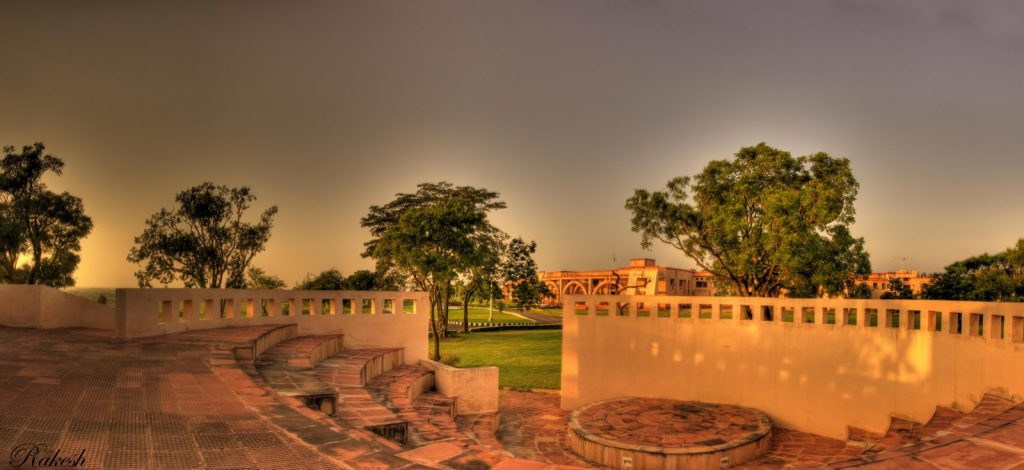 Season #5 continues with IIM Indore Summer Placements this week. Like for XLRI, we have good data across summers and finals for the last 4 years now for IIM Indore. Except for salary figures (which we cannot vouch for any school) the companies, roles and offer numbers are fairly accurate across the years for all our IIM Indore reports. You can read the Final Placement report for the Class of 2015 here and the Summer Placement Report for the Class of 2016 here. Again placing by far the biggest batch across IIMs – 562 (450 of PGP + the IPM programme students), IIM Indore has done admirably over the last few years in managing rapid expansion and yet being able to improve the profile of companies that visit the campus. The other thing that they have done well in is ensuring certain companies recruit year after year and in big numbers – it is the only way you can grow batch sizes and still be able to provide job opportunities.
One other peculiarity about IIM Indore is that almost always Final Placements are better than Summer Placements. You can look at 4 year data on this portal and you will conclude the same. One sector FMCG – which was never traditionally a strong sector for IIM Indore has been doing very well over the last couple of years – mainly because of the focus on the younger batch that IIM Indore has started admitting – focus on work experience has gone down.
BCG has been recruiting for 5 years now at IIM Indore – This is the second year in succession that they have recruited for Summer Placements. Deutsche Bank has been making a significantly high number of offers for the last 2 years at IIM Indore. Google, Microsoft, HUL, L'Oreal, Goldman Sachs, Aditya Birla Group, eBay, Snapdeal, ITC, HSBC are other marquee recruiters.
Highlights as sent by the Placement Committee
– Recognized for its largest batch size of 562 students, IIM Indore witnessed participation from 137 companies in this summer placement season
– IIM Indore once again proved its strength in Consulting with major firms like The Boston Consulting Group, Cognizant Business Consulting, Deloitte S&O and RedSeer Consulting rolling out increased number of offers
– The faith of industry in IIM Indore was further strengthened as PE firms like Samara Capital, and IT firms like EMC Corporation and Xerox which visited the campus for the first time.
– Deutsche Bank, Edelweiss Capital, Goldman Sachs and J.P. Morgan together rolled out more than 40 offers.
– Front end finance roles were offered by Deutsche Bank, Edelweiss Capital and companies operating in diverse sectors like Multi Screen Media, Raymond and Vodafone also offered roles in Finance
– Sales and Marketing domain saw participation from major FMCG firms like AgroTech Foods, Asian Paints, Britannia, Dabur, HUL, ITC, Kellogg's, L'Oréal, Mapro Foods, Marico and PepsiCo to name a few
– EMC Corporation, General Electric and Hindustan Unilever Limited offered coveted IT leadership roles
– Technology giants welcomed IIM Indore's talent with Microsoft offering its Program Manager role and Google offering a technology role
– eBay, Infibeam and Snapdeal were the prominent names in this year's e-commerce segment. Many funded startups like Capital Float, Purplle.com offered roles in the fields of Business Development, Category Management, Digital Marketing and Market Research amongst others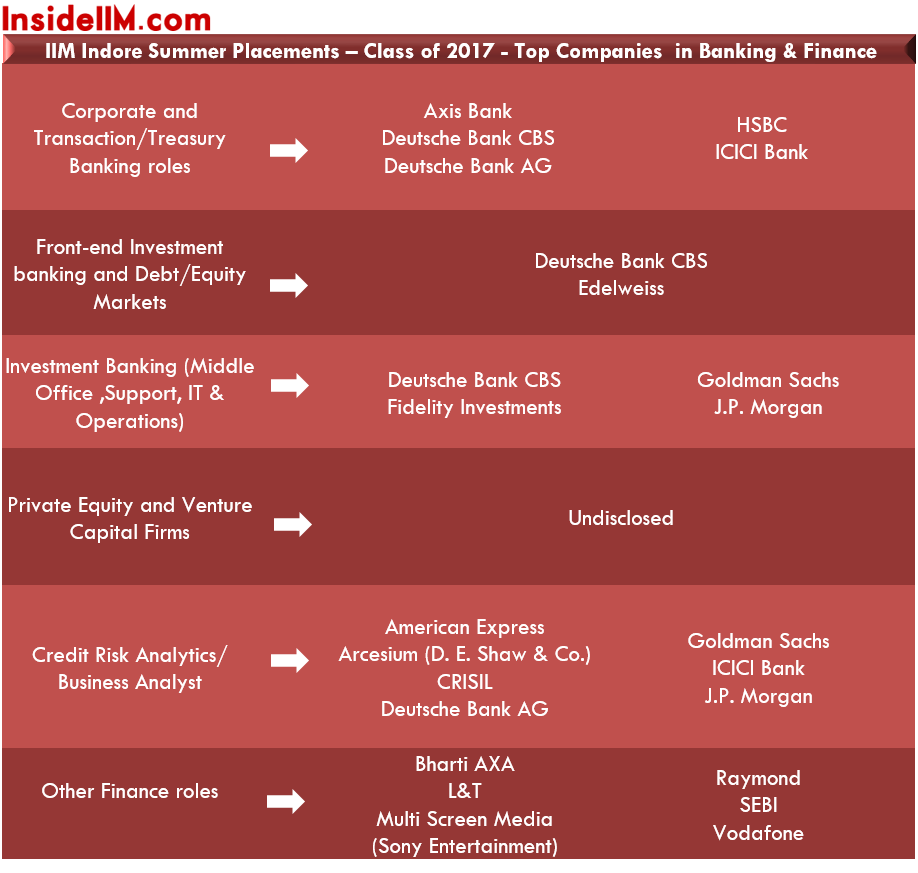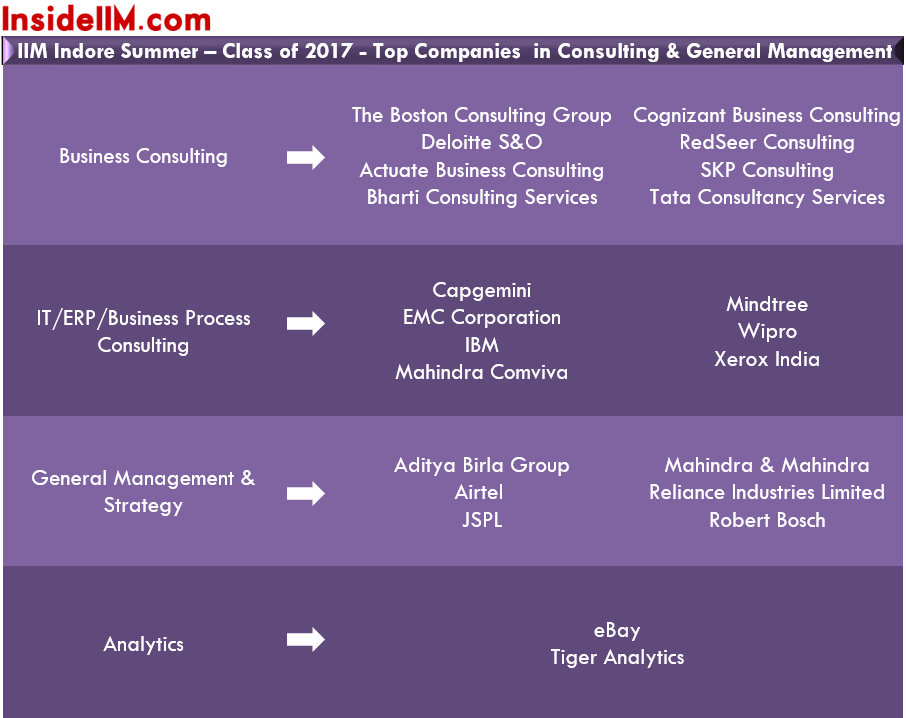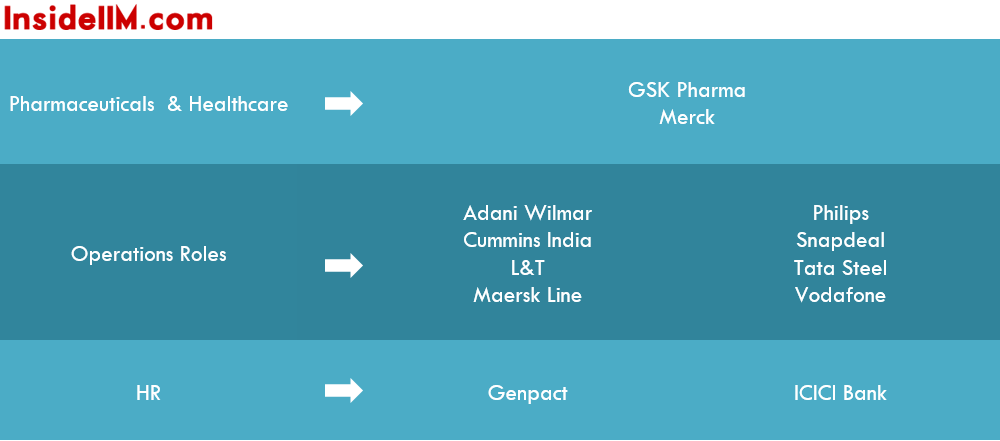 In case you wish to point out anomalies in the report, do write in to us at editor(at)insideiim(dot)com. We will try to clarify it with the placement committee/company. Anonymity will be ensured.
Summer Placement Reports for the Class of 2017 across schools can be found here
Summer Placements – Class of 2016