Summer Placements – Class of 2015-17: XLRI Jamshedpur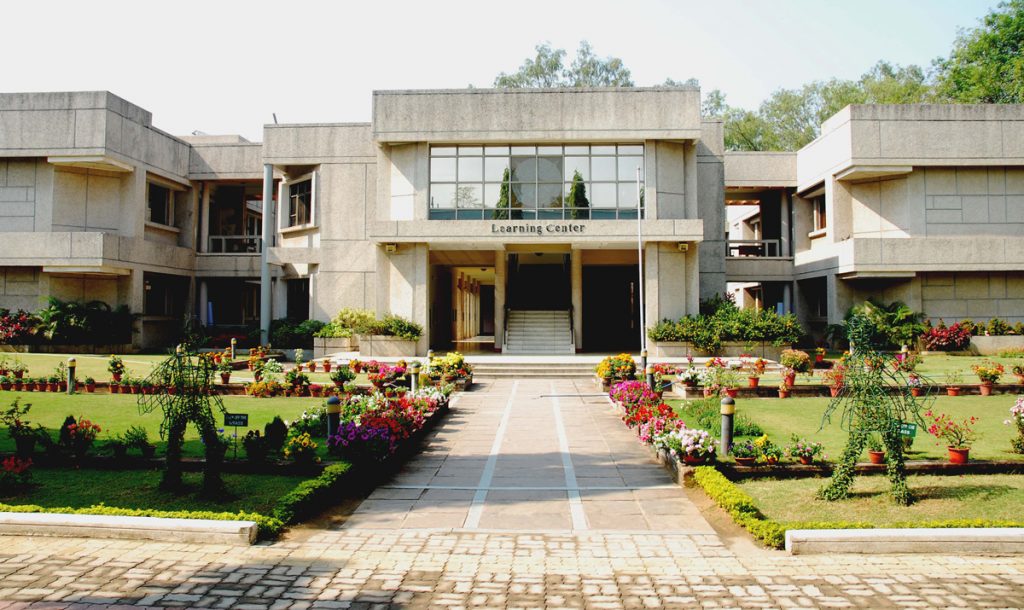 Season #5 of Summer Placement Reporting continues today with XLRI Jamshedpur. One of the best schools in India, XLRI has been sharing data with us since 2012 and the general perception has always been very positive of the report being mostly accurate and largely transparent.  It is also quite notable that many of the best recruiters are wiling to travel all the way to recruit at Jamshedpur (there is no direct flight anymore). It points to two things – 1) Quality of Students and the XLRI brand 2) The super-strong Alumni base of the oldest business school in India (1949 – although the BM programme was introduced much later)
XLRI has expanded the batch in the last 2 years and has managed to maintain the overall profile and quality of the summer recruitment. The report below is for both HR and BM at XLRI. Human Resources Tab can be see under most of the heads.
You can find last year's summer placement report (which is slightly more detailed) here. The most recent Final Placement report can be found here.
(Promotion : The Smartest in the country take the XAT. Are you one of them. Register now.)
Highlights as per the placement team :
– The median stipend offered to the batch was INR 65,000 per month while the maximum was INR 2.50 lakhs per month, the average stipend offered was around INR 70,000 per month
– XLRI continued its parallel placement process called "Parivartan" for the students who voluntarily withdrew from the conventional placement process and sat for interviews in various top notch NGOs and Not for Profit Organizations. Parivartan this year saw participation from the likes of companies like Bill and Malinda Gates Foundation, Tata Trust and eVidyaloka. The process was held and completed before the conventional Summer Placement Week
– Largest ever batch of 361 students was placed in a record time of 2.5 days
– Participation from 95 recruiters (inclusive of 25 new recruiters)
– Around 48% of the batch was recruited by the FMCG, BFSI and Consulting firms
– The top recruiters on campus in terms of numbers were Accenture Strategy (13), Microsoft (12), HUL (11), Flipkart (10), ABG (9), Citibank (9), Snapdeal (9) and Vodafone (9)
– The median stipend increased by ~16% per month
– Carlyle recruited exclusively from XLRI. Avendus Capital once again offered its front end PE Syndication & M&A Advisory role. JP Morgan Chase offered its Front End Markets Role to XLRI. The European Hedge Fund returned to hire summer interns
– This year saw a number of new recruiters visiting XLRI for summer internships like Everest Group and Hay Group for Consulting roles, HCL and GE for Strategy roles and Shell for S&M roles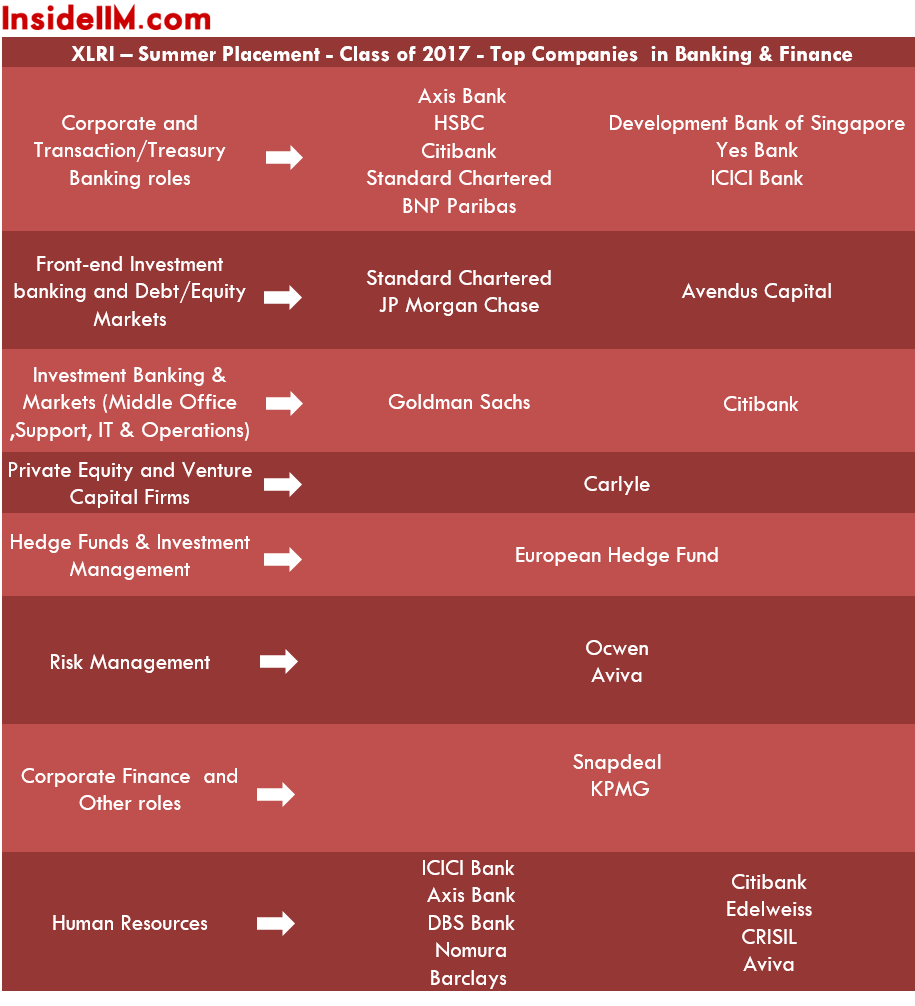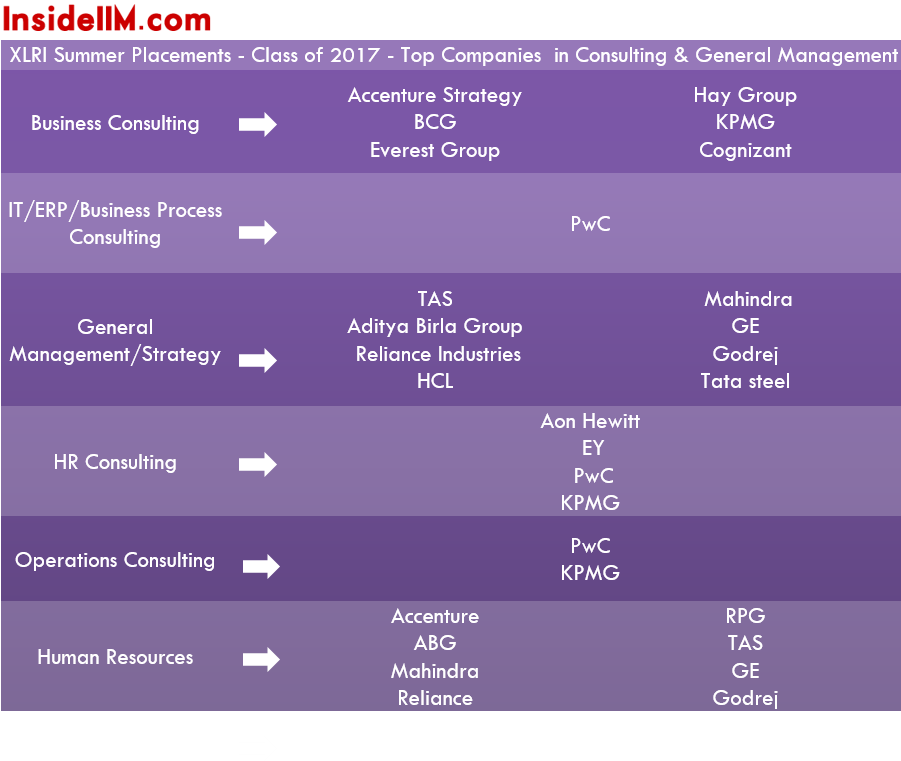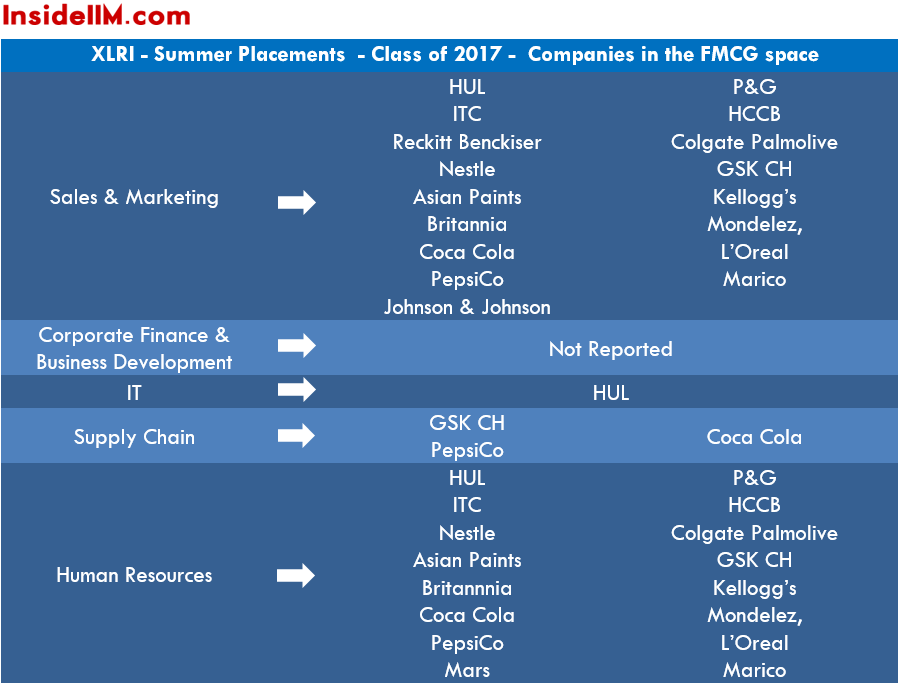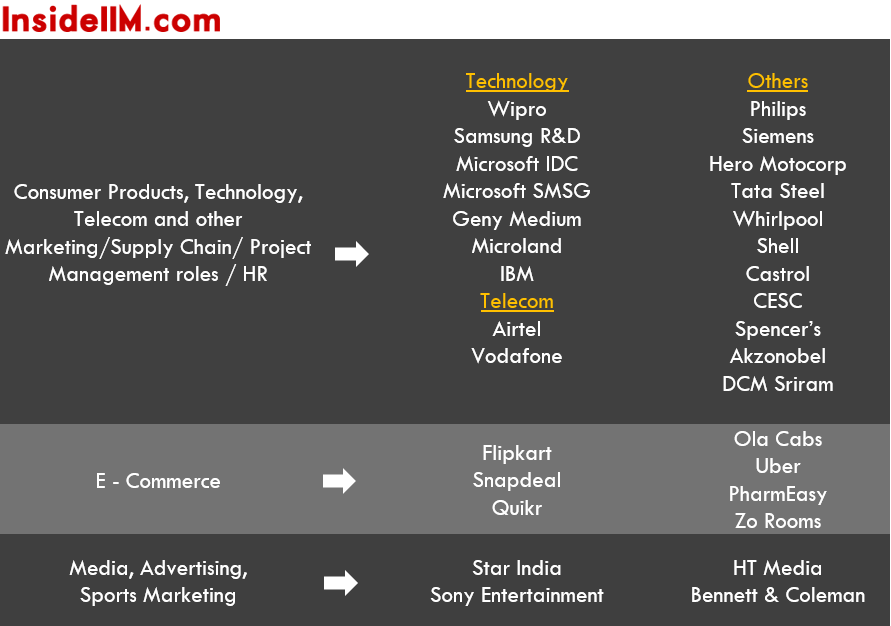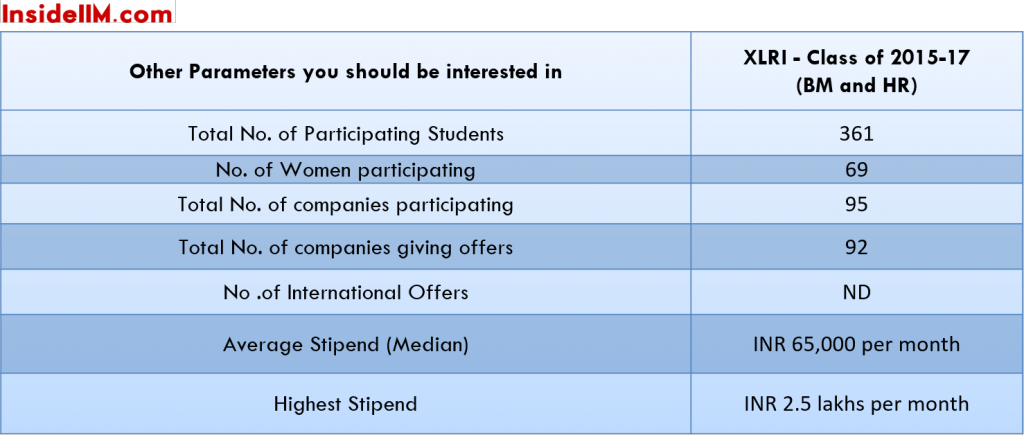 ND = Not Disclosed
In case you wish to point out anomalies in the report, do write in to us at editor(at)insideiim(dot)com. We will try to clarify it with the placement committee/company. Anonymity will be ensured.
Follow XLRI at xlri.insideiim.com
(Promotion : The Smartest in the country take the XAT. Are you one of them. Register now.)
Summer Placement Reports for the Class of 2017 across schools can be found here
Summer Placements – Class of 2016