Summer Placements : IIFT – Class of 2014 -16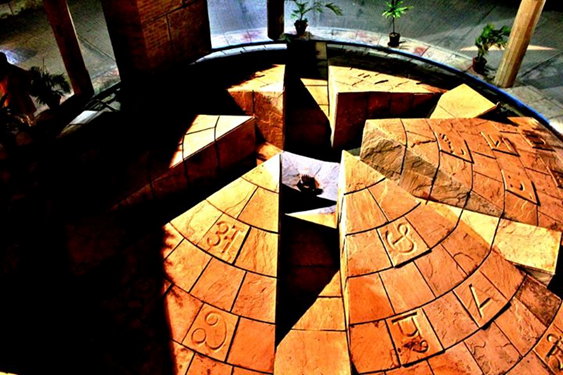 We started reporting placements at IIFT in the InsideIIM format last year. Two things that stood out, and continue to stand out this year are
1) The diversity of profiles – good mix of companies from all domains.
2) Unique profiles in the international trade domain.
Read the earlier summer placement reports of the season here 
Highlights of the 2016 Summer Placement Season (as reported by the Placement Committee at IIFT)
–  The summers of 2014 saw the largest batch ever at IIFT placed in the shortest time span.
–  Average stipend saw a rise of 34% with highest stipend on offer being 4,90,000 INR for the two-month internship duration
–   Sales & Marketing roles continued to be the most sought after ones with 41% of the batch opting for them.
–   Goldman Sachs, JP Morgan, Godrej Industries, Flipkart, Aditya Birla Group's Madura F&L and Vodafone together made a total of 51 offers.
–   This year's summers saw 12 international offers across locations such as Latin America, Geneva, China, Singapore, Africa, Paris, Dhaka & Dubai (an increase from 3 offers last year)
–   OECD Paris hired exclusively from IIFT in India. WTO came back to recruit summer interns. EU Commission made their maiden offers at IIFT this year.
–   Around 10% of students opted to intern with E-Commerce firms like Flipkart, Mjunction, Zovi, etc which made a multitude of offers.
–   Axis Bank and ICICI Bank returned on campus after a brief hiatus. PE firms like Indus Balaji Consortium and Singhi Advisors also made their presence felt.
–   Prestigious Operations consulting firm Global e-Procure(GeP) returned to campus after a brief hiatus.
–   The world's largest container shipping company, Maersk Line, visited IIFT for Supply Chain & Logistics roles with internships culminating into full time offers for their coveted MLGP program.
–   S&M space had marked diversity in new associations comprising FMCG major Akzonobel, Multi Screen Media(MSM) and Times OOH from media space, J&J Pharma to name a few.
Banking and Finance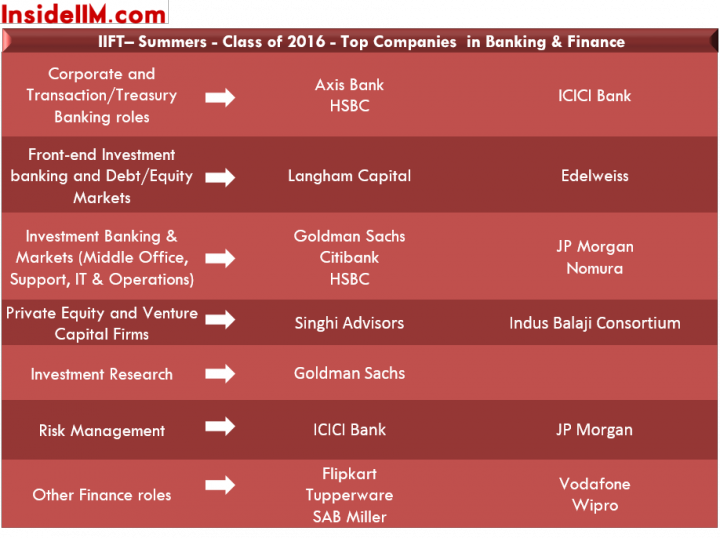 Consulting and General Management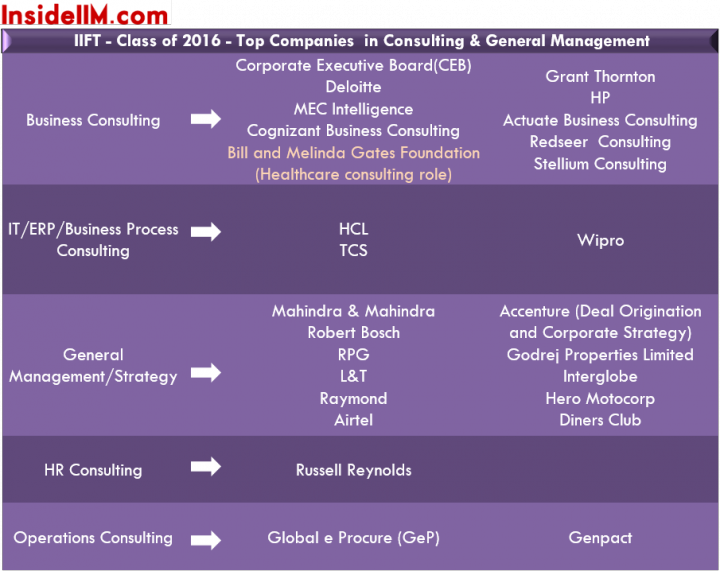 FMCG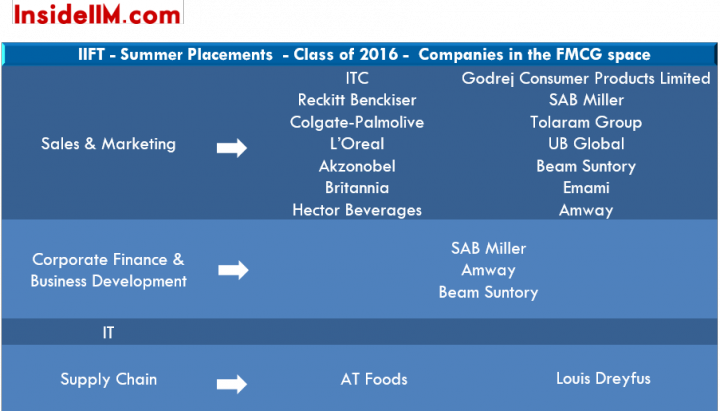 E-commerce, Telecom, Media and Technology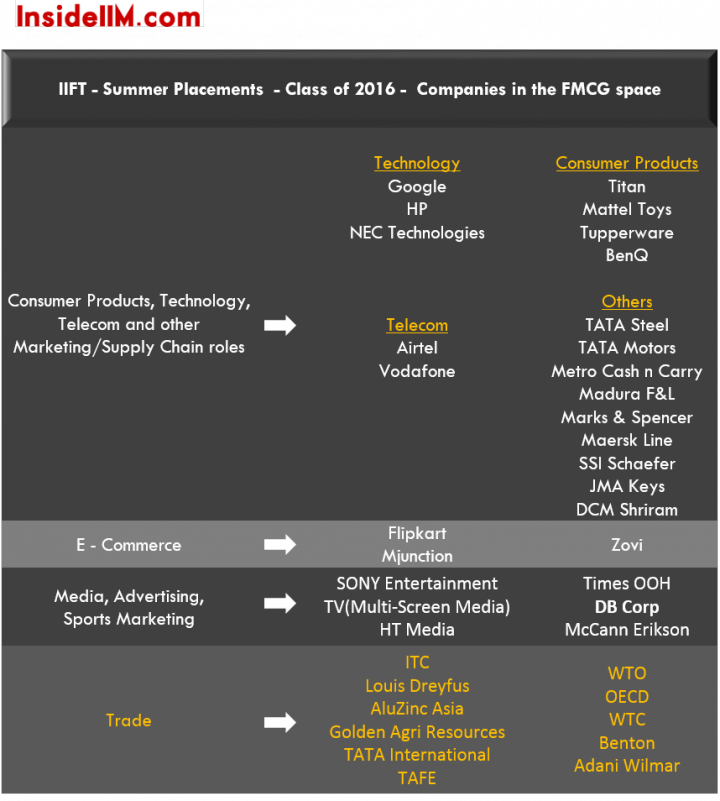 Pharma and other profiles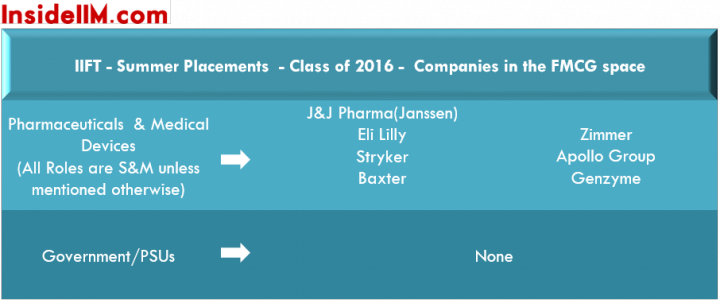 Summary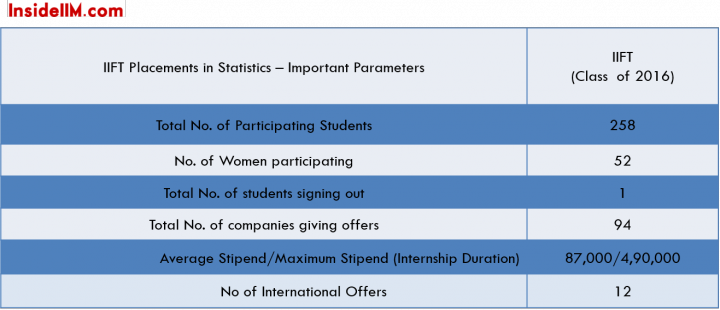 We would like to thank the Placement Team at IIFT for helping us report their placements in the InsideIIM format.
We must put a disclaimer that despite our best efforts it is not always necessary that the data given to us is 100 % accurate.
In case you wish to point out anomalies in the report, do write in to us at editor(at)insideiim(dot)com. We will try to clarify it with the placement committee. Anonymity will be ensured.
Track the official book of IIFT Media Cell on InsideIIM here.
Read about last year's summer placements at IIFT here – IIFT Summer Placements – Class of 2015 
Read about Final Placements at IIFT for the batch of 2014 here – IIFT Final Placements – Class of 2014 
You can read about the summer placements at XLRI this season here.
You can read about the summer placements at TISS this season here.
You can read about the summer placements at FMS Delhi this season here
You can read about the summer placements at IIM Indore this season here
Read all articles on this year's summer placement season here – Summer Placements – Class of 2016
Read all articles on last year's summer placement season here – Summer Placements – Class of 2015
Read all articles on this year's final placement season here – Final Placements – Class of 2014