Summer Placements : IIM Bangalore – Class of 2014 -16
This is the fourth Summer Placement report at IIM Bangalore that we are reporting on InsideIIM.com. IIM Bangalore is one of the best schools in India and hence they are some sort of a benchmark which one can track as far as business school placements in India go. You have to consider yourself fortunate to be at IIM Bangalore. The fact that almost 10% of the batch is expected to intern abroad is quite impressive. Of course, one of the other highlights has been the pace at which people have got placed this year for summer internships.
Two clear trends are domination of Consulting and the rise of E-Commerce when you track placements across the years.
(Read IIM Bangalore's previous Placement Reports on InsideIIM here : Summers – 2011, 2012, 2013/Finals –2012,2013, 2014 )
Amazon was the biggest recruiter (19 Offers). Accenture (17 offers) and Goldman Sachs (15 offers) were the other big recruiters. We believe that E-Commerce and emerging Technology companies are going to dominate hiring in premier business schools. Banking & Finance will always be one of the preferred domains in top schools because of the kind of money on offer but Consulting has been over-shadowing it for a few years now as far as numbers go. Also, Consulting – Summer internship to a Final Offer Conversion Ratio is far higher than in Banking. Our recruitment surveys have consistently showed the shift towards Consulting and E-Commerce/Consumer companies as Dream Companies over the last 2-3 years.
Highlights of the Placements at IIM Bangalore sent by the Placement Committee
• Largest ever batch sitting for Placements (400 applicants)
• Final Summer Placements wrapped in record time of less than 2.5 days (breaking all previous records)
• 130 Participating firms
• More than 90% of the applicants placed within 2 days
• Largest number of Day Zero Offers (146)
• Consulting and BFSI sectors largest recruiters (more than 40% offers)
• Expected International Placements: 35
• Highest recruiter: Amazon (19 offers)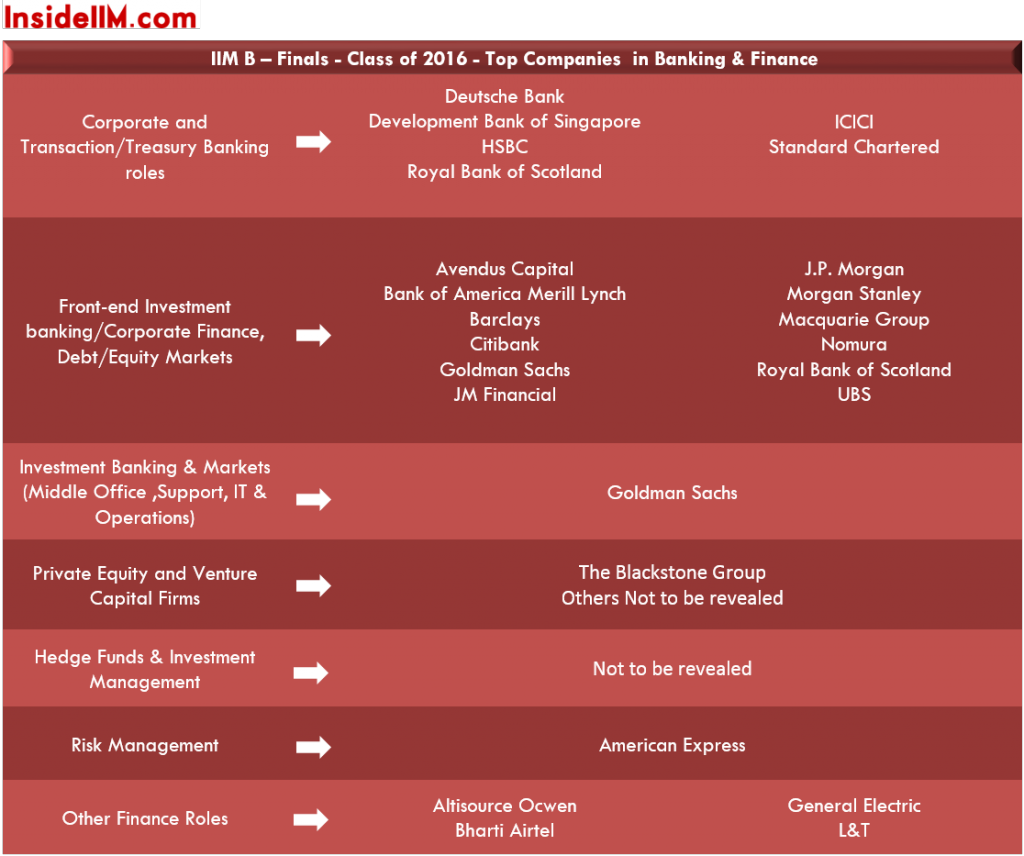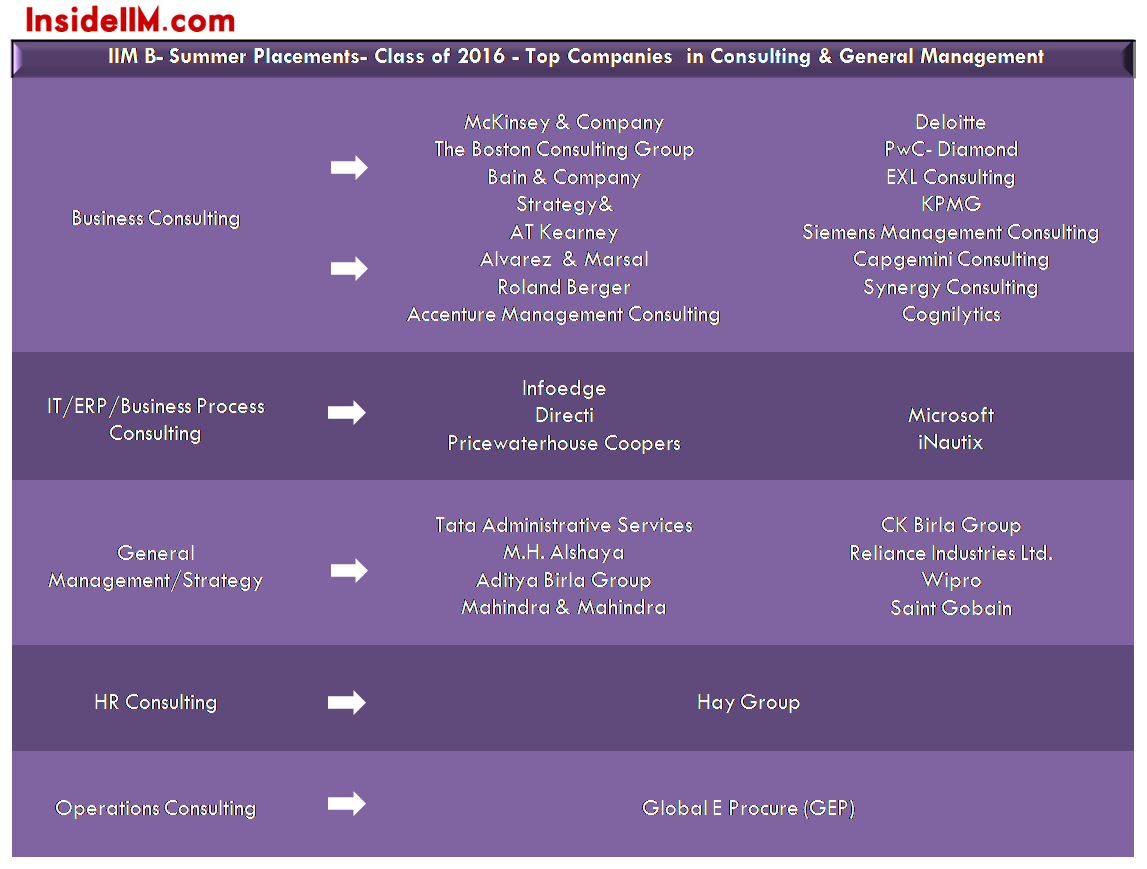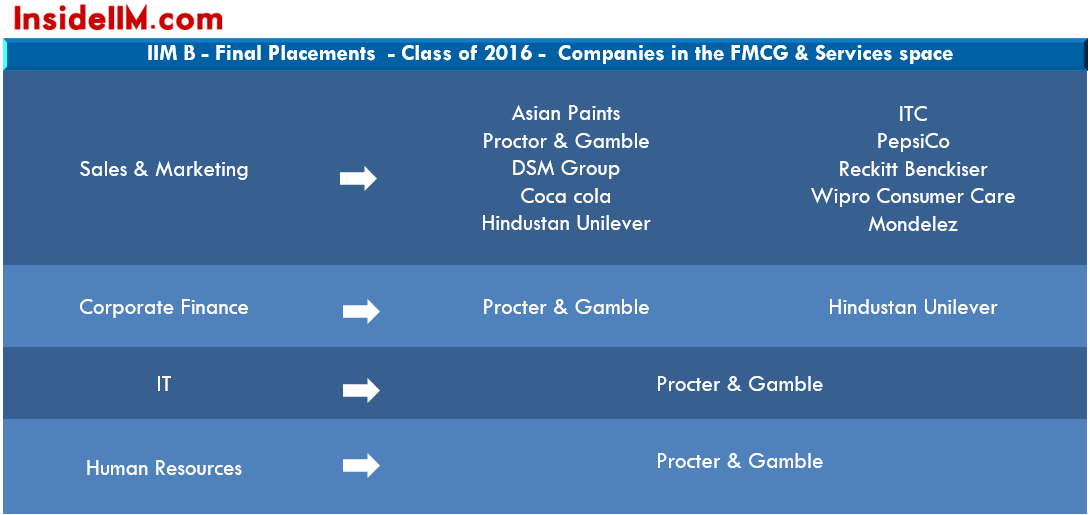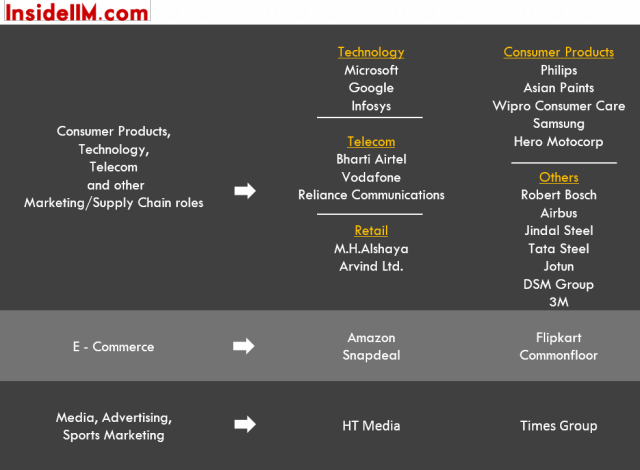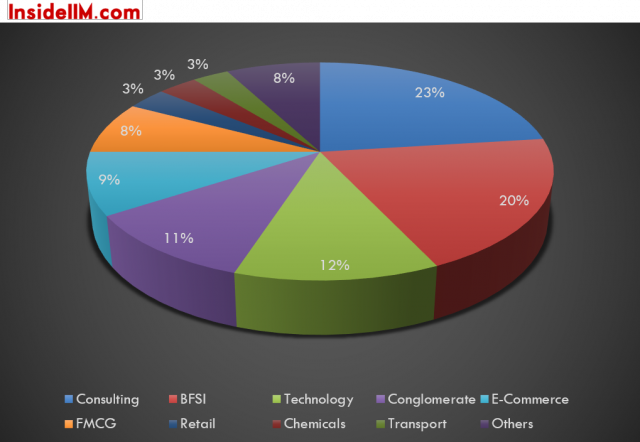 We would like to thank the IIM Bangalore Placement Committee for their co-operation.
In case you wish to point out anomalies in the report, do write in to us at editor(at)insideiim(dot)com. We will try to clarify it with the placement committee. Anonymity will be ensured.
Read Stories by this author here
————————————————–
You can read about the summer placements at JBIMS this season here
You can read about the summer placements at XLRI this season here.
You can read about the summer placements at TISS this season here.
You can read about the summer placements at FMS Delhi this season here
You can read about the summer placements at IIM Indore this season here
You can read about the summer placements at IIFT this season here
Read all articles on this year's summer placement season here – Summer Placements – Class of 2016
Read all articles on last year's summer placement season here – Summer Placements – Class of 2015
Read all articles on this year's final placement season here – Final Placements – Class of 2014