Summer Placements : IIM Calcutta – Class of 2012-14
As stated earlier, we will not express any team opinion on any placement report published on InsideIIM.com and we will write one post which encapsulates the entire season after all placement reports are published.
Summer Placement Report – IIM Calcutta for the Class of 2013 can be found here
Highlights
– The summer placement process was concluded ahead of time, within 4 days
– Choppies, the leading FMCG retailer in Botswana and South Africa, offered 4 roles across different functional areas of the business in Finance, Operations, and Sales & Marketing. The internship will be based out of Botswana.
– In recognition of the global standing of IIM Calcutta, World Bank visited the campus and offered 3 positions in their Financial Instruments and Treasury departments.
– M.H. Alshaya Co. offered a new profile in their Fashion and Footwear vertical based out of Kuwait.
– Aditya Birla Group exclusively offered a position in their Gaming Division at IIM Calcutta.
– BASIX, a livelihood promotion institution with over 3.5 million customers, visited an Indian campus for the first time. The firm has previously recruited only from international B-schools like Harvard, UCLA and Wharton.
– Wild East Group, the Brand Management Company with high profile clients such as Hrithik Roshan and Yashraj Films, hired for their core branding team.
– GamePlan, a sports management firm with clients like Kolkata Knight Riders, Liverpool Football Club and IPL, recruited exclusively from IIM Calcutta.
– Jones Lang LaSalle, a real estate consulting firm based out of the Middle East, hired interns for their Indian Operations from IIM C.
– Rakshak, a public policy NGO headquartered in California, offered 6 profiles
Top Offers
Consulting : The Boston Consulting Group – 12 Offers (In all, 43 consulting offers in Slot 0)
FMCG : P&G and Kraft-Cadbury – 7 Offers
General Management : Amazon – 11 Offers in Business Development,Operations and Product Development
The report in the InsideIIM format is given below. IIM Calcutta also has a policy to not reveal stipends for summers.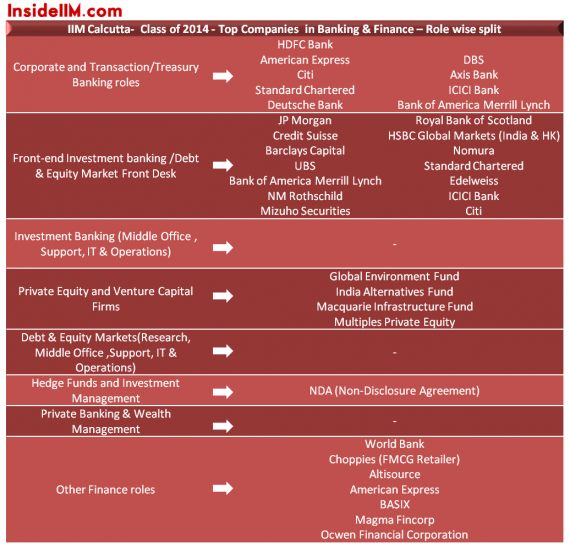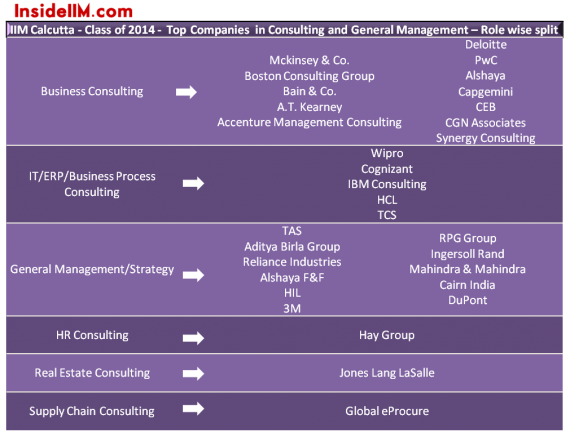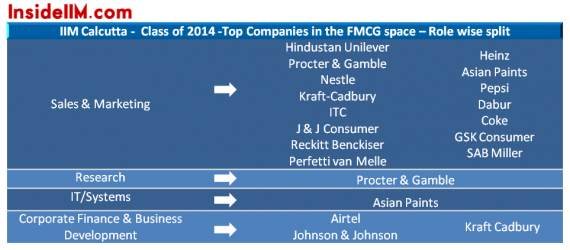 We would like to thank the placement committee of IIM Calcutta for providing information in the InsideIIM.com format. We believe it will be of immense help to readers, aspirants and recruiters.
This is the seventh in a series of reports that InsideIIM.com will bring to you this season. We are committed in bringing you a complete picture. We will also ensure that no irresponsible reporting is done on this website. Attempt will be made to verify the data with the institution before any publishing is done. However, lack of response from the institution will not prevent us from providing insight to our readers. We must also put a disclaimer that despite our best efforts it is not always necessary that the data given to us is 100 % accurate.
Summer Placement Class of 2014:
For Summer Placement Reports of the Class of 2011-13 please click here
Results of the InsideIIM Recruitment Survey 2012
Perspectives – Career perspectives from those who have faced the battles and reached the top.