Summer Placements : JBIMS – Class of 2014 -16

We started reporting placements at JBIMS last year with the summer placement report for the batch of 2013-2015 in the InsideIIM format. During final placements, we couldn't report it in the InsideIIM format – we had to go ahead with an unverified report for the final placements for class of 2014. We are again back with a VERIFIED summer placement report of JBIMS for the class of 2016. (Read summer placement reports for the Class of 2016 at other B schools here)
This has been another stellar summer placement season for JBIMS. The most important milestone was that both BCG and McKinsey visited JBIMS campus for summers (earlier JBIMS used to be part of a pooled campus batch-day process). Remember that this is a 120 student batch. It doesn't require too many companies to place the students, and JBIMS' list is definitely impressive in the areas of consulting, FMCG and banking.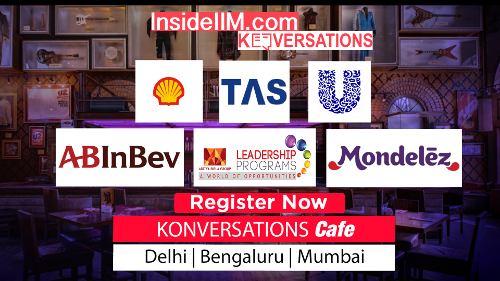 Highlights of Summer Placements – JBIMS Class of 2014-2016 (as reported by the placement committee)
–  The highest stipend offered was Rs.3,35,000 with the average being Rs.1,17,000
–  The institute hosted a large number of new recruiters on campus to add to the legacy recruiters
–  JBIMS attracted two of the biggest global consulting firms – McKinsey & Co. and The Boston Consulting Group on campus for summers.
–  The Banking and Financial sector offered attractive profiles such as investment banking, corporate banking, commercial banking, risk, equity research and transaction banking.
–   FMCG majors like Hindustan Unilever, Procter & Gamble, Marico, Colgate-Palmolive etc. and new comer Danone participated in the process.
Banking and Finance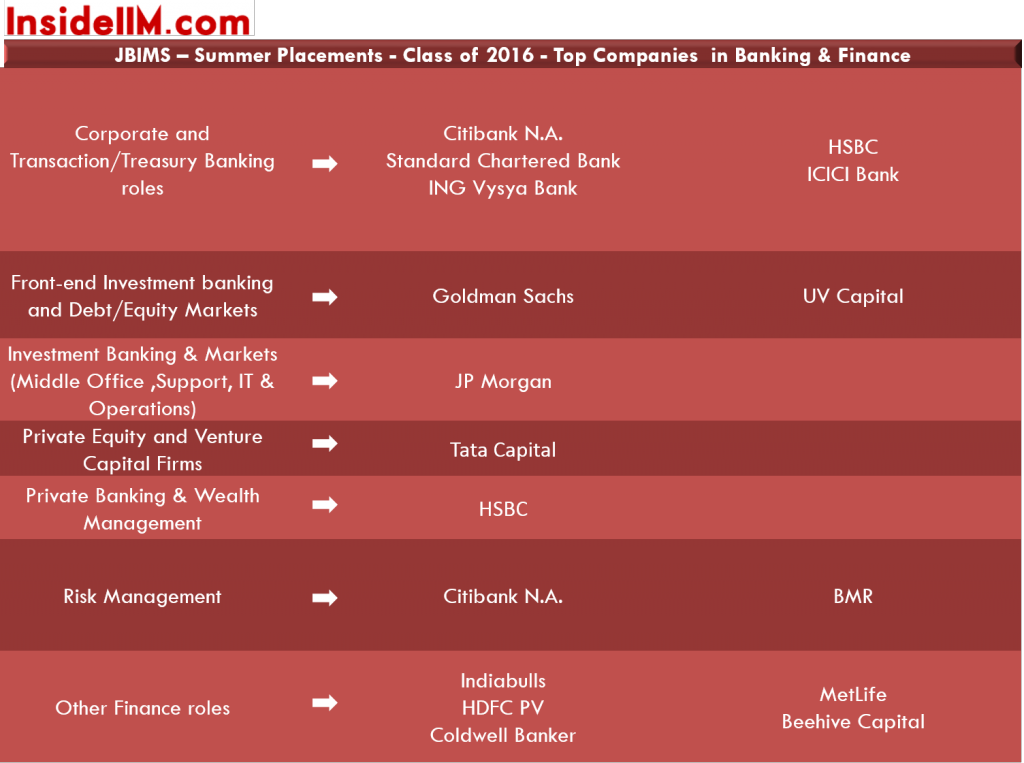 Consulting and General Management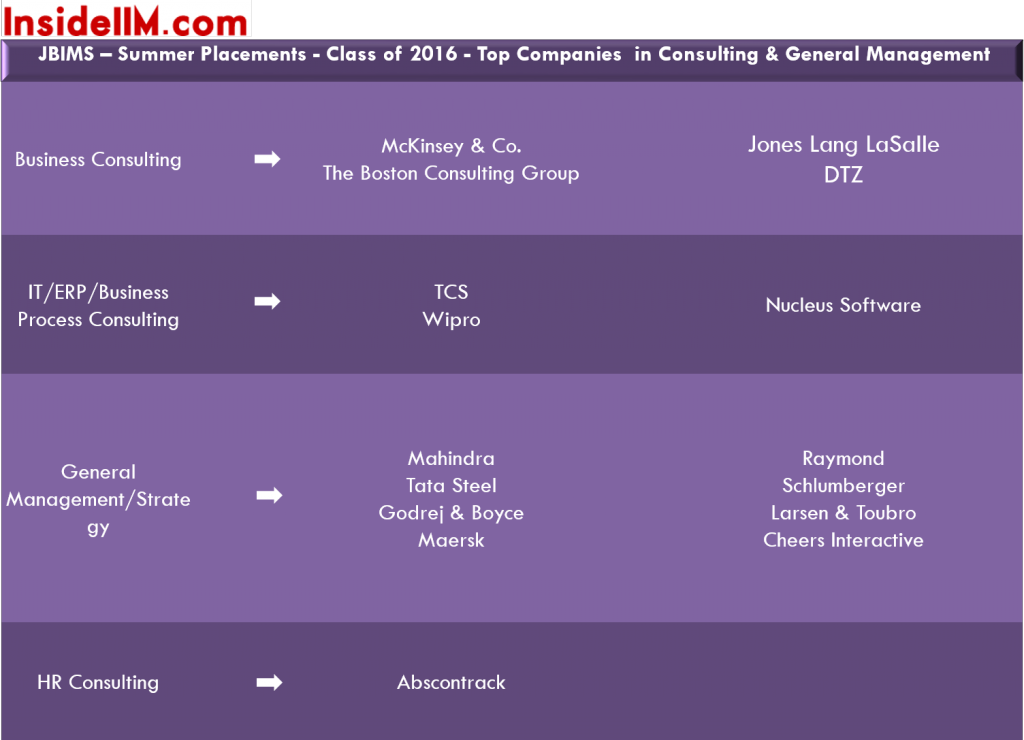 FMCG Sales and Marketing
Technology, Telecom, E-Commerce and Media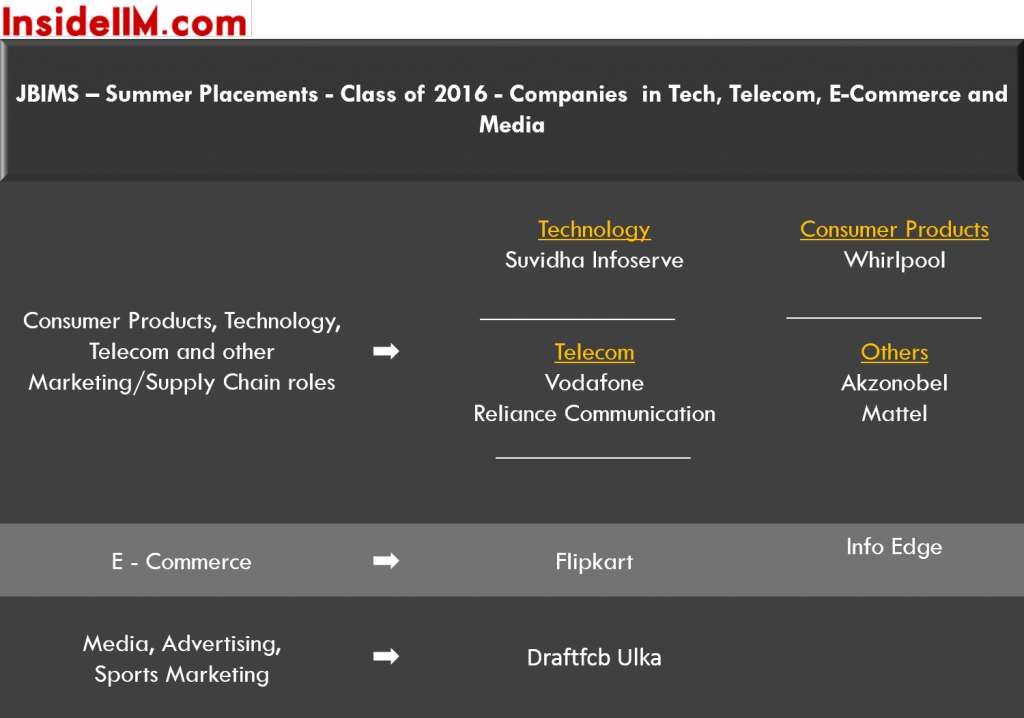 Pharma and other roles

Summary – Other data you may be interested in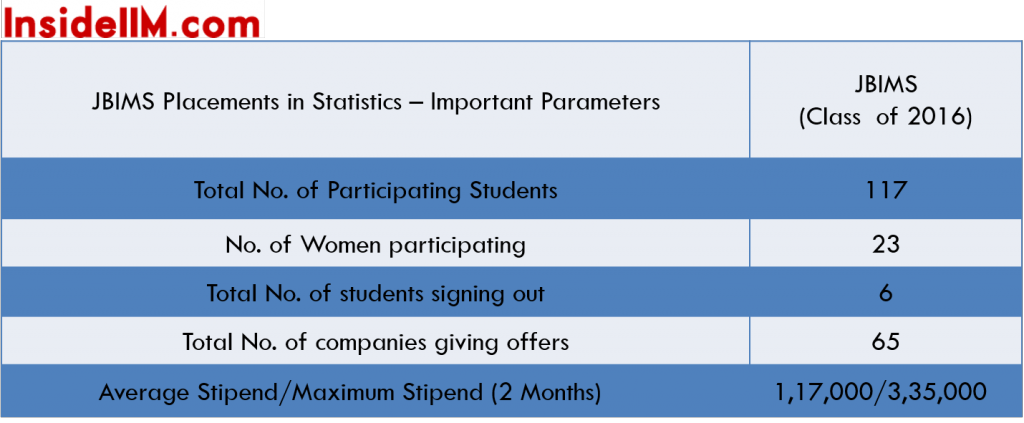 We would like to thank the Placement Team and the Corporate Relations Team at JBIMS for helping us report their placements in the InsideIIM format.
We must put a disclaimer that despite our best efforts it is not always necessary that the data given to us is 100 % accurate.
In case you wish to point out anomalies in the report, do write in to us at editor(at)insideiim(dot)com. We will try to clarify it with the placement committee. Anonymity will be ensured.
Track all stories about JBIMS on InsideIIM here.
Read about last year's summer placements at JBIMS here – JBIMS Summer Placements – Class of 2015 
Read about Final Placements at JBIMS for the batch of 2014 here – JBIMS Final Placements – Class of 2014 (Unverified) 
You can read about the summer placements at XLRI this season here.
You can read about the summer placements at TISS this season here.
You can read about the summer placements at FMS Delhi this season here
You can read about the summer placements at IIM Indore this season here
You can read about the summer placements at IIFT this season here
Read all articles on this year's summer placement season here – Summer Placements – Class of 2016
Read all articles on last year's summer placement season here – Summer Placements – Class of 2015
Read all articles on this year's final placement season here – Final Placements – Class of 2014