A Summer In The South – Sthitipragna Sahoo, XIMB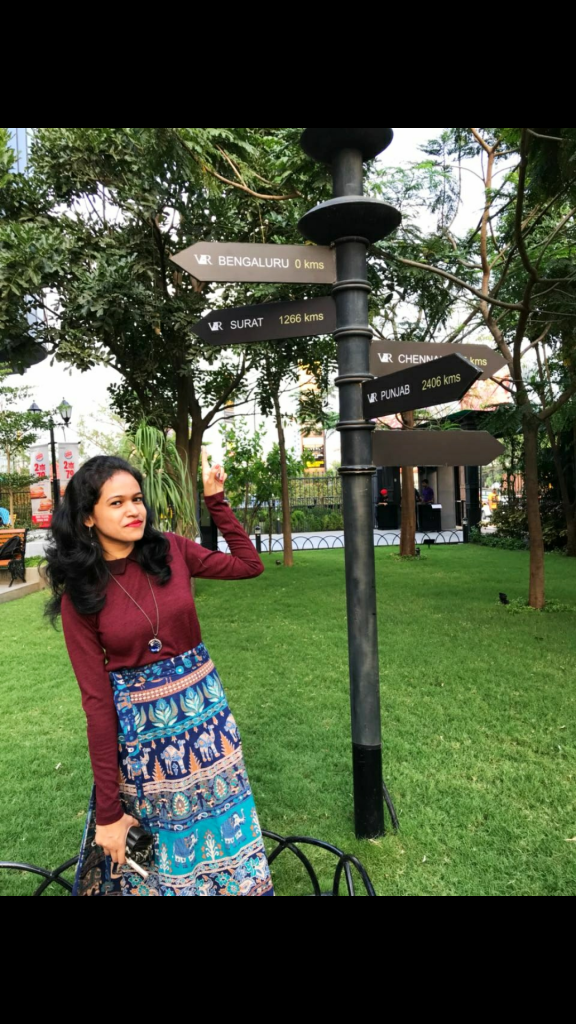 Being heavily of the "dollops of precautions garnished with overthinking" type, I started informing all my friends, some 4 months back about my 2 months Bangalore stay; reason being ' search this lazy girl a PG! ' And they actually did. I landed up in a PG some 8 km away from my office. If you conveniently coin this up as a disastrous miscalculation in the traffic oriented city, let me correct you. With definitely a chunk of odds against it,  still staying with the people you have grown up with, reliving your good old engineering days was one of my rarely made smart decisions ever! A caramelized marshmallow in your daily caffeine mug, I would say!
I would be honest; Bangalore shattered all my dreams of a "Summer in the West". Leaning against the rocks of the marine drive with waves splashing against you, the velvety evening breeze tickling your senses and you holding a cup of chai and staring into oblivion – I so wanted this, damn too badly! But Mumbai was not in the plans of Summer'18.
Landing in Bangalore, unlike my hometown, it didn't smell of sea; rather the unsalted air had an intoxicating fragrance of anxiety, rush, hope, traffic and a dash of an extravaganza. To my first ever corporate experience and a stay on my own, I embraced this city with a doubtful smile and conflicting emotions.
The first week was a definite test of my patience with every interval screaming "Take me back to Bhubaneswar, I am done with this city." The Ola Uber fiasco that I get into every morning, the never-ending traffic, the deafening chaos, the sudden absolute annoying halt that even a slight drizzle brings along and the vibrantly coloured replicated and repeated PG food that successfully sent my taste buds into a soggy melancholy – I was sinking into anything and everything.
"Just 8 more weeks and I will be back."
But probably the city became wholeheartedly adamant to prove this girl how wrong she was! And we know the Universe falls in love with a stubborn heart; am I any different!
The workplace seemed to be more or less of a Maharaja thali of interns from premium Business schools of India, with an expected skewed sex ratio. Somewhere between working on the solution without understanding the problem, I was quick to throw glances on my colleagues without stealing their attention. And finally inferred them to be serious workaholics or the kind of people I can never be friends with. I remember saying this to one of them when he found me quite comfortable in my own dreamy world to disturb – "I take really long to be friends, two months is damn short to know you all well." But as I said Bangalore was damn adamant to prove me wrong, destiny had some really different plans!
Draining off all my energy in the workplace, arguing over 'Odisha is not in North of India but east and west are prominent geographies', trying to figure out what exactly am I working upon, and the remaining energy being sloshed away in the awaiting overwhelming traffic; the 'when are you reaching room, where are you yet' messages and calls from your friends brought along a genuine smile that I tried to camouflage . Bangalore started feeling home, there are people to return to after a tiring day!
Back at my PG, even after a horribly clueless hectic day, I was always bubbling with energy. Office gossips and career talks were as important as choosing between a matte finish cherry blush shade and a hot pink glossy one. Weekend plans, Saturday nights, the next shade of wrap top to be bought, a late night long drive , the search for the best red velvet pastries of the city, feminism talks, the feeling of gifting your parents for the first time, the essence of independence and every gossip of Bhubaneswar to Bangalore was covered, before we call it a day. Slowly, with every passing day, my heartbeats rhymed with the beats of the city, I was falling for its charm!
The magic whoosh even worked at my workplace. The so-called colleagues became friends, closer than they had ever appeared to be. How, when & where is still a mystery, but we clicked like never before! They became the reason for my many a first time. A walk in the rain (cause cabs were not available :P), my first ever movie night in the city and to a lot more, they asked and I agreed to all. And mind you, hanging out with altogether a new bunch of people was never the real me. I was moulding, surprisingly, soulfully moulding! Rhythmically I could open up, to say I choose to love the celibating vacuum of the library and sweat over a Murakami, to the idea of a perfect rainy evening I have, to some philosophical talks I shared and the igniting cheerful laughs we had. To the playful fights and the serious future talks we had, to the otherwise visible care and bond when they come up to make sure I reached home safely; every single thing made the contours of lips bend to form a beautiful smile!
Not so surprisingly, I was falling for this city. Every motion is so fast-paced yet in sync. With the best of people, you will find the tranquillity in the worst of chaos!
With the wait of 8 weeks coming to an end, I carried with myself some mixed feelings, hard to pen down. A part of me waiting to return to the east, a part still immersed in the cobwebs of South! On the last day, sadly, staying back and seeing people leave, the flummoxing nonexistence was very well felt but with a hopeful promise of staying in touch with each other! Anyway, separation has never been bright and cheerful.
The city was definitely a stubborn heart and I fell for its essence and people!
To a learning experience, to my first ever paycheck, to the surprising changes in myself, to learn and value people more, to the longing to meet my parents – Adios Bengaluru, until next time! The Summer in South made me carry a bagful of memories to cherish!
Sthitipragna Sahoo
Class of 2019, XIMB
Xavier Institute of Management Bhubaneswar
Xavier Institute of Management, Bhubhaneswar is one of the most coveted B-schools in India. Established in the year 1987, XIMB is known for quality education in the field of Management and creation of future entrepreneurs. XIMB offers to its students three prestigious programmes; Business Management, Global MBA and Executive-MBA. 30 years and still going strong, XIMB strives to achieve its mission of making managers with a human face.