Symbiosis Bangalore Students Can Now Put A 'Paws' On Stress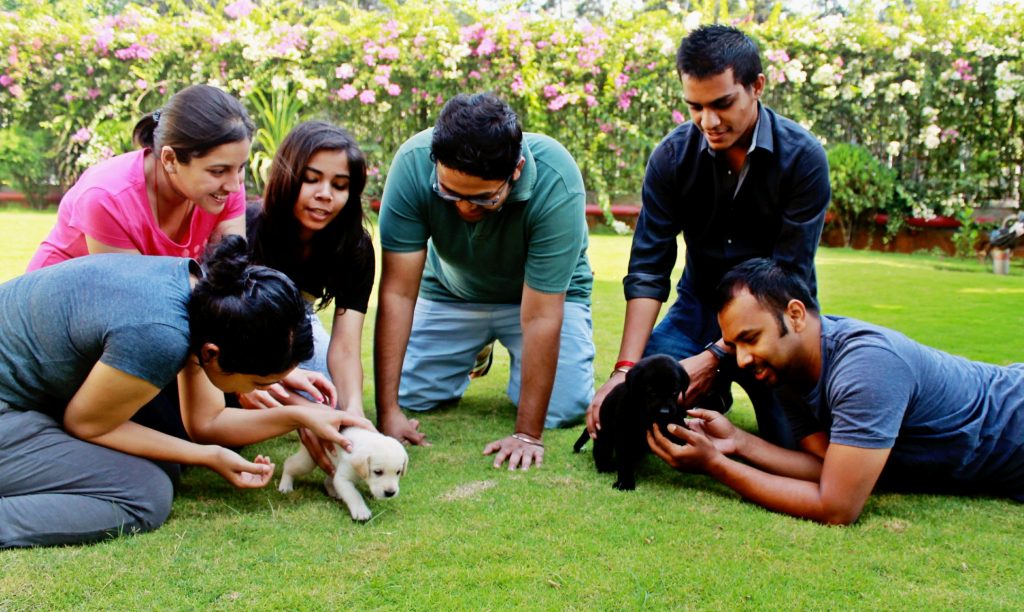 Symbiosis Bangalore Campus welcomes two four-legged happy pooches, Birr & Baht, to their family. They will help enhance emotional and physical well-being of students. SIBM Bengaluru becomes the 1st college in Karnataka and 2nd in India only after Pune campus to implement this unorthodox initiative.
After few assignments, presentations, and a tiring day at college, there's something very comforting about looking at those wagging tails and being greeted with wet kisses. Symbiosis International University (SIU) is the 1st university in India to experiment and implement this unorthodox method of full time dog therapy for their students who undoubtedly undergo a lot of stress during the course of their 2 year MBA program.
"It is well known and scientifically proven that pet therapy has many benefits including lowering BP, releasing endorphins that soothe and make you happy, lifts your spirits and lessens depression, lowers anxiety and isolation and creates better socialization with colleagues." – said Prof. Vickramm Sampath, Director, Symbiosis School of Media & Communication, Bengaluru.
Prof. Aarti Mehta Sharma, Assistant Professor at SIBM Bengaluru, quoted "This is a very unique initiative and we have received excellent feedback from the students. This will help the students to grow emotionally and become more empathetic & kind."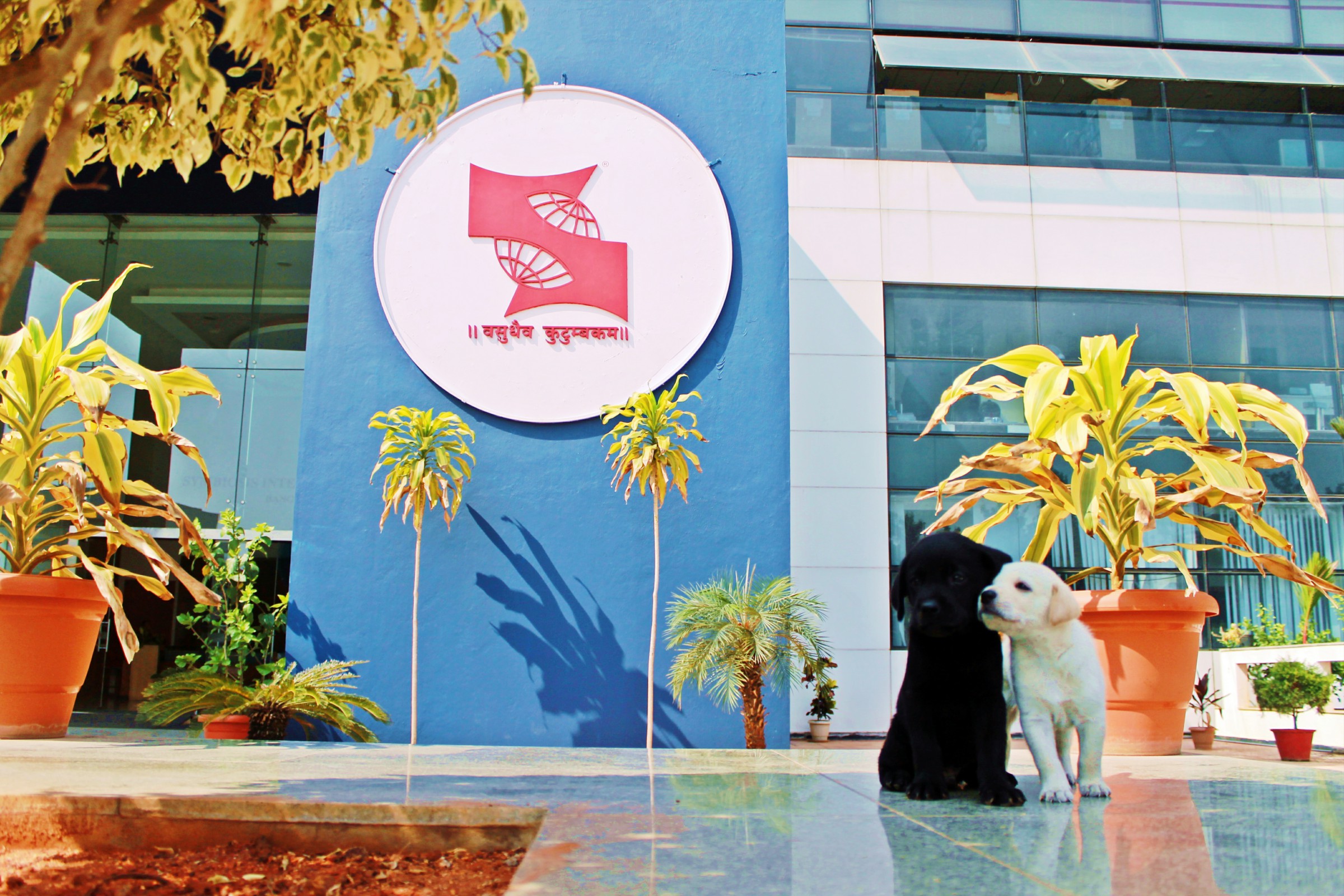 Arjun Parekh, a 2nd year SIBM Bengaluru student, said "These two happy pooches have already altered the environment at campus, making it more lovely and cheerful than ever. This is a wonderful initiative that will help students to be more social, sensitive and receptive. Dogs can fill in the void for the loved ones who are miles away from you. A few minutes with them and your dopamine levels will shoot up, making you feel awesome."
"I am so excited about the whole initiative. I have 5 pets at home and all of them are nothing less than brothers and sisters to me," said Niveditha Sreenivasan, 2nd year SSMC student.
With this smart move, Symbiosis University puts itself on the same page as colleges like MIT, University of Illinois, etc. which have shown the results on how petting animals can lead to improved learning for students.
This news has been featured on Deccan Chronicle (Bangalore) and The New Indian Express.
——–
About Symbiosis International University:
Symbiosis is a family of 44 academic institutions, imparting quality education for over 40 years. It is host to over 27,000 Indian and International students on campus and over 100000 students off campus.
Padma Bhushan Dr. S.B. Mujumdar established Symbiosis on the principles of Vedic thought of 'Vasudhaiva Kutumbakam' meaning 'World is One Family'. Symbiosis International University is nestled on a beautiful 300 acre campus, the Symbiosis Knowledge Village, on the outskirts of the city of Pune in Maharashtra, India.
The genesis of the University stems from the Symbiosis Society, a 'Not for Profit' organization. Its growth reflects the dynamic changes in Indian society. It would not be far-fetched to claim that the history of the University is intertwined with the history of Management education in India.
Today, SIU is a clear leader in management education with several of its management institutes ranked amongst the best in the country and its alumni occupying leadership positions across the world.
Read everything else about SIBM Bangalore on InsideIIM here.
SIBM Bengaluru
Ever since its inception in 1978, SYMBIOSIS has been synonymous with progress. The trend of progress has been continued by setting up of SIU's first campus outside Maharashtra at Bengaluru in 2008. SIBM Bengaluru is now one of the leading B-Schools of the country. The focus, now, is on matching global standards of management education. SIBMB instills a work culture which is unparalleled among various institutions. It provides a holistic approach to management which goes a long way in creating a dynamic identity. Vibrant student associations and committees complement the program with a number of activities involving institute-industry interaction.