Symbiosis Institute of Business Management, Bengaluru (SIBM-B) organized TEDx SIBM Bengaluru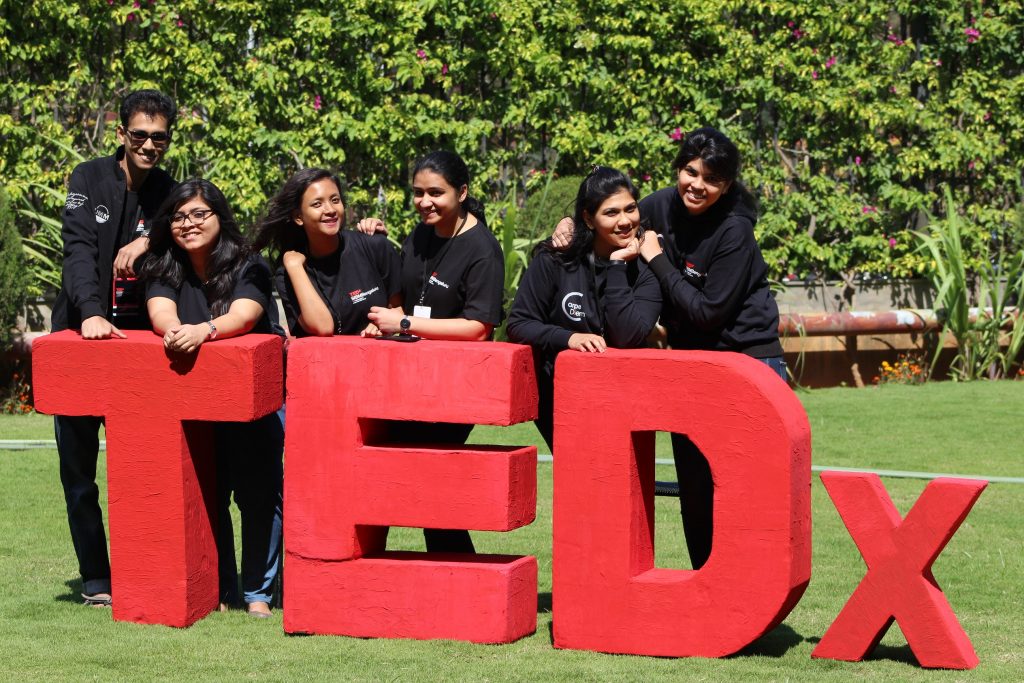 On a glorious morning, SIBM Bengaluru celebrated TedxSIBMBengaluru  for the 4th year in a row. Jovial spirits of youth were uplifted in candid pronouncements as intrigued minds were served with the nectar of ideas. The college reveled, as human minds weaved their magic, and visions decked in regal embellishments wrapped spectators in an eiderdown of wondrous amazement.
"carpe Diem-Seize of the day" was the theme for TEDxSIBMBengaluru 2014. In a world bogged down by the desperation and desolation of millions, it is time to look beyond the billows of despair, it is time to dig a bit further, past the frontiers of murk and obscurity, and it is time to take things into our own hands. The world crumbles as human beings dwell under the pretence of pietism. In our forage for the pious we have vilified and denounced truth. The contriving equivocal and the conniving spurious are on a heinous mission, bestrewing their vile tentacles of servitude and subjugation to tarnish the sanctity of freedom. In mighty leaps and bounds we have to cross the perilous thoroughfare that shall lead us to illumination. The stones have been rubbed enough. The sparks glide and clouds begins to hover. A fire is about to start and the young have to rise. It is the duty of the youth, to break free of this manacle, shatter the fetters that hold back the light of innovation and seize the day!!!
The language of Hindi is languishing due to neglect. But fear not country-men!! We have Heroes! Heroes like Divya Prakash Dubey to take our language forward. He may not have super powers, but his words are laced with fantasy and delight. Mr. Divya Prakash leads a battle into unchartered territories. He has the charge!! Ramble on! We are with you… Carpe Diem!
 "The destiny of the world is determined less by the battles that are lost and won and more by the stories it loves and believes in" -Harold Goddard. The Storywallah of India Mr. Ameen Haque opened the doors to revelations never struck upon. A man blessed with an unparalleled gift of gab, he took us on a mystical journey of realization. The power of   fables and tales has found a new ally. The Storywallahs have arrived to change the course of history. An uprising is afoot! Carpe Diem!
"Theatre has become an event ….. Audience doesn't applaud for the illusion which makes them believe in the act …As an actor, we can only create the illusion of being someone else." The quote is enough to paint a beautiful picture of the vision V Balakrishnan (founder of theater Nisha) has. He transcends the visual boundaries of creative limitations. An art that has enthralled and entranced simple living souls for epochs, an art unsung and underappreciated for eons has found a voice. It's time for theatre to come out in the sun, time for it to seize the day!!
Vasu Dixit's guitar spilled magic. Soulful tunes that carried the bucolic yet sweet taste of our rustic roots swayed spectators into an impetuous and unconstrained twirl. Temperatures soared when the beautiful Elena Kazan (actor in JOHN DAY) came forward to make her speech. Patriotic zeal within people reached frenzied proportions as she spoke of the inherent beauty of our country. It was wonderful to see a person belonging to a distant land become our very own. The crowd erupted with wild and frenzied applause when she spoke of "Jugaad" and local trains, appealing to the intrinsic "Indianness" within every listener.
Gulshan Devaiah  of Ramleela and Shaitan fame spoke about  the "Bollywood" connect in his family, going on to explain breath taking techniques for revealing intricate character and emotions . Mr. Vraj Patel in his very humble manner taught us to grow beyond the restraints of daily life and emerge an angel.
Prateek Sharma is currently an assistant professor in the department of Physics at IISC, Bengaluru. His research presentations and his illuminating talk enlightened simpletons and experts alike. Charukesi Ramadurai, a freelance journalist and a travel writer spoke on her riveting travel experiences. The entire crowd celebrated "Seventh Sense", an extraordinary invention by Sidhart Rajeev.
Vishwas Mudgal an entrepreneur and an author, spoke about failure.  He believes that failures come in our way to make thing better and those people who act upon their failure change the world. Raja Raman spoke on Vedic Mathematics and the importance of it. Vedic Mathematics can be India's next gift to the work. He also said that Mathematics is the queen of all science. He ended his talk by saying Vedic Mathematics is royal in nature. Urvashi Patole , a motorcyclist who believes in following dreams  no matter who you are or where you are from, showed us a world that exists beyond our daily notions, a world where fences no longer guard our imaginations and freedom runs wild.
Prof. A.Vidyasagar, Deputy Director says, "TEDx has a slogan, "Ideas worth spreading" today's a proof of that. The wonderful ideas should be spread to the people of Bengaluru."
 Arushi Bafna, TEDxSIBMBengaluru Curator says "This year's theme was Carpe Diem which translates into seize the day. When three of our speakers were given a standing ovation, it was truly a Carpe Diem moment for me."
 Mohd Jamal, TEDxSIBMBengaluru Co-Curator says, "Organising an event like TEDx is worth experiencing. The hard work put in the event was worth it and the event was a success."
About TEDx, x = independently organized event
In the spirit of ideas worth spreading, TEDx is a program of local, self-organized events that bring people together to share a TED-like experience. At a TEDx event, TEDTalks video and live speakers combine to spark deep discussion and connection in a small group. These local, self-organized events are branded TEDx, where x = independently organized TEDx event. The TED Conference provides general guidance for the TEDx program, but individual TEDx events are self-organized. (Subject to certain rules and regulations)
About TED
TED is a nonprofit organization devoted to Ideas Worth Spreading. Started as a four-day conference in California 25 years ago, TED has grown to support those world-changing ideas with multiple initiatives. The annual TED Conference invites the world's leading thinkers and doers to speak for 18 minutes. Their talks are then made available, free, at TED.com. TED speakers have included Bill Gates, Al Gore, Jane Goodall, Elizabeth Gilbert, Sir Richard Branson, NandanNilekani, Philippe Starck, NgoziOkonjo-Iweala, Isabel Allende and UK Prime Minister Gordon Brown. The annual TED Conference takes place in Long Beach, California, with simulcast in Palm Springs; TEDGlobal is held each year in Edinburgh, UK. TED's media initiatives include TED.com, where new TEDTalks are posted daily, and the Open Translation Project, which provides subtitles and interactive transcripts as well as the ability for any TEDTalk to be translated by volunteers worldwide. TED has established the annual TED Prize, where exceptional individuals with a wish to change the world are given the opportunity to put their wishes into action; TEDx, which offers individuals or groups a way to organize local, independent TED-like events around the world; and the TEDFellows program, helping world-changing innovators from around the globe to become part of the TED community and, with its help, amplify the impact of their remarkable projects and activities.
Follow TED on Twitter at twitter.com/TEDTalks, and on Facebook at facebook.com/TED.
For information about TED's upcoming conferences, visit http://www.ted.com/registration
SIBM Bengaluru
Ever since its inception in 1978, SYMBIOSIS has been synonymous with progress. The trend of progress has been continued by setting up of SIU's first campus outside Maharashtra at Bengaluru in 2008. SIBM Bengaluru is now one of the leading B-Schools of the country. The focus, now, is on matching global standards of management education. SIBMB instills a work culture which is unparalleled among various institutions. It provides a holistic approach to management which goes a long way in creating a dynamic identity. Vibrant student associations and committees complement the program with a number of activities involving institute-industry interaction.