Symposio – Annual Student Research Conference of Revelation 2018 At SIBMB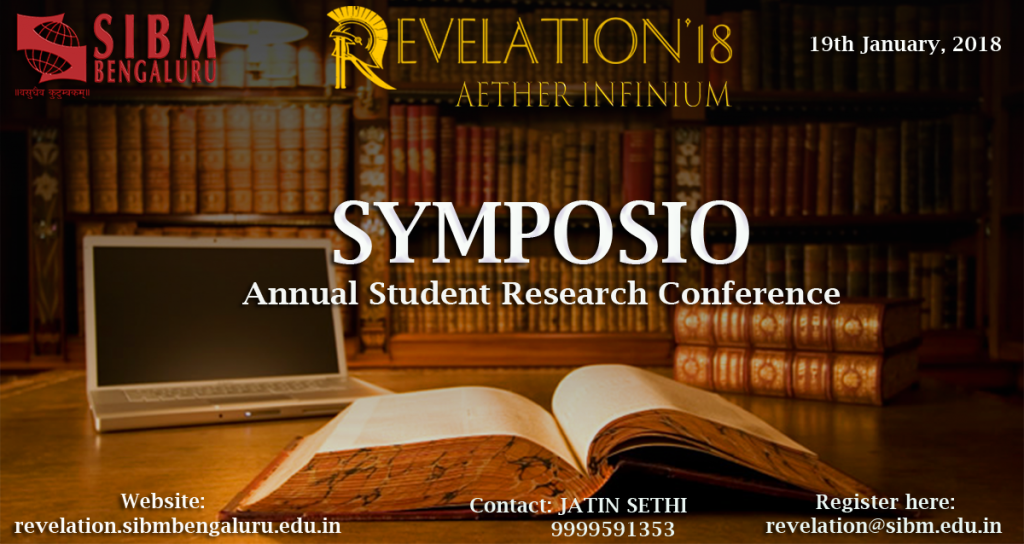 Symposio – The National Level Student Research Conference of Revelation 2018, organised by the Research Committee of SIBM Bengaluru, saw an active participation from 11 teams spread across 9 colleges this year. The event attempts to capture the spirit of innovation through stimulating discussions to scrutinize application of responsible innovation in the various pillars of management through white paper presentations and seminars. Competitors from across the world present their research work in front of a judging panel as the event manifests the importance of Research in management. The theme for this year's event was "Innovation and Excellence".
The participants presented their insightful research papers to a 12-member Jury headed by Dr Madhvi Sethi, faculty, SIBM Bengaluru. The presentations were held both on campus and via video conferencing for the international participants and the ones from distant parts of the country. The event went International this time with leading international colleges like San Jose State University, California, the United States and IESEG School of Business and Management, Lille, Paris.
Apart from that, the other teams included those from reputed B-schools like IIM Lucknow and S.P. Jain Institute of Management and Research (SPJIMR). The topics of the research papers varied across different areas of study like Finance, Human Resources, Operations and Marketing and Analytics. Some of the topics presented during the event include – Analysing Potential for FinTech in India by the team from IIM Lucknow, Banking With Social Media by the team from Welingkar Mumbai, The world is moving from Robots to Cobots by the SPJIMR team and Use of Artificial Intelligence for Better Marketing: Possibility, Industries and Profitability by the team from Christ University. The international teams presented on topics like Automated Baggage Handling System (San Jose State University, California, United States) and Change Management (IESEG School of Business and Management, Lille, Paris). After multiple rounds of meticulous examination of the participants' papers by the jury, the conference ended with Sathwik Maanthini from Christ University emerging as the winner, closely followed by Aadithya Kovvali from SCMS Pune as the runner-up.
SIBM Bengaluru
Ever since its inception in 1978, SYMBIOSIS has been synonymous with progress. The trend of progress has been continued by setting up of SIU's first campus outside Maharashtra at Bengaluru in 2008. SIBM Bengaluru is now one of the leading B-Schools of the country. The focus, now, is on matching global standards of management education. SIBMB instills a work culture which is unparalleled among various institutions. It provides a holistic approach to management which goes a long way in creating a dynamic identity. Vibrant student associations and committees complement the program with a number of activities involving institute-industry interaction.