Symposio – National Level Student Conference of SIBM, Bengaluru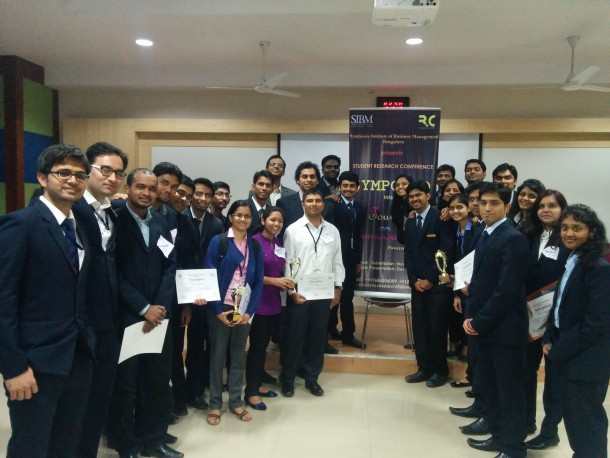 Bengaluru, Karnataka, December 19, 2014: Symbiosis Institute of Business Management, Bengaluru (SIBM-B) in coordination with the Students Research Committee organized the 2nd edition of Symposio, a National Level Student Conference on December 19, 2014. Symposio attempted to capture the spirit of innovation this year through stimulating discussions to scrutinize the application of responsible innovation in the four pillars of management, vis-a-vis, Finance, Marketing, Human Resources and Operations through white paper presentations and seminars by eminent speakers in the domain.
The key note speakers of the day, Mr. Rishab Dev, CEO, Mapplinks.com and Mr. Kingsley Joseph, Founder, Bite Me Company, offered innovative insights to the students of SIBM, Bengaluru. Mr. Dev talked about how today's success should not become tomorrow's enemy and how not to get punched in the face in today's competitive world. Mr. Kingsley Joseph grabbed the attention of the crowd by making them guess words related to innovation, like 'read between the lines' and 'get uncomfortable', which in itself was a very creative idea. While Mr. Rishab Dev focused his talk on creativity, innovation and invention, Mr. Kingsley Joseph stated that innovation could make people uncomfortable in today's time.
After the immensely interactive session with both the speakers, talented student speakers of different colleges showcased their ideas through white paper presentations. There were participants from profound business schools like IIM Indore, SIBM-Pune, Xavier Institute of Management Bhubaneswar, TISS Mumbai, Xavier Institute of Management & Entrepreneurship Bengaluru and Indira College of Engineering and Management, Pune. The winners of the event were Mr.Mehul Shroff from Indira College of Engineering and Management, Pune and Ms. Deepti K. S. from SIBM-Bengaluru.
Dr. Madhvi Sethi, Faculty Mentor of Students Research Committee quoted, "Research is an imminent part of any venture and this year through the theme of innovation we tried to bring out that aspect and inculcate it in our students."
Swetha R. K., Co-ordinator, Students Research Committee said, "The theme of the event was truly justified when it was reverberated by the key note speakers as well as the participants. The event was an immense success and being a part of this endeavor was a truly fulfilling experience."
Mr. Mehul Shroff, the winner from Indira College Pune said, "It was a good learning experience and if it is conducted in the future I would definitely like to be a part of it. Symposio is undoubtedly a great platform to present our research articles."
SIBM Bengaluru
Ever since its inception in 1978, SYMBIOSIS has been synonymous with progress. The trend of progress has been continued by setting up of SIU's first campus outside Maharashtra at Bengaluru in 2008. SIBM Bengaluru is now one of the leading B-Schools of the country. The focus, now, is on matching global standards of management education. SIBMB instills a work culture which is unparalleled among various institutions. It provides a holistic approach to management which goes a long way in creating a dynamic identity. Vibrant student associations and committees complement the program with a number of activities involving institute-industry interaction.