SYNERGY SUMMIT 2014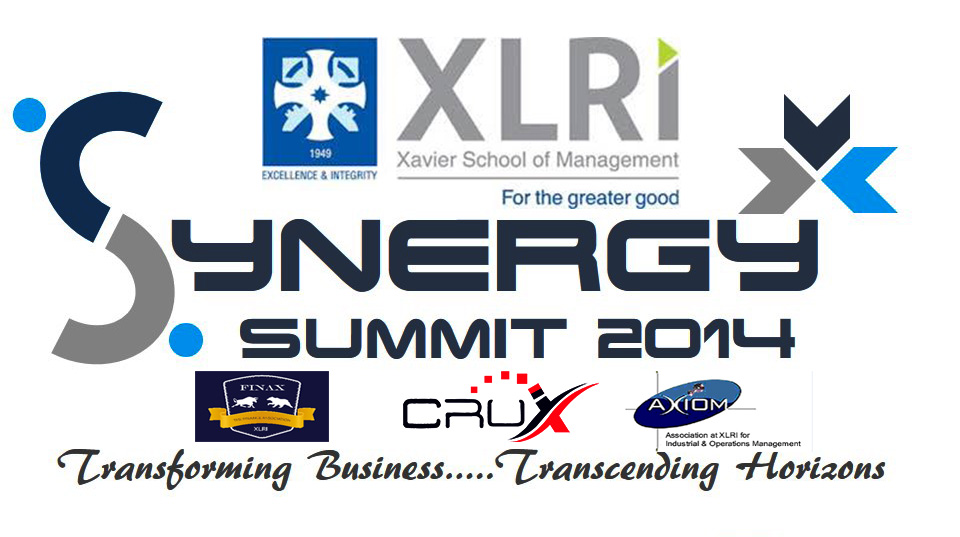 Synergy 2014 is the 1st edition of the national annual management conference of XLRI, The conference is the flagship event of three of the most prestigious committees at XLRI- CRUX (Consulting and Research Undertaking at XLRI), FINAX (Finance Association at XLRI) and AXIOM (Association at XLRI for Industrial and Operations Management).
Over the years Insight and Gnosis, the annual conferences of CRUX and FINAX respectively have had eminent speakers including Mr. Jaspal Bindra (ED, Standard Chartered Bank Plc), Mr. Shankar Narayanan (MD Carlyle India) and Mr. Sanjay Bhandarkar (MD, Rothschild India), Mr. Jagdish Kapoor (Former Deputy-Governor, RBI), Mr Sanjiv Bhasin (Chief Executive Officer, DBS), Mr. Krishna Kumar Natarajan (MD & CEO Mindtree & Chairman NASSCOM). The conferences have grown to become an important forum for the exchange of ideas. AXIOM, this year is coming up with its first ever Supply Chain And Logistics Exposition – SCALE, as a part of Synergy 2014.
With widened scope spanning the fields of consulting, finance and operations, Synergy, true to its name, is an attempt to facilitate an overarching conclave of all the three domains, making it one of the biggest conferences among all the B-schools in the country. The overarching theme for Synergy 2014 is "The Role of India Inc. in reviving the Nation's Growth Story" While the government predicts that as gradual increase in investment helps revive activity, India's economy will improve this fiscal year, high inflation and political rumblings in other countries pose hurdles to a strong recovery. Synergy 2014 attempts to understand how India Inc. may have a role in reviving India's growth story through these tumultuous times by taking a wholesome view across business dimensions.
For more details on speakers, schedule and passes, visit/contact us at: http://www.synergy-xlri.com/
External Linkages
Established in 1999, ExLink is the media, branding and PR cell of XLRI Jamshedpur. Responsible for managing print and social media branding for the institute, ExLink is the face of XLRI to the world and maintains relationships with all stakeholders such as prospective students, recruiters, alumni and internal committees on campus.