Tarun Imandi's Journey To The Best Place In Mumbai – IIM Indore Mumbai Campus
Change is what everyone fears in every phase of life yet inescapable, having realised thus I began to embrace it.
It all started during childhood with my obsession towards heart touching TV commercials, which I always felt from my perspective, how I could have modified them to make them better. The times during my 10th and 12th were so challenging, that zeal for catchy ideas slipped off my mind, I got busy with the academic curriculum along with my preparation for JEE. Getting into NIT Jamshedpur, ECE, my engineering was all fun, always wanted to try something new, when I was looking for opportunities to find an internship during my third year, my interest towards marketing grew and was lucky enough to get selected for an internship in Marketing and Management under Mr Sameer Mathur of IIM Lucknow, I found that marketing is a systematic and process oriented concept, defining a value proposition and finding the right target audience by segmenting correctly across alternatives. Pricing correctly through bench marking and selecting the right channel to distribute and how one must develop an overview of building long-term strategies rather than jumping into finding short-term solutions.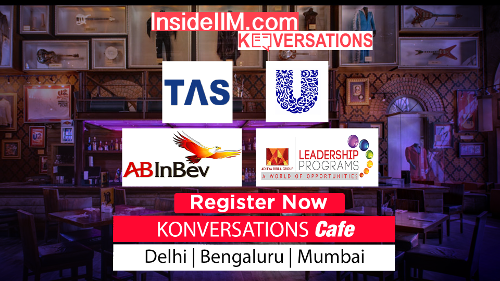 It was July, the world is our oyster, my final year of Engineering began with lots of responsibilities, as usual being an active member in all the co-curricular activities of my institution. Then started my hunt for preparation to pursue Masters in Business Administration in the top IIMs. I realised then, that the best thing to live my creative dream is through CAT, though CAT (Felix) suggests laziness, it was much more serious in the making. There were days when I didn't even know where to start, the trials started with YouTube inspirational videos on 12 months to CAT, there started endless determination, 6 months, skipping 'n' number of copies to burn the mid night oil, 3 months, feeling tensed and hopeless,1 month, finally realising that, "What should happen will inevitably happen", 3 days before and finally the "Big Day". It was quite unpredictable after the exam, waiting for the results with crossed fingers, tensed, but here I am into IIM Indore Mumbai Campus.
I could still feel the thump of the plane landing in Mumbai, the utmost joy I felt in those shiny crystals of drizzles. Moving out of the airport, and taking the Uber ride with my Mom and Dad alongside, to the campus, few things that bothered me were the thoughts of the Institution having no campus and my stay away from home. Right now these things no longer exist in my mind where we have built a strong relationship with seniors and friends, starting from finding a place to stay to clarifying our doubts, the guidance our seniors provided is quite exceptional. All I find are happy faces and reignited passion to conquer the world!
Cheers to IIM Indore, Mumbai campus, for all the craziness, it's almost time to paint the town red, all the happenings and much more fresh memories on our way…