TEDx IIM Indore – 'Ideating Minds'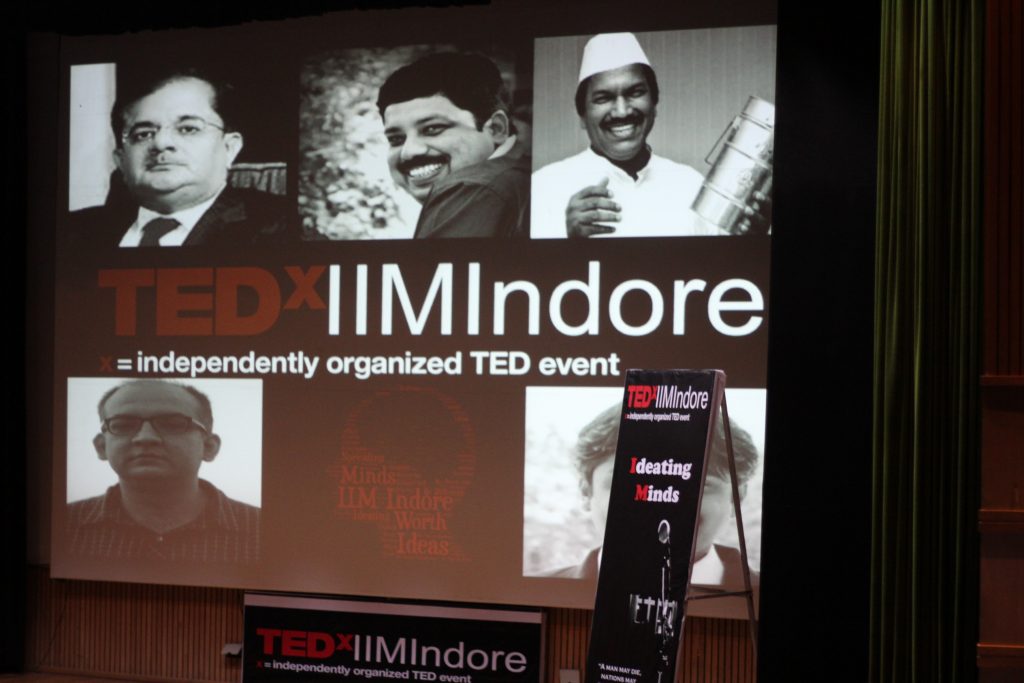 As John F. Kennedy famously remarked, "A man may die, nations may rise and fall, but an idea lives on". World-changing ideas and their successful implementation have brought our species to the pinnacle of the evolutionary pyramid. It is this cornerstone of civilization that IIM Indore celebrated through TEDxIIMIndore with 'Ideating Minds' being the central theme of the event. The event featured noted speakers who delivered brief and impactful TEDx talks that inspired the community to break away from the rat race and pursue excellence in their chosen fields.
First up was Mr. Atul Bhatnagar, COO of NSDC (National Skill Development Corporation), India. Mr. Bhatnagar emphasized the importance of core skills and soft skills in education, calling skilling as the third religion in India after Cricket and Bollywood. He also explained how NSDC is driving the skilling movement in India by conducting skill gap studies, industry connects, developing certifications and using technology. The student community was inspired by the talk and responded with a promise to contribute to the skilling movement in India.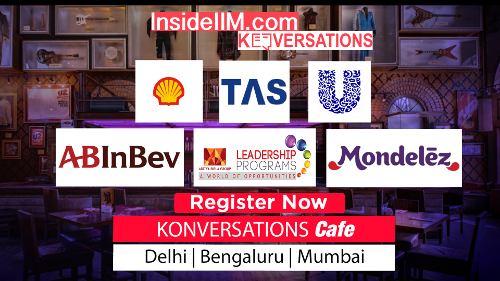 The next speaker in the series was Mr. Anand Neelakantan, an author who is best known for his alternative take on Indian mythology with 'Asura: Tale of the vanquished' and 'Ajaya: Roll of the Dice'. Mr. Neelakantan, known for his knowledge of the puranas and passion for mythology, took a bold step by pointing out various contrasting fallacies of the Indian mind-set, which are clearly manifested in the actions of its citizens. Quoting examples from the glorious and rich Indian heritage, he emphasized on the pros of the desire for excellence over the human urge to opt for shortcuts, or 'Jugaad'.
Next up was Mr. Porush Jain, who co-founded Absolute Sports Pvt. Ltd, a start-up that runs the sports portal Sportskeeda.com, while he was pursuing his MBA in Bangalore. Sportskeeda.com being one of India's largest crowd-sourced web portals and the most viewed sports website in the country, Mr. Jain spoke about how a successful start-up could be conceptualized, while stressing upon the fact that one should believe in one's idea and be passionate about following it.
The stage was then taken by Dr. Pawan Agrawal, CEO and President of the world-famous Mumbai Dabbawalas. Dr. Agrawal took us inside the world of the Mumbai Dabbawalas, an internationally recognized association of Tiffin carriers who have achieved Six Sigma performance with no formal training in management. Focusing on the intense commitment of the Dabbawalas towards customer satisfaction, he gave examples to showcase the immense trust that the carriers had built with both their customers and the organization. His energetic delivery, which exemplified his passion for the organization, was certainly a highlight of the event.
Last but not the least was Mr. Vivek Kaul, a distinguished writer and economist who has worked at senior positions with the Daily News and Analysis (DNA) and The Economic Times. Mr. Kaul spoke about what he called 'The Ramesh Sippy Syndrome'; using the examples of Sholay, Kolaveri Di and Google to show how volumes are written on successful ventures only after they have reached the pinnacle of glory, and the fact that nobody is ever able to predict the degree of success that any venture will achieve. Mr. Kaul's talk posed a serious question about the way management is taught in the modern times, with nobody having a clear idea of what works for success.
Overall, through a combination of pre-recorded TED videos and inspiring live talks, the event was successful in creating an experience that inspired the audience.
About TEDx, x = independently organized event
In the spirit of ideas worth spreading, TEDx is a program of local, self-organized events that bring people together to share a TED-like experience. At a TEDx event, TEDTalks video and live speakers combine to spark deep discussion and connection in a small group. These local, self-organized events are branded TEDx, where x = independently organized TED event. The TED Conference provides general guidance for the TEDx program, but individual TEDx events are self-organized. (Subject to certain rules and regulations.)
About TED
TED is a non-profit organization devoted to Ideas Worth Spreading. Started as a four-day conference in California almost 30 years ago, TED has grown to support those world-changing ideas with multiple initiatives. The two annual TED Conferences invite the world's leading thinkers and doers to speak for 18 minutes on a diverse mix of topics. Many of these talks are then made available, free, at TED.com. TED speakers have included Bill Gates, Jane Goodall, Elizabeth Gilbert, Sir Richard Branson, Nandan Nilekani, Philippe Starck, Ngozi Okonjo-Iweala, Isabel Allende and former UK Prime Minister Gordon Brown. The TED2014 Conference will take place in Vancouver, British Columbia, along with the TEDActive simulcast in neighbouring Whistler. TEDGlobal 2014 will be held in Rio de Janeiro, Brazil.
TED's media initiatives include TED.com, where new TED Talks are posted daily; the Open Translation Project, which provides subtitles and interactive transcripts as well as translations from volunteers worldwide; the educational initiative TED-Ed; and TEDBooks, short e-books on powerful ideas. TED has established the annual TED Prize, where exceptional individuals with a wish to change the world get help translating their wishes into action; TEDx, which supports individuals or groups in hosting local, self-organized TED-style events around the world; and the TED Fellows program, helping world-changing innovators from around the globe to amplify the impact of their remarkable projects and activities.
Follow TED on Twitter at http://twitter.com/TEDTalks, or on Facebook at http://www.facebook.com/TED
For information about TED's upcoming conferences, visit http://www.ted.com/registration