The 10 Commandments of B School : The (IIFT) Presidential edition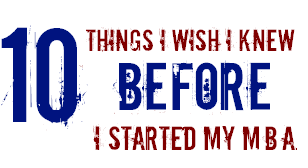 10 things that an IIFT MBA taught me
1.    Don't bite more than what you can chew:  Aukaat assessment is the most important skill that any manager has to possess.
2.    Be frank:  Listen to everyone. But if you have a stake in it and you are not sure about it, then be frank and say no, sorry boss. There is no point crying over spilt milk.
3.    Don't invest easily on the guarantee of future cash flows: You'd land into huge troubles if you don't realize them.  After all, it is foolish to buy 100 litres of petrol in advance expecting that you might get the lottery prize and win a bike for yourself.
4.    Answer the question, only if it is asked to you: Peeping into discussions where you are not required will only make you a joker in front of others. End of the day, it is how you brand yourself that matters the most.
5.    Be punctual: This is one of the most difficult traits to possess, at least for a lot of us. However, the importance of an interview is better realized inside the interview room than at the entrance gate entering late.
6.    Learn to forget:  Yes, bad things happen. The faster you forget, the better. After all, it is better to prepare for the interview tomorrow than to share your sad interview story with a hundred people. The story can wait, but the next company won't.
7.    Honesty is the best policy: Sounds like a cliché, but the fact stays true even today. Don't cheat, because as you sow, so shall you reap. In other words, what goes around -comes around.
8.    Respect everyone: Irrespective of how you might judge any person, respect him or her. Right from the guard who stands at the gate to your peers who stay with you throughout the journey to the professors who guide you to the director who leads the institute, every one helps you, one way or the other. The least you can do is to respect each of them.
9.    Be flexible: If today, my batch at IIFT has performed tremendously in the placement season bagging fat pay checks, it is but obvious that the corporates would have equally high expectations. Meeting these expectations is highly difficult without being flexible. After all, you can't be a consultant and expect to get a desk job.
10.    Network: This might be one of the most over used terms at any b-school, however, this is the most important take away for any b-schooler. After all, in a close knitted society, you never know who would be helpful at what stage. After all, the concept of "refer a friend" is trending today everywhere. Do I need to say more? 😉
A singer, a blogger and a traveller, Sravanth Vangara is a 13-15 batch graduate from IIFT Delhi.  He served as the President of the Students' Council at IIFT and considers it to the most exciting period of his life. Like most of the Indians, cricket is his religion; Sachin is his God & Dravid is his role model. He believes that happiness is the most important spice in life and loves to hang out with his friends.