The 6 IIMs Alumni Report – FMCG & Consulting – Part 2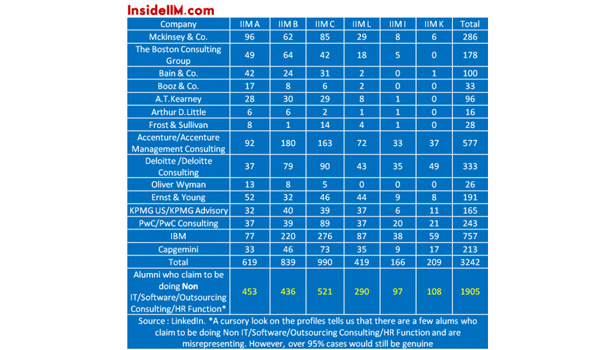 Second in our series, we look at the FMCG and Consulting Sectors today.
First things first, Thank you to the people who made this possible – The Founders of LinkedIn.com
Reid Hoffman
Allen Blue
Konstantin Guericke
Eric Ly
Jean-Luc Vaillant
Large pools of aspirants dream of getting into some of the top Consulting companies in the World. In fact, on our helpline 'Eklavya' over 70% queries are on Consulting and everyone seems to be wanting to become a Consultant.
A career in FMCG has always been glamorous. It is one sector that definitely got a boost after liberalization, but was always in demand even in the 1980s and early 1990s (A time when a Career in Advertising was also a dream for many. Mostly, due to the excitement around the growing popularity of Television)
Points to note before you look at the data below:
1) This data has no Time filter unlike Part 1. It shows number of professionals on LinkedIn currently working at the below mentioned companies.
2)We have chalked up a list of 15 most desired FMCG and Consulting companies and mapped each of the 6 IIMs against each  of the 15 companies.
3)We got a lot of queries around the IT roles data depicting a skewed picture and hence wherever significant, we have filtered out IT related and HR/admin roles as much as possible. In spite of this, there will still be some amount of IT related roles hidden in the  Consulting data below. But the numbers are good to make a trend. Beyond this, no domain/function filtering has been done. So FMCG numbers include Corporate and Business Development, Commercial, Supply Chain and other such functions in the data below.
4)Please remember the data below is based on user generated data. Hence, it cannot be 100% accurate
5)It includes professionals who may have attended other programmes at these institutions. Not everyone, in the sample has attended the 2 yr flagship PGP programme. For e.g. it may even include someone who has done a 3 day certificate programme at any IIM.
6)It includes current PGP students who are undergoing summer internships and have updated their profile with the name of the organization they are interning in.
7) Before running down an institution, please be aware of the context. 13 batches of IIM Indore, 14 batches of IIM Kozhikode, over 25 of IIM Lucknow, over 35 of IIM Bangalore and over 45 of IIM Ahmedabad and IIM Calcutta have graduated since Independence. Also note that most of the LinkedIn users we found in our sample are alumni who have graduated between 1990-2012.
8)And finally, please note that the list below is NOT EXHAUSTIVE. Not everyone is on LinkedIn. This report just serves as a trend spotter at best. Team InsideIIM is not responsible for any career decisions taken solely on the basis of this report.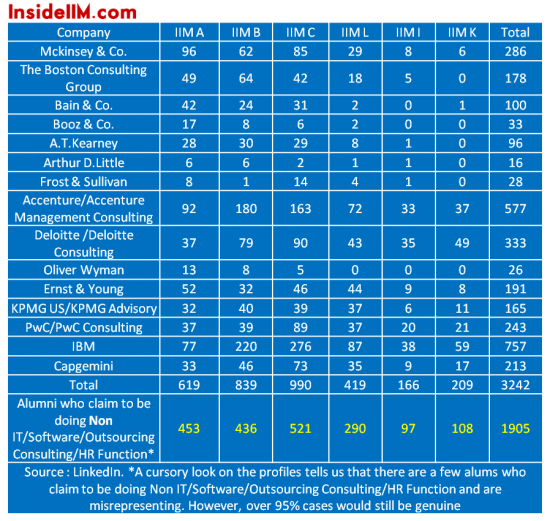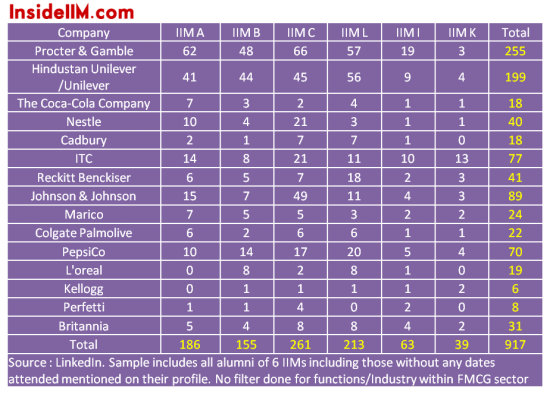 It's not tough to see how Alumni drive placements to a large extent when you look at numbers above. For e.g. What explains the number 49 for J&J – IIM C alums and the next best number being 15 – IIM Alums!
The fortunes of IIM I and IIM K are inter-twined and for many years they have behaved like twins.  IIM Indore has an edge it seems when it comes to sending alums to FMCG companies. It will be an interesting space to watch as we update this data every 6 months.
There are many such insights you could draw out and we leave that you. All the best for your expert analysis on the above 🙂
We shall meet you tomorrow with Banking & Finance.
You may also like to read :
The 6 IIMs Alumni Report – Banking & Finance – Part 3
The 6 IIMs Alumni Report – Locations & Companies – Part 1
The Most definitive Student Exchange Programme Report – 2011 (One of its kind report for top business schools in India)
New ! – Industry Series : Interview with Rishiraj Singh Pruthi – Head, Customer Marketing at Abbot Nutrition
Read our Final Placement Reports for the Class of 2012 :
Final Placements :IIM Lucknow – Class of 2012
Final Placements: IIM Bangalore – Class of 2012
Final Placements :XLRI Jamshedpur – Class of 2012
Final Placements :IIM Kozhikode – Class of 2012
Final Placements :IIM Calcutta – Class of 2012
You may also like to read:
Final Placements – Class of 2012 : The big test for the IIMs
Summer Placements 2011-13 – JBIMS Mumbai
Summer Placements 2011-13 – IIM Bangalore
Summer Placements 2011-13 – IIM Calcutta
Summer Placements 2011-13 – IIM Lucknow
Summer Placements 2011-13 – IIM Indore
Summer Placements 2011-13 – IIM Kozhikode
Summer Placements 2011-13 – XLRI Jamshedpur
Summer Placements 2011-13 – FMS Delhi
Our facebook page : InsideIIM
Follow us on twitter here : @InsideIIM