Uncategorized
The Fallacy of HR questions: The Long Term Career Plan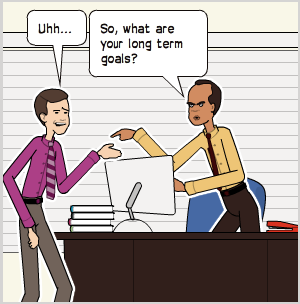 What do you want to achieve in the long term? Where do you see yourself in five years? How have you planned your career in the short term? These questions can go on and on along the same line, and are often asked at either the B-School interviews or during the placements. The rationale – If a candidate has a clear goal in his/her life then clearly he/she is a responsible and sincere individual. If those goals align themselves with the company, that is a bonus.
"My short term goal is to gain experience at this point. Being a young graduate, I need to learn the ins and outs of the industry, work for a company that I respect and ultimately enjoy my job. My long term goals are to help the company at a higher position of responsibility and help the company succeed."
Sounds very romantic doesn't it? A love for your job and the assurance of being stable at a company that you respect(notice the not-so-subtle level of flattery).
The very purpose of asking such a question is defeated when the candidates come prepared with such answers. In the end, the candidate ends up uttering a finely crafted set of lines that skirt the boundaries of euphemism and optimism in the right balance. The interviewer also understands that but still pretends to buy it, if the delivery is good. Both the sides know what is happening, but they still play this game of make-believe.
The business world is a sea of turbulence and dynamism. It rarely allows anyone to follow a set plan, much less a long term plan or a 5-year one. Why then do we even need such a question?
Imagine a moon eyed youngster fresh out of graduation sitting through the interview process. There is a great likelihood that their vision of their future would be dramatically different from how reality would later unfold. Having a good understanding of your future options is well and good, admirable even, but why is not having a definite game plan for the future a crime? Even the Indian Government chucked the Planning Commission that played the same game of predicting the next five years.
The average B-School graduates change their job within 2 years generally, and keep on exploring various fields ending up with a diversified career. These are the same set of people who had given those rosy well prepared interview answers to that damning question: "Where do you see yourself in five years?"
A better answer would perhaps be: "Managing change."