The Great Indian B School Debate – Semi-Final Lineups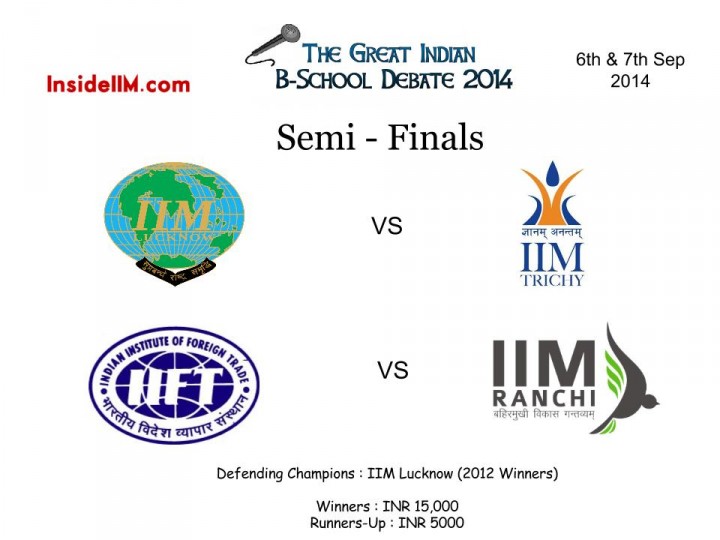 We had six bruising battles in the second round. From twelve contestants, we are now down to four. In these battles, IIFT Delhi and Team Lucy ….. from IIM Trichy continued their excellent performance. IIM Ranchi and IIM Lucknow were the other two teams that made it to the semi-finals. XLRI Jamshedpur, VGSoM IIT Kharagpur and MDI Gurgaon missed out narrowly on a place in the final four. One thing unites all four semi-finalists – they took the logically most direct approach to proving their arguments, and demolishing those of their opponents.
Here are the teams that made it to the final four
IIM Trichy – Lucy in the Sky with PowerPoints (Bhanu P and Venkat Iyer)
IIFT Delhi – The Foreign Hand (Purvabh Surana and Satyaki Mascharak)
IIM Ranchi – The Intellect Box (Adarsh and Sayan Kar)
IIM Lucknow – Twisted Minds (Reshal Jain and Swati Thakur)
The Semi-Final lineup has a couple of mouth-watering match-ups.
IIM Trichy (Lucy in the Sky with PowerPoints – the juggernaut) vs IIM Lucknow (the defending champions)
IIFT Delhi (the in-form weed-supporting team) vs IIM Ranchi (the dark horses)
Rules for the semi-finals
The semi-finals will be a Live Debate. Once the opening arguments are uploaded, both teams will have an eight hour window to attack each other's arguments and defend their own, using the comments section of the post. Comments will be considered valid only if they are made through the InsideIIM account for debate. The audience is also encouraged to participate. Frivolous audience comments will be deleted immediately.  The semi-finals will be held on 6th and 7th September.