Update: The Battles have begun!
Battle 1 : Top business schools in India and their alumni perpetuate a culture of elitism
Battle 2: Increase in batch sizes at Top Business Schools in India is justified
Battle 3: Flagship MBA/PGP programmes at top Bschools in India are overpriced
Battle 4: There is little value add from classroom learning at BSchools in India
Battle 5: There should be reservation for Women in a batch of students in Business Schools in India
Participating Teams, Draws and Schedule

All teams have been given a For and an Against position by us. They did not have a choice in this regard.
2 of the invited teams – ISB Hyderabad/Mohali and SPJIMR Mumbai did not send their teams
4 Indian BSchools were considered for the Wild Card entry. One school was offered the wild card based on draw of lots. It was accepted.
1) Opening Argument – Should reach us by 2nd August – 17:59:59 hrs. The first battle opening arguments will be uploaded on the website at 00:30:00 hrs on 3rd August. The rest will be uploaded on every subsequent day based on the draws at 00:30:00 hrs
2)Each argument in the 1st Round - 'The Battle' should not exceed 1000 words excluding graphs, tables and diagrams used to support arguments. Any use of data needs to have appropriate citation. Send us the arguments in a word document. The font and style of text will be the default font/style on InsideIIM.com. Pictures,Graphs, Tables(if any) also need to be sent separately clearly indicating where you want us to place them. You are also requested to send your personal photo with a 3-4 line write-up on you.
Counterpunch is essentially a response to the opening arguments put forward by the opponent. The counterpunch has to be prepared and sent to us on the same day of your battle and should reach us by 12:29:29 hrs. It will be uploaded at 13:00:00 hrs the same day. All teams get exactly 12 hours to prepare and send us the counter punch. It will be uploaded at 13:00:00 hrs on the same day (for e.g. on 3rd August for IIM L vs.FMS battle) after which commenting will be enabled and it will be thrown open to the audience as well.
4) 10% of the scoring criteria includes the quality of audience attack. After the 'Counter Punch' is uploaded, anyone on the web will be allowed to attack the team's arguments in the comments section and our judges will decide if the audience punched enough holes in the arguments. Tighter the argument, lesser will be the chinks in the team's armour. Send us the arguments in a word document. The font and style of text will be the default font/style on InsideIIM.com. Pictures, Graphs, Tables(if any) also need to be sent separately clearly indicating where you want us to place them. Word limit remains 1000 words.
5) 4 teams out of the 10 teams will make it to the Semi-Finals. It is possible that both teams pitted against each other can also qualify for the semis.
6) Rules of Round 2(Semi-Finals) and the Finals will be communicated later. Results of the Battle will be announced on 8th August 2012.
7) Final round will be a Video Debate.
8) Decision of the judges will be final and binding
Please note it is possible that both the teams debating for/against a topic can qualify for the finals if the judges see quality in the arguments. You are hence competing with all 9 teams and not just your opponent. We also encourage other teams to attack the teams involved in a battle other than theirs. 10% weightage will be given to how easily audience is able to attack your arguments. The evaluation is subjective and will be done by the judges. Number of Comments /FB Likes may not be a correct indicator of the same. The judges will only be evaluating the debates on the quality of the arguments. Wherever possible, please use data and examples across the world and in different settings and cultures. It will definitely add more weight to the arguments. Creativity in presenting arguments will also fetch extra points.
Audience Role – No. We don't garner meaningless publicity by asking for FB/Likes or Retweets. Quality arguments will get shared automatically on the web. Anyone on the World Wide Web can attack the arguments of any of the teams after the counterpunch is uploaded. We only focus on quality and hence no number of likes/comments can help a team. However, quality arguments that exploit chinks in the armour of a team will be strongly considered. All teams will be allotted a twitter account using which they can defend themselves. Only comments within the first 24 hours after the counterpunch will be considered.
The judges have to rank the teams in order from 1-10 based on the Opening Arguments, the Counterpunch and the audience arguments after the counterpunch. Team InsideIIM will ensure that frivolous comments by the public are deleted/ignored. The top 4 ranked teams will qualify for the semi-finals. It is possible that two teams debating against each other can also qualify for the semi-finals.
Both the judges have agreed to judge the event in their personal capacity as professionals. The organizations that currently employ them have nothing to do with this event. All their views or comments expressed during this event are personal and cannot be attributed to any organization they are associated with.
Kalpana is a journalist with over six years of experience. She currently works with Business Standard and covers Education and Oil & Gas. She has also worked with Times of India for a year before joining Business Standard. She holds a degree in journalism and Mass Communication. She has also been a compere for All India Radio. In her leisure time, she likes reading, writing and listening to music.
Education: Masters in English Literature .Working as a journalist for the last 8.5 years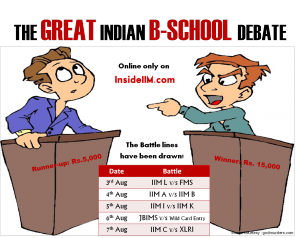 Please also take the InsideIIM Recruitment Survey 2012. Results will be out on 10th September. India's best companies to work for and most aspirational companies. Also, an estimate of the salary expectations of professionals in India.