The Great Indian BSchool Debate Semifinal 1: IIM Bangalore vs IIM Calcutta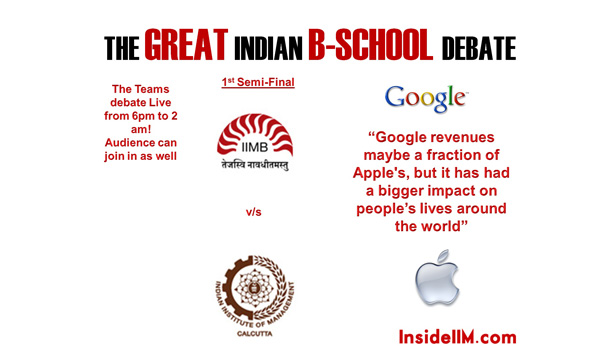 It's crunch time in the Great Indian B school Debate. After five bruising battles among India's elite B schools, the contestants have been whittled down to four- IIM Bangalore, IIM Calcutta, IIM Lucknow and XLRI Jamshedpur. The semifinals are going to be a live debate.
Once the opening arguments are uploaded, both teams will have an eight hour window from 18:00:00 hrs IST to 02:00:00 hrs IST to attack each other's arguments and defend their own, using the comments section of this post.. Comments will be considered valid only if they are made through the formal twitter account created specially for this debate. The audience is also encouraged to participate. Frivolous audience comments will be deleted immediately.  Here we go…..
Semifinal One: IIM Bangalore vs IIM Calcutta                     (Check out the other semifinal happening here)
Google revenues maybe a fraction of Apple's, but it has had a bigger impact on people's lives around the world
FOR the motion – IIM Bangalore
Working on a "Platform" [1] model Google brings together businesses that seek to advertise and the audience that are the recipients. Owing to the large number of customers and the inherent networking effects, Google garners revenues by charging the advertisers while keeping the service free for the masses thereby reaching and benefiting millions of people.
Google' search engine with 1 billion unique monthly visitors [2] has revolutionized data search saving the world millions of hours in unproductive search time [3][4]. Adoption of googling as a synonym for search is a testimony to the impact Google has had [5].
Google talk, Google plus and Gmail (350 million active users [6]) help people communicate quicker and in a more convenient manner.
Google maps help people immensely by locating places while Google docs help people share docs for collective working.
All these services were the first of their kinds in their sub-fields.
Google for years now has helped businesses develop by its Adwords service which helps people advertise their business through specific search words. See Video [7]
Adsense has helped small businesses and amateurs benefit monetarily through Google's placing of ads on their fledgling commercial websites or personal blogs.
Google grant has helped provide free advertisement to non-profit organizations [8]
Technologically, Google's Android OS (50% of Smartphone market share [9]) helps Application developers by bringing their developments to the Apps market where they are lapped by millions of smart phone users. That it is open source and platform-independent makes it compatible with most smart phones.
Not to mention YouTube (0.8 billion monthly users [10]) which helps people (personal) and organizations (event, promotional) videos
Contrast this with the arrogance of a company with its iPhone tagline as "If you don't have an iPhone – you don't have an iPhone". The products of this, America's most valuable company, sure are priced high to signal a sense of exclusivity. Infact the iPhones are priced so high that without subsidies from telecom operators it would struggle to sell those products. The now powerful firm continues arm-twist the bleeding operators to continue to provide huge subsidies .The operating margins are kept enormous (50% to Google's 26% [11][12]) signifying the price people pay for the brand name resulting in the company's massive revenue earnings despite a much smaller customer base. Possessing an apple product is seen as a status symbol in India. Most of Apples products are non-compatible with other products or softwares. The flash, 3.6mm non-standard audio jack and the much used Windows products cannot be used with Apples' products inconveniencing a large number of users [13]. The cloud-computing-facilitated content sharing can only be done from one Apple product to another.
Thus, on one hand we have a firm that emphasizes on open source services at zero prices so that the world becomes more interconnected and more and more people are convenienced while on the other is a firm that revels in its exclusivity with its executives unabashedly saying "Apple has no obligation to solve America's problems" [14]
–  Kunal Ashok and Mohit Srivastava (IIM Bangalore)
AGAINST the motion: IIM Calcutta

Apple practically made the modern computer.
Apple I was the first to introduce a keyboard and a TV-like display unit[a].  The Apple Lisa introduced graphic user interfaces, the mouse, hard disk based operating systems, multitasking and virtual memory[2]. Apple popularized the desktop[3] and fonts[4] in the
mass market through the Macintosh. The iBook was the first mainstream computer with integrated wireless networking[b].
Apple and the Internet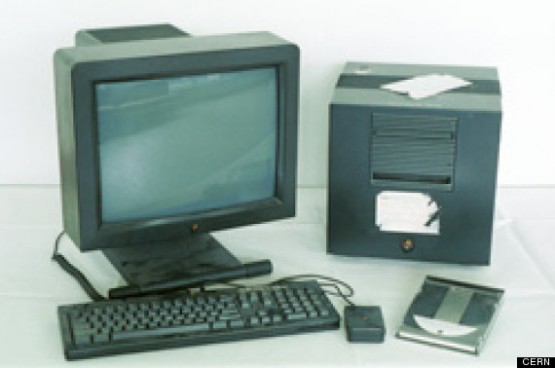 In 1985, Steve Jobs left Apple , with a bunch of engineers from Apple's SuperMicro division, to co-found a company named NeXT. NeXT further developed Macintosh's technology and made the NeXT computer which Tim Berners-Lee used to create the World Wide Web[11[10] 14. Their technology was later absorbed and used by Apple to shape the internet industry.
Apple revolutionized "Humans-to-Technology Communication".

The iPod changed the way we listen to music by allowing people to have easier access to their songs.
The iPhone was the first to implement multi-touch touch screens in a user-friendly way. This allowed the users to access internet on their phones in a way they never could before and gave the first boost to mobile computing. It was called the Invention of the Year by Time Magazine in 2007[8]. The iPhone was thus the first real smartphone and became a benchmark for other smartphones.
The iPad is now the first tablet computer that has been accepted by consumers of all kinds who have found it to be usable. It has also allowed autistic and visually challenged children to interact with the world in a way they could not before[5][6]. The iPad and iPhone have allowed doctors to deliver healthier babies, devote more time to patients, and remotely monitor patients with heart ailments16. They have changed the way businesses work through the app ecosystem that they have spawned.
The pioneering work of Apple in the development of mobile computing and communication devices have massively expanded the scope and utility of the internet and the role of internet majors like Google, Facebook and Twitter. Smartphones and tablet PCs have been the prime movers in the development of Social Media. The massive impact of Social Media on the world is a tribute to Apple's vision of designing technology to enrich people's lives.
Google stands on the Shoulders of a Titan

Apple was a prime mover in the transformation of the computer from a contraption of chips, switches and lights to the user-friendly device we now know. Today, using technology that Apple conceptualized, we logon to Google's resources which run on technology that Apple helped to shape. We acknowledge all of Google's achievements vis-à-vis technology. But Google's stupendous achievements rest on the shoulders of Apple's legacy, without which we would not have a computer or even the modern internet today. Apple' impact on our lives has been at a more fundamental level than Google's and thus greater than that of Google. This impact can be gauged by the tributes that Steve Jobs, founder of Apple, received upon his death[7].
– Mohamed Afzal Hussain & Nishan Konar (IIM Calcutta)

References – (IIM Bangalore)
[1]http://www.futurelab.net/blogs/marketing-strategy-innovation/2008/05/whats_the_difference_between_p.html
[2] http://www.telegraph.co.uk/technology/google/8591032/Google-reaches-1-billion-users.html
[3]http://www.thinkwithgoogle.com/insights/library/studies/the-impact-of-internet-technologies-search/
[4] http://www.netmarketshare.com/search-engine-market-share.aspx?qprid=4
[5] http://www.fool.com/investing/dividends-income/2006/07/05/to-google-or-not-to-google.aspx
[6] http://thenextweb.com/google/2012/01/19/gmail-closes-in-on-hotmail-with-350-mm-active-users/
[7] http://www.youtube.com/watch?v=ZAO–kt5HN0
[8] http://www.commonsensenms.com/2011/03/google-grants-for-nonprofits/
[9] http://www.androidauthority.com/google-play-vs-apple-app-store-2012-76566/
[10] http://www.youtube.com/t/press_statistics/
[11] http://investor.google.com/pdf/2012Q2_google_earnings.pdf
[12] http://www.apple.com/pr/library/2012/04/24Apple-Reports-Second-Quarter-Results.html
[13]http://whatblag.com/2011/03/28/netgear-ceo-criticizes-apple-for-selling-closed-and-proprietary-products/
[14] http://edition.cnn.com/2012/04/03/opinion/prestowitz-apple-jobs/index.html