Uncategorized
The Individual Enterprise and how Mobility redefines business by Mr. Soumitra Poddar (VGSoM Alumnus)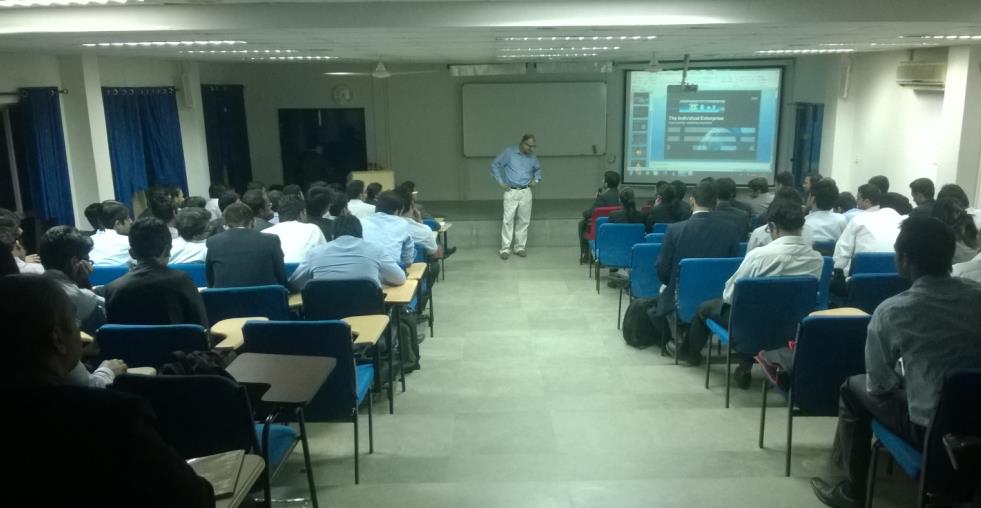 On 9th October 2014, Vinod Gupta School of Management, IIT Kharagpur, experienced one of the most inspiring and enlightening lectures from its distinguished alumnus Mr. Soumitra Poddar, Delivery Project Executive at IBM
Mr. Soumitra Poddar belongs to the first batch of Vinod Gupta School of Management (VGSOM), IIT Kharagpur. He started his career in 1989 in the field of IT application development. In 1992 he joined Mastek Limited as consultant and gained rich technical experience. He then pursued Masters of Business Management (MBM) from VGSOM, IIT Kharagpur and specialised in IT and Finance. After successful completion of his masters, he started working on SAP technology, which was then at its infancy stage. He rendered his services for various prestigious firms such as PWC and IBM. With his managerial acumen, today he has reached the level of Delivery Project Executive at IBM.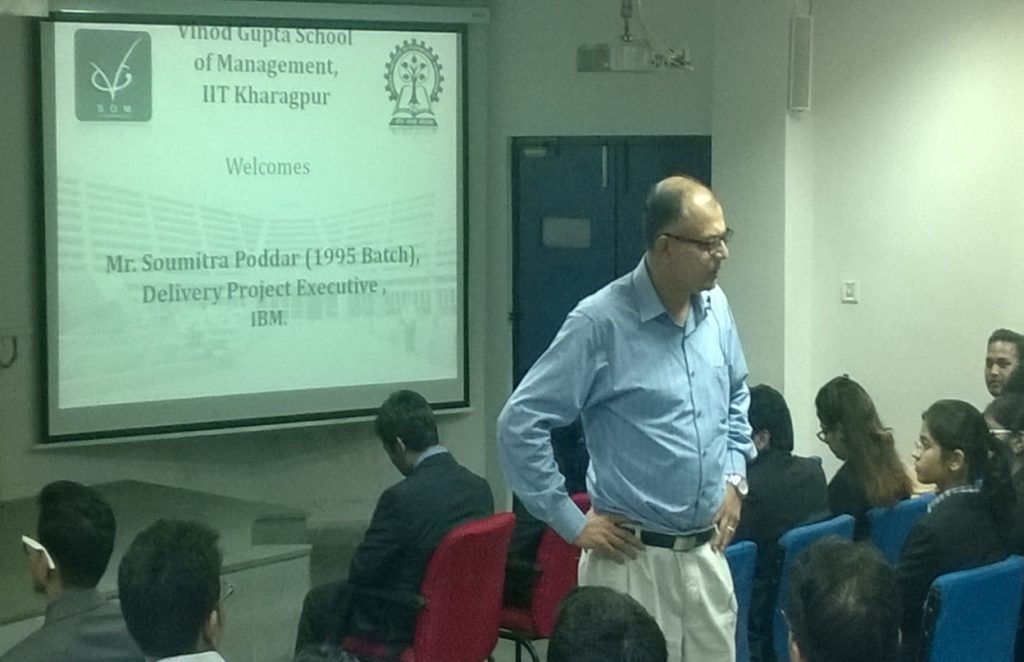 The session started with the guest recollecting his past experiences in VGSoM and pointing out the prominent changes made for the benefit of the students. After this quick recollection, he gave us an insight into the various challenges faced by him in his career.
Post that, the discussion moved to the topic "The Individual Enterprise and how mobility redefines business". Here Mr. Poddar told how present day technological improvements impact company's managerial decisions. He took the example of SMAC (social, mobility, analytics, cloud) and explained how it impacts managerial decisions on product lifecycle, ERP and business requirements.
Extending the above discussion he explained many modern applications which include mobile and its impacts on enterprises taking examples of restaurant ratings, customer feedback etc. He also discussed the importance given by corporate executives to above technologies, stating that 84% of CIOs rate mobility solutions as critical area for investment, 94% of CMOs rank mobility applications as critical for digital marketing. Relation between mobile and analytics and its impact on areas such as customer management, marketing and sales, talent management were also discussed.
Finally, the lecture ended with the quote "Leaders will extract most of the value while laggards face possible value destructions". Then there was a quick Q&A session in which students asked various questions to Mr Poddar. Extending his regards towards his alma-mater, Mr. Poddar reminded us the importance of the institution we are currently a part of and left us inspired and uplifted.
VGSoM Kharagpur
The Vinod Gupta School of Management is a business school in India. It was established in 1993 at IIT Kharagpur and was the first management school to be set up within the IIT system. It was initiated by a distinguished alumnus and a Life Time Fellow of the Institute, Mr. Vinod Gupta. In the year 2018, VGSoM completed 25 glorious years of its existence as a premier B-School of India. Today it is consistently ranked as one of the top 15 Institutes for business management in the country and boasts of a list of illustrious alumni holding prestigious positions in companies across the world.