The InsideIIM Best 50 – Are you one of them?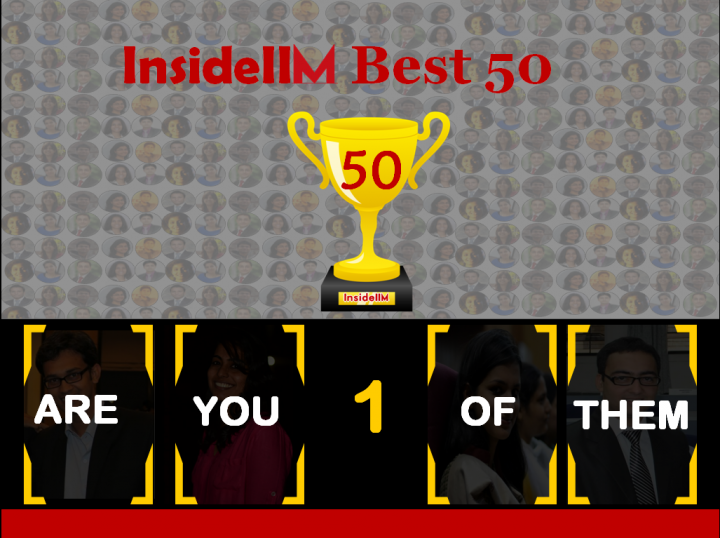 We are announcing a new competition on InsideIIM for students currently in a B school.
The InsideIIM Best 50.
We are on a hunt for students with the best profiles on B school campuses. Tell us why you're special. Your profile will be rated by recruiters, and they will shortlist the best 50 profiles in India. We will publish feature stories on the life and career of the 50 students with the best profiles.
As B school students you have already rated India's Recruiters in the InsideIIM Recruitment Survey 2014. It is now time for recruiters to rate you. This is your chance to show your best side to recruiters. Rather than helplessly wait for a shortlist, or languish with a brilliant answer to a question the interviewer never asks, take the opportunity to show the world why you are special, on your own terms.
InsideIIM is on a hunt to find the best profiles on India's B school campuses. All you have to do is this – tell us your story, in your own words. Top recruiters will help us shortlist the 50 most interesting profiles, and we will publish your story among the featured stories on InsideIIM. The name of the recruiters that are rating you will be revealed shortly. Keep watching this space.
What should be the format of your submission:
Please write to us on best50@insideiim.com with the subject line as "InsideIIM Best 50 Profiles" if you would like to get featured. In your email, please write a short paragraph on why you should be considered (you can tell us about your achievements, your talents and whatever else that makes you unique).
Why we are holding this competition
InsideIIM is a platform for students, aspirants, alumni, B schools and recruiters. All of you have rated recruiters earlier in the InsideIIM Recruitment Survey. It is now time to give recruiters a chance to rate you.
Moreover, the selection process through resumes is really random. It does not give candidates a fair chance to show their best side to recruiters. The InsideIIM Best 50 competition gives you a chance to speak to recruiters on your own terms.You have the entire stage to yourself – all you need to do is figure out a way to have maximum impact. If you are selected  in the InsideIIM Best 50, i.e., if yours is one of India's best 50 profiles, it will be a huge boost to you. It would give a great impetus to your chances of getting an interview in the future.
What are the criteria for selecting the InsideIIM Best 50
The secret sauce that is being devised for selecting India's best profiles is in the works with our recruiters. We cannot reveal the intricate details of this formula. However, rest assured that it will be a balanced evaluation of you, your achievements and your talents. We will consider your profile in its entirety – and not just focus on academics and grades. We will consider your achievements – extra-curricular, co-curricular, academic. In case you have work experience, we will consider the impact you've had at your work-place. We will also look at your career choices, your talents, and everything that makes you you.
What happens when I'm selected into the InsideIIM Best 50
You become hot property among recruiters in all of India. We will do a feature story on you, highlighting your journey and the achievements in your career.
Who can apply for this competition
This competition is currently open to second year students from all B schools in India.