The InsideIIM Entrepreneurship Series – Interview with Rohit Koshy, Partner – LearnBiz Simulations LLP
Here's an insightful conversation with a Rohit Koshy – a former campus recruiter, budding novelist, above average maths tutor, failed insurance agent, almost-kicked-out-of-college textile engineer, Business Plan generator … the list goes on. Prior to studying at God's own IIM, Rohit completed his engineering at India's premier engineering college. He has worked at Hyderabad, Chennai and Bangalore for industries ranging from Specialty Chemicals, HR Consulting, Education, Insurance, IT and Infrastructure Development.
A creative writer and travel enthusiast, here, he talks to us about his venture –  LearnBiz Simulations LLP.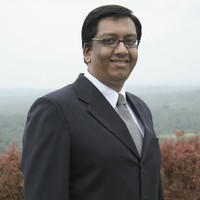 1.  Could you walk us through your venture? Who is your target audience and what services do you provide for them? 
My company has tried to 'gamify' the MBA curriculum in India. At IIM, we were exposed to a number of simulations as part of the course pedagogy. Most of them were made abroad (France/ US) and are prohibitively expensive. We approached our faculty with the idea of developing indigenous simulations, without compromising on the quality and learning objectives, and more suited for Indian conditions. Their response was very encouraging, and hence the company was formed.
Our target audience is the MBA students who want to really understand and appreciate the application of management concepts, rather than just mug up some formulae from a textbook to ace exams. Our simulations are hosted on the cloud, and colleges purchase logins for their students. We train the faculty on delivering the simulations and debrief, where the learning gets reinforced. We also provide guest lecturers from our side if the college desires.
2.  What was your Eureka moment? What prompted you to take the plunge into entrepreneurship and launch this venture?
I was always entrepreneurial in nature. In college, I experimented with selling mutual funds, running a tuition bureau, managing an Amway dealership, and registering people into training programs. My pre-MBA experience was mostly in start-ups or small organizations. The large corporate that I joined from campus was just not able to give me the same level of excitement, although the scope and scale of projects that I handled there was much higher. After 3 years of corporate life, I felt that it is about time to start my own venture.
3.  Do you think there is a skills-gap that is affecting the employability of MBA graduates? How severe is the problem, and what is your solution to it?
More than a skill gap, I feel that industry has yet to figure out the value that MBAs bring to the table, especially those that have started hiring MBAs in recent times. While many MBAs are under-utilized in large companies, the expectations are pretty high in the SMEs, where MBAs can really add a lot of value.
Having said that, I have found that many MBA students lack awareness of current affairs and socio-economic conditions, even in Tier 1 schools. Most of them do not even read newspapers regularly. A problem solving attitude seems to be lacking. I feel that students are hoping for a magic pill that will miraculously get them high paying jobs, without taking the effort to understand the practical applications of what they learn in the MBA program. We hope that simulation exercises like the ones conducted by leading schools will play a part in students being better equipped for corporate life.
4.  Do you think the case study method as it is currently employed, is irrelevant?
The case study method definitely has its merits in exposing students to different scenarios in business and forcing them to analyse, strategise and solve management problems. What is worrying is the lack of case studies on Indian companies, and situations.
 Our former director used to say that the problems faced by India are of a scale that cannot even be fathomed by people in developed countries. Instead of looking westwards, we should look within to find solutions to these challenges. So, it would be really helpful if B-Schools could write more cases on Indian situations, so that student can get relevant insights as they try to solve complex business problems at the work place.
5.  Which parts of the education system do you think, are ripe for intervention by your company's products? Do you think Indian schools and under-grad colleges can also benefit from simulations?
Every portion of the education system can benefit from "gamification". It was easier and relevant to do this in the MBA curriculum, which is why we have started with it. Over the last 3 years, we have developed 18 simulations across subjects in marketing, finance, economics, operations, strategy and HR, which we hope with give industry perspective to students.
As a campus recruiter in an IT company in my past avatar, I met a number of brilliant students who were unable to do well in interviews just because of their lack of practical exposure to coding and other aspects. Companies like Classle.net have stepped in to bridge that gap, and the results have been extremely encouraging. There are a few companies developing making games for the K 12 segment, especially for science subjects.
6.  How do you see the future prospects for "gamification" in the Indian and global education context?
This is the way forward, given our perennial challenges with faculty, and providing quality education to the masses. Research has shown that students using simulation exercises are able to retain more of the learning compared to just using textbooks and cases. Faculty is also happy, since they save a lot of time in evaluating the students – many of our simulations are used as quizzes and final exams at some of the leading B-Schools, thus saving up to 20% of their total course preparation time.
7.  What has been your main learning as an entrepreneur? What was the biggest hurdle you have overcome?
Entrepreneurship is a great leveler. One should be prepared to do anything that is required to take the company forward – be it taking printouts, to waiting long hours to get a meeting appointment. Following one's passion makes being an entrepreneur a little more tolerable. One should not lose focus of the bigger picture, and keep an eye out for cash flow.
8.  How has the B school experience and degree helped you?
The B school experience was really great, being a residential program. We got an opportunity to interact with students from all over the country, and from different industries and backgrounds. The different assignments, and B school competitions that we participated in helped in fostering teamwork, and getting work done from difficult people.
The B school degree is definitely useful in opening doors. Deans, Directors and HoDs of target colleges would give us a patient hearing just because of our background. The IIM faculty network also helped us get our first set of clients.
9. What are your plans for the future?
We currently supply to about 20 MBA colleges, including the IIMs, IITs, XLRI, IIFT, FMS and IMT. The simulations are being used as part of course pedagogy. Companies have started using the simulations for recruiting fresh MBAs, as well as in training programs for middle management. We intend to increase our footprint in both these segments in the coming years by strengthening the sales team.
In terms of new product development, there are a lot of plans around social learning and assessments. We intend to aggressively push our certification feature, where students can benchmark their performance in different simulations against that of students from some of the best institutes in the country.
Read everything about Entrepreneurship here.
Read everything about IIM Kozhikode here.