The InsideIIM MBA Calendar – Track your MBA at one place

Are you making full use of our admissions page – entitled Final Admit? We introduced it in this post here. The quiz section has a vast question bank that can help you in your test prep, as we described here. What's more, you can not only attempt tests, you can also collaborate (discuss solution approaches) and contribute (ask a question under any topic), and analyze your performance. Now, we move on to another very interesting feature of the InsideIIM Final Admit page – the MBA Calendar.


Track your MBA – at one place
Track all your deadlines, test dates, announcements, events, placements, B school conferences and every other detail related to your MBA at one place – the InsideIIM calendar. Only business schools are allowed to add events. Once you add an event, it comes to us at InsideIIM for approval. After we approve it, the event will appear on the InsideIIM MBA calendar. Click on an event to know the details of the event.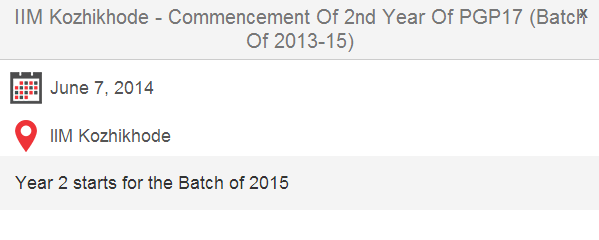 Once an event has been added to a B school, it will also appear on the B school's subdomain page.
Start tracking the MBA calendar now!!