The Key Takeaways Of The 7th Pay Commission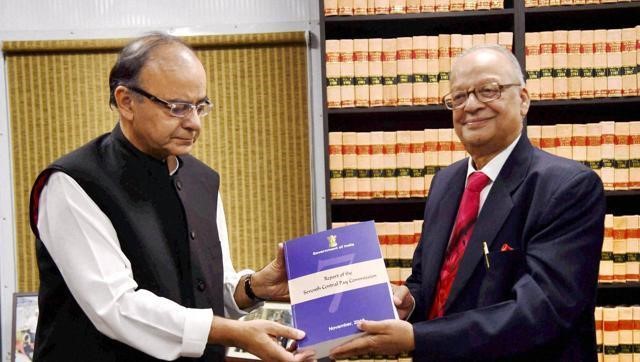 The much anticipated 7th Pay Commission turned out to be a letdown for the masses. The mammoth 900 page report submitted by Justice A K Mathur to Finance Minister will mandate that the new scales be implemented from 1st January 2016. The decision is believed to impact the lives of nearly 1 crore government employees and pensioners.
The key highlights of the 7th Pay Commission have been presented below:
The pay commission has recommended a hike of 14.27% in basic pay. Just to point out how much this meager hike will impact the lives of a common man can be gauged by the fact that this is the lowest hike in the past 70 years. Note that the 6th Pay Commission had recommended a 20% hike which was later further increased.
The writing on the wall doesn't make for any pleasant reading for an average man as far as this Pay Commission is concerned. The fate of 50 Lakh government employees and 58 Lakh pensioners is at stake as far as the hike is concerned. On an overall basis Pay Commission recommended 23.55 percent overall increases in salaries, allowances and pension.
The total financial impact of implementing the pay commission recommendations in the 2016-17 fiscal is likely to be Rs 1,02,100 crore, as per government estimates. Economists are expecting that the Fiscal deficit will take a hit since they believe that the near 24% hike hasn't factored in the necessary calculation although Finance Minister Arun Jaitley says he has enough resources to take care of the additional outgo, roughly estimated at Rs 1.02 lakh crore which is nearly 0.7% of the GDP. The government is counting on the higher salaries to result in more consumer spending which could trigger economic growth.
The minimum wage for a government employee has been fixed as ₹ 18,000 per month which is 2.57 times the amount fixed by 6th Pay commission. There has been anguish amongst the employees belonging to this cadre as they were expecting a minimum wage of ₹ 26,000 per month.
Pay Commission has also fixed an upper ceiling at ₹ 2,25,000 per month for Apex Scale and ₹ 2,50,000 per month for Cabinet Secretary and others at present at the same pay level. Rate of annual increment has been retained at 3% pa.
Defence personnel seem to be the hardest hit by the pay commission. They say that the panel and the government diluted their parity vis-a-vis the civilian employees. Defence minister Manohar Parrikar has been quoted that some of his suggestions had not been accepted.
For instance, defence officers complained that the rule for premier services, such as the IAS, that entitles officers to increments even if they have not been promoted had not been extended to them. Also, hardship allowances were tilted in favour of civilian officers who were paid more for serving in remote places say Leh, than the army officer serving at extreme places such as Siachen glacier.
One Rank One Pension proposed for civilian government employees on line of OROP for armed forces. MSP (Military Service Pay) more than doubled for service officers to ₹ 15,500 per month from ₹ 6,000 currently; for nursing officers to ₹ 10,800 from ₹ 4,200; for JCO/ORs to ₹ 5,200 from ₹ 2,000 and for non-combatants to ₹ 3,600 from ₹ 1,000. Short service commissioned officers will be allowed to exit the armed forces at any point in time between 7 to 10 years of service.
Further, Commission recommends abolishing 52 allowances; another 36 allowances subsumed in existing allowances or in newly proposed allowances.
References:
—————
About the Author:
Pomil Bachan Proch is a student of PGDIM 22 batch at NITIE Mumbai and a media relationship cell coordinator. He likes to read and write about Cricket and Politics.