The non-IIM Top Indian Business Schools Alumni Report – Part 1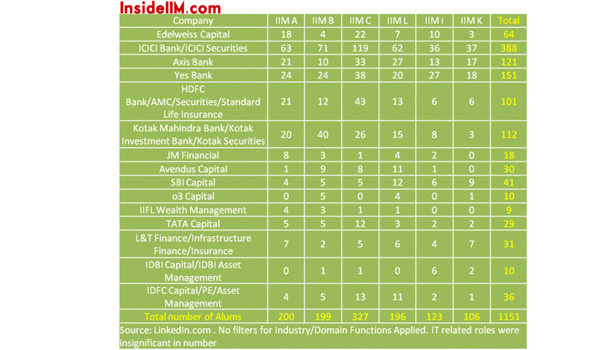 As we did for the 6 'Old' IIMs, we shall follow the same process for Top non-IIM Indian Business Schools. Most of these schools barring ISB are very old and are likely to have alumni in good positions in very good companies. It shouldn't be surprising if a lot of them have better alumni base across companies as compared to IIM Indore and IIM Kozhikode. XLRI is the oldest which was established over 60 years ago. FMS and JBIMS are also 50 years old. SPJIMR is over 25 years old as well.
This part only deals with current locations and companies of alumni who have passed out in the last 15 years.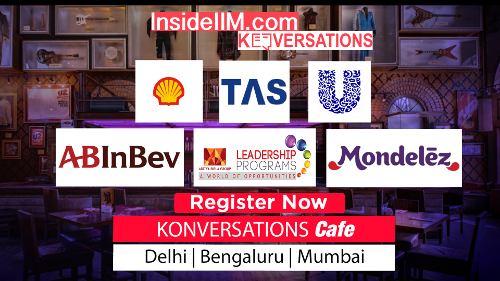 Please note the following before you proceed forward :
1) The data may include a few fake profiles. However, The number is too insignificant to distort the trend.
2)It includes professionals who may have attended other programmes at these institutions. Not everyone, in the sample has attended the 2 yr flagship programme or the 1 yr flagship programme in ISB's case. For e.g. it may even include someone who has done a 3 day certificate programme at any of these institutions or a 1 day Executive Programme.
3) It includes current students who are undergoing summer internships and have updated their profile with the name of the organization they are interning in.
4)We have not filtered for domain/function. So if there is someone in a bank's technology team, since he/she is an employee of the bank, it would be counted below.
ISB is definitely a very impressive story. Technically, its the youngest of the top business schools in India. But, despite that has grown by leaps and bounds and carved out a unique place for itself. While many credit the progressive management and state-of-art infrastructure and the money pumped in, it's not just a question of private vs. public education institution. It's the fact that there are so many older private schools in India who have not been able to achieve so much success in decades which ISB has done in 10 years. You have to appreciate it. There are 67 ISB Alums in McKinsey & Co.
Yes, you could argue that it is not directly comparable to the IIMs and other schools as it predominantly serves a different age category. Even then, it is a very impressive story. There is a lot that goes into it beyond money and famous people backing it.
Total Sample : 7,201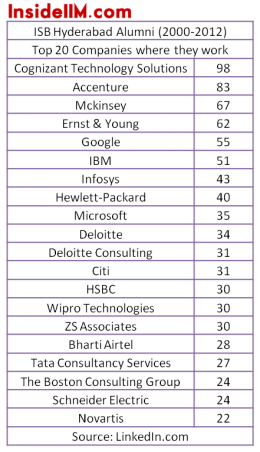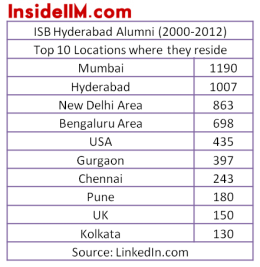 There was never any doubt that XLRI is one of the top business schools of India. Not only in terms of placements but from an overall experience perspective. In our dealings, we have often noted that XLRI Alumni are very passionate about their school!
Please note that over 1000 alums in the sample claimed they were in the Human Resources function.
Total Sample : 6,905
FMS Delhi has historically always had great placements. Same is the case with JBIMS Mumbai. They probably have the best access to alums because they are situated in Delhi and Mumbai respectively.
Total Sample : 2,992
Another school which has always used a different approach in doing things. Whether it is admissions or the way people specialize. There is great industry interface and SPJIMR uses its location advantage to good effect.  SPJIMR alumni seem to do very well after graduation. There are certain companies where you shall see a significant SPJIMR population.
Please note SPJIMR has a lot of other programmes which increases its alumni base significantly. Some students who are at SPJCM Dubai/Singapore also claim SPJIMR in their profile.
Total Sample : 6,079
JBIMS Mumbai has tremendous legacy and is situated in the heart of the financial district in Bombay. Given it's batch size and the strength of the alumni base it is unlikely that placements will ever be an issue at JBIMS. Again, like FMS Delhi the Return on Investment is extra-ordinary. It is unmatched in the world.
Total Sample : 3,115
We believe institutions like SPJIMR, XLRI and ISB have a lot gain going forward simply because of  the fact that companies are becoming acutely aware that over 90% of the graduating batch from these campuses would have reached there purely on merit. There may be a time lag but it will happen.
Next, we shall bring you the Consulting, FMCG and Banking & Finance break-up for the above schools.
You may also like to read :
The 6 IIMs Alumni Report – Banking & Finance – Part 3
The 6 IIMs Alumni Report – Consulting & FMCG – Part 2
The 6 IIMs Alumni Report – Locations & Companies – Part 1
The Most definitive Student Exchange Programme Report – 2011 (One of its kind report for top business schools in India)
New ! – Industry Series : Interview with Rishiraj Singh Pruthi – Head, Customer Marketing at Abbot Nutrition
Read our Final Placement Reports for the Class of 2012 :
Final Placements :IIM Lucknow – Class of 2012
Final Placements: IIM Bangalore – Class of 2012
Final Placements :XLRI Jamshedpur – Class of 2012
Final Placements :IIM Kozhikode – Class of 2012
Final Placements :IIM Calcutta – Class of 2012
Our facebook page : InsideIIM
Follow us on twitter here : @InsideIIM